Message for reflection – Sr. Angelica AOJ
RULING POWER & AUTHORITY COMES THROUGH OBEDIENCE
God's blessing  is Ruling, Power and Authority
God's displeasure – sending them to captivity to be slaves.
We see plenty of examples in Bible.
How can we attain this Rulership?
By obedience.
By disobedience came slavery. By obedience to God, to God's commandments, to His will, one can attain Rulership on this earth.
Rom 5:19  For as by one man's disobedience many were made sinners, so by the obedience of One shall many be made righteous.
2Co 10:5  pulling down imaginations and every high thing that exalts itself against the knowledge of God, and bringing into captivity every thought into the obedience of Christ;
2Co 10:6  and having readiness to avenge all disobedience, when your obedience is fulfilled.
Heb 5:8  though being a Son, yet He learned obedience by the things which He suffered.
Jesus is a perfect example for us to learn  how to be submissive and obedient in all stages of life.
Before public life while in Nazareth 
Luk 2:51  And he went down with them and came to Nazareth and was submissive to them.
In public life – Ministry – Submissive to the laws
Mat 3:15  But Jesus answered him, "Let it be so now, for thus it is fitting for us to fulfill all righteousness"
Jesus did everything under the authority of the Father
Joh_5:19  So Jesus said to them, "Truly, truly, I say to you, the Son can do nothing of his own accord, but only what he sees the Father doing. For whatever the Father does, that the Son does likewise.
1Pe 2:21  For to this you have been called, because Christ also suffered for you, leaving you an example, so that you might follow in his steps. 
Eph 5:21  submitting to one another out of reverence for Christ.  Eph  5:22, Eph 5:24; Gen 16:9; 1Ch 29:24; Rom 13:1-5; 1Co 16:16; Php 2:3; 1Ti 2:11; 1Ti 3:4; Heb 13:17; 1Pe 2:13, 1Pe  5:5
Through sufferings Jesus learned obedience and submissiveness. Those who  opt to go through sufferings will learn submissiveness and obedience and they will receive authority and power. This is the divine rule.
Sr. Angelica AOJ
VISIONS RECEIVED DURING SHADOW PARLI PRAYER
Sol.Khushi:God spoke to me through Leviticus 26:6. When I joined the meeting God showed me the number 200. As I was trying to figure it out, God showed the number 200 once again as a confirmation that new soldiers would be inducted in these 05 States. I saw a big circle, inside it was a lot of people in bondage(chains). In the middle,the light emanating from the cross is delivering the people from bondage. I saw a bunch of small flowers with thorns, reaching upto Heaven. Angels are removing the thorns. Praise the Lord !
TIP PROGRAM

Even to your old age and gray hairs I am he, I am he who will sustain you. I have made you and I will carry you; I will sustain you and I will rescue you. " 
Isaiah 46:4
A 93 year old teacher in her old age has a lot of time at her disposal and a great zeal to help other children. She  teaches English to a 25 year old physically challenged.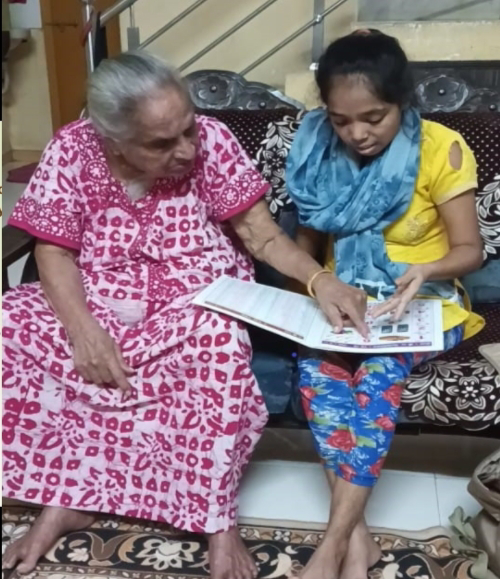 TROOP CHURCH TESTIMONIES
MARIAM TROOP CHURCH 
Guests of Sis. Hemlata attended the Troop and they were blessed and praised the Troop meeting.
God spoke to Sis. Hemlata for son David of Sol. Rekha John through Job11:18
God spoke to Sis. Hemlata through Acts 3:25 and in revelation she was shown water.
Nirmala Sharma prayers led to deliverance of many alcoholics and her nephew got delivered and one girl was not able to walk got healed.
Nirmala Sharma was inspired to claim Psalm 91 for David son of Rekha John.
Nirmala Sharma got a vision for Mohini Sisters husband. She saw a Peepal tree at the bottom of which a lot of manure is spread out and some black magic has been done. She asked the Lord whether the vision was from the Lord or from the evil one. In response she saw the tree turning to ashes.
BFF (BE FORMED AND FORM)
Beformed And Form(BFF)  Batch - 685 conducted at Dr.A C Aruldas Hospital, Perambur, Chennai, TN from 10.07.2022 - 17.07.2022.
Baptism
Anointing
Gift school tagging:
FRP LEVEL (Forgiveness and Reconciliation) TESTIMONIES
Sol.Devanshi: I learnt about forgiveness, authority, breaking down strongholds. Practiced authority over headache and healed.
Sol.Priti Kurre: I was filled with the Holy Spirit and power during teaching, learned about authority, healed from chest pain. Filled with fire and delivered.
Sol.Premila: I learnt many new things. Freed from anxiety.
Sol.Mahesh parmar: During anointing, God gave a vision of a white man at his Step door .
Sol.Snehal: I was filled with anointing. Learned about forgiveness, and now I am able to forgive.
BETHESDA SCHOOL OF HEALING
"When Jesus heard this, he responded, 'Don't be afraid; just keep trusting, and she will be healed."
LUKE 8:50
HOSPITALITY GIFT SCHOOL
For they have gone out for the sake of the name, accepting nothing from the Gentiles. 8 Therefore we ought to support people like these, that we may be fellow workers for the truth.
3 John 7-8
JEREMIAH SCHOOL OF PROPHECY
Sol.Chandrawati: I learnt a lot through these classes and got blessed.
Sol.Nirmala Sharma : I saw a lot of green leafy trees during prayer.
Sol.Gayatri Pandey: I learnt the true meaning of prophecy.I was happy with learning and classes are still going in my mind  Praise the Lord!
Overcoming many hindrances the prophecy level –1 classes could be started.Praise the Lord!
Classes started with 21 Participants. Beautiful testimonies, revelation , visions being received. Praise the Lord.
DAVID WORSHIP SCHOOL TESTIMONIES
I am Amrita from Himachal had been going regularly to church from last 20 years but  I could not learn anything because whatever I had heard there I left there itself so it did not bear any fruit. Now after joining AOJ learned the power of God's spoken Word.
Febina sister was very dipressed and discouraged. After the worship class she got delivered and the Spirit of the Lord filled her with strength and vitality.
NIGHT PRAYER
Prophecy Fulfillment and Testimonies
1.Morning worship is going on in Madurai constituency along with new SMLAs.
2.Thanks be to God, the water supply in Theni increased due to heavy monsoon and agriculture flourished
MORNING WORSHIP
Testimony
Morning worship we prayed for Sister Kulsumbi she was in hospital and in critical condition in ICU and she was unconsious .After prayers she came out from the ICU and she was discharged from Hospital as she was healed. All glory to Jesus christ!
NAZARETH SCHOOL OF FAMILY BUILDING
Sol.Neelam Soni: I got delivered of family problems. After joining these classes my life got changed and blessed.I praise God for making me to attend these classes. God has appointed me as the Deputy Speaker of Delhi for the first time.Glory to God!
Sol.Gayatri Pandey: I was blessed by the power of the Word of God and praised God for the manner of taking these classes.
Sol.Jasmine: In the anointing class God blessed all.Sisters were filled with a fresh anointing and saw vision , revelation through the Word of God.
CHILDREN BIBLE SCHOOL (CBS)
"Children's children are a crown to the aged, and parents are the pride of their children."
-Proverbs 17:6
FINANCIAL DISCIPLINE SCHOOL
When you pass through the waters, I will be with you and when you pass through the rivers, they will not sweep over you. When you walk through the fire, you will not be burned: the flames will not set you ablaze.
ISAIAH 43:2 NV
ECC
Subjects
Period 1  - Bible (Genesis - Revelation)
Period 2  - Counselling
Period 3  - Spiritual exercises , vision about India 2020
Period 4  - Gift training
Period 5  -  Skill Training
Period 6  -  Be formed and form (Characteristic of a servant of the God)
Period 7  -  Library (Project ,Seminar)
Period 8  -  Troop Church
Morning Worship
Morning Worship is going on online (Zoom app) from 5:30 am to 7:00 am in Tamil Nadu and many other States in their own languages.
For details please contact
Sol. Shakespeare - 90037 71216, 62833 81962
Be Formed and Form (BFF)
Be Formed and Form is a
5 day short term course.
As per
Eph 4:11-13
, it perfects the saints,  for the work of the ministry, for the edifying of the body of Christ, ………until we all come into the unity of the faith and of the knowledge of the Son of God, to a full-grown man, to the measure of the stature of the fullness of Christ; The Lord wants the Church to be transformed according to
Eph 5:26, 27
to make her holy, (cleansing her by the washing with water through the word), and to present her as a radiant Church. By BFF training, the Church awakes and arises to shine in the world. So far 600 batches have been conducted across India in various languages. The students were from almost all the States of India and abroad. For Further details: Contact
Sol.Jagdish Naik Ph:9930804564
Come, be blessed and bless others!
Sapphire University
Those interested to know/join the university, for further clarifications and to know about our work may visit our website.
Information
Dear soldiers,
To keep information accessible we have made few web pages in the name of aojinfo.in, kindly store this address in your browser so you may access it any time. The addresses of the web pages are as follows
1) http://giftschool.online - Gift school schedule
2) aojinfo.in/beryl - Announcements of AOJ
3) aojinfo.in/wheel - Message
4) aojinfo.in/tc - Troop Church method, English
5) aojinfo.in/tcm - Troop Church eight week messages, English
6) aojinfo.in/troopchurch - Troop Church method, Tamil
7) aojinfo.in/tcmessage - Troop Church eight week message, Tamil
For Information
National Worship Coordinating team has been directed to collect any revelation/inspiration received during worship, (both personal/troop prayer atmosphere).We are expected to report these revelations every Sunday, scheduled meeting online.
We need to prayerfully move ahead asking the Lord for further directions to bring Divine Governance in our midst. Hence, we welcome you to participate in Kingdom building and restoration process. Kindly message the revelations with interpretations (as per the leading of Holy Spirit) on personal chat or Shield West group, by Saturday or before.
NOTE: Worship is the key to Prophecy.
CHILDREN BIBLE SCHOOL ANNOUNCEMENT
Jesus said, "let the little children come to Me, and do not forbid them; for of such is the kingdom of heaven.
Mt : 19:14
ADMISSIONS GOING ON FOR THE NEW ACADEMIC YEAR 2022 for both old and new students*.
Classes : 1std - 12th std
ONLINE CLASSES through ZOOM or Google meet.
MEDIUM: ENGLISH/ HINDI/ TAMIL/TELUGU / MALAYALAM/ KANNADAM
DAY : SUNDAYS BETWEEN 3PM - 5 PM
*FEE* FREE ADMISSION
CLICK HERE*👇AND FILL THE FORM TO ADMIT YOUR CHILDREN IN CBS
YOUR CHILD WILL NEVER BE THE SAME
CBS
AOJ
Kingdom Human Rejuvenation & Development Centre (KHRDC)
A Section 25(Not for Profit) company which focuses on Training and Skill Development in all the States of India.   We provide training and equip them for workplace evangelism. We raise reliable, sincere and trustworthy people in the workplace like Joseph and Daniel who put God first in everything they do. Interested people can attend the Trainings. For details of Training, visit the Weblinks given above.
7 fold Agenda for the Global Churches/Church Leaders/Evangelists/Missionaries … (given on 27.10.2014)
To safeguard them from COVID 19 and solution for their Livelihood (Based On Early Christian Church Acts 2: 42-47)
No mention about money or tithe offering (via online also) in the Churches
No construction of Church buildings. Stop the Church building works even that are now going on.
Moulding and training believers and releasing them from the Church after 6 months.
Graduation of six months old believers
Dividing the Church into small groups of 10.
Pastors should look for jobs and get employed.
No full time pastors for the church.
Why the Lord has permitted COVID-19 ?
To Restore the Church of Jesus Christ Acts 2:42-47
National Worship Centre
No.70, (Old no 41) F1, First floor,
Bethel Enclave, Baba Foundations, (near SBI Branch)
Siruvallur High Road,
Perambur,
Chennai 600011.
National Worship Centre is a Centre where the Lord of hosts, the Lord God Almighty is worshipped in His majesty all the 24 hours. Per day 12 worship teams come to worship from different parts of the Nation. One slot consists of 2 hours. The opening of NWC also turns to be the trumpet sign to start the fatal war against Satan to win this Nation for Christ! Do you want to join this praising Army?
Book your slots
Tel: 7708505152
Praise God for the successful completion of 36,163   slots  in National Worship Centre with a Non Stop Worship (24/7)
PROPHECY NEWS – Record-Breaking Temperatures Worldwide—What Does the Bible Say?
Record-Breaking Temperatures Worldwide—What Does the Bible Say?
During July 2022, record-breaking temperatures were reported worldwide:
"China issues highest heat alert for almost 70 cities in second heatwave this month."—July 25, 2022, CNN Wire Service.
"Forest fires rage across Europe as heatwave sends temperatures soaring."—July 17, 2022, The Guardian.
"Cities across the United States set temperature records on Sunday as a summer heat wave spread across the East Coast and parts of the South and Midwest."—July 24, 2022, The New York Times.
What does all this mean? Will the earth eventually become unfit for life? What does the Bible say?
Do heat waves fulfill Bible prophecy?
Yes. Global heat waves fit events that the Bible foretold for our time. For example, Jesus prophesied that we would see "fearful sights," or "strange and terrifying things." (Luke 21:11; Good News Translation) Rising global temperatures have led many to fear that mankind will ruin the earth.
Will the earth become unlivable?
No. God created the earth to be mankind's permanent home. (Psalm 115:16; Ecclesiastes 1:4) Rather than allow humans to destroy it, he will "bring to ruin those ruining the earth," as he has promised.—Revelation 11:18.
Consider just two prophecies that show what else God has promised:
"The wilderness and the parched land will exult, and the desert plain will be joyful and blossom as the saffron." (Isaiah 35:1) God will not let the earth become an unlivable desert, but he will restore its damaged areas.
"You care for the earth, making it abundantly fruitful and very rich." (Psalm 65:9) With God's blessing, the earth will become a paradise.
https://www.jw.org/en/library/series/more-topics/global-temperatures-rising-bible-prophecy/
Announcement
FYI: Information's to be forwarded to the State Secretaries: Please work with your core team and get this information for publishing in Archive portal.
We require Testimonies from Gift School/Troop Churches, Report works for Documentation, Plans for the month for your State-20 Point Program Execution (word document), Praise Reports for Regional Meetings, Shadow Parliament Reports, any others...
SMP, Smla lists (updated ones).
Data should be sent forth to this email address - weekly - Regional allocation Email so it can be uploaded to server. Otherwise it can be sent to me personally in WhatsApp, will forward to IT wing.
Any difficulties in Documentary creation also please feel free to reach out, we will try to work it.
We will try to make all things documented for the month of July, August, and September.
Documentation is vital to show where we stand. Amen
AOJ Matrimony
Are you searching for a suitable bride/bridegroom for your loved ones? Do not worry. AOJ is providing you with free counselling and help through AOJ Matrimony Team. The Matrimony Team will help you to search for a suitable match for your loved ones, pray for them, guide them, and assist them and also solemnize the marriage.
Please have the enclosed profile application duly filled by your prospective bride/bridegroom and send it to us.
Feel free to clear your doubts and enquiries through phone or WhatsApp message or email.
Contact Particulars:
S.No.
Name
Whatsapp No.
Email ID
1
T.Leslie
9444907772
theoleslie@yahoo.com

2
Johnson
7358549693
Kfcm1995@gmail.com
3
Sol.Amala Arunachalam
9942203525
4
Sujatha Madhuram
9884892025
 

By Post to

Bro T.Leslie, F-1, Sabari Bagawathi Flats, Plot No.1, 8th Cross Street,

Sarvamangala Nagar,  Chitlapakkam,  Chennai - 600 064
AOJ MATRIMONY PROFILE
NAME (in block letters)                               :
Date of birth                                                  :
Height/Weight                                                            :
Complexion                                                    :
Languages known                                         :
Qualification                                                  :
Job/Business with details & Income.          :
Your present address                                                :         
Your permanent address                              :
Resident of                                                     :
Your Cell number and email ID                 :
Name & address of Troop Church             :
Father's name & Profession                        :
Mother's name & Profession                                   :
Siblings                                                           :
Your expectation                                           :
DATE:                                                                                                           SIGNATURE
 Signature of Zonal Coordinator of your Troop Church
Name of National Coordinators of Gift Schools and other AOJ Operations 2022 January to June
S.No
Name of Gift Schools of AOJ Operations
Coordinator & Leader Name
 Mobile No.
1
Troop church
Sol.Bindhu Chacko
9061242836
2
BFF
Sol.Jagdish
9930804564
3
Worship

Sol.Theodore

9840154775
Online International Worship
Sol.Raymond
9725107874
4
Deliverance
Sol.Joyce Beula
9842514163
Deliverance Level 1
Sol.Prabhu
9865265306
Deliverance Level 2
Sol.Benjamin Philip
9003021979
5
Healing
Dr.Deepthi
9003209519
Healing Level 1
Dr.Albert Jones
9840577293
Healing Level 2
Sol.Prameela
6
Prophecy

Sol.Shebe Lalu
9562637539
Prophecy Level 1
Sol.Veena Dua
9015652467
Prophecy Level 2
Sol.Shanker
9765987097
7
Financial Discipline
Sol.Himakshi
8708881760
8
Family Building
Sol.Sonny & Usha
Marriage preparation classes
Sol.Keerthana
9487704602
9
Hospitality
Sol.Neelam Sharma
9910532357
10
Morning Worship
Sol. Shakespeare
9003771216
11
Children  Bible School (CBS)
Sol. Jeslyn
9790001292
12
Beryl Wing(Communication, KG, Ezuchikkural)
Sol.Felix
7358420497
13
Daniel Academy Level 2
Sol.Gigi Jacob
9008293700
14
ECC
Sol. Shadrach
9361197303
15
Evangelism through Business
Sol.Sudha Deep
7305332244,

9884318338,

7305332233

16
IT  Wing
Sol.Pinta
17
Training for Translators
Sol.Arun Kumar Pune
7276216777
18
Night Prayer
Sol.Inna Reddy
7702063937
19
TC for Trades
Sol.Sudha Deep
7305332244,

9884318338,

7305332233

20
David school of Worship
Sol.Camilia
9940471819
WORSHIP DETAILS FROM JANUARY 2022
DAY
REGION
COORDINATOR
Sunday
North
Sol. Ajaypal (70658 85778)
Monday
Tamilnadu & Kerala
Sol. Menaka (80726 53915) (Tamilnadu) /

Sol. Sabina (98471 76553) (Kerala)

Tuesday
West
Sol. Savitha (97026 24364) (Maharashtra) /

Sol. Ratna (88052 05676) (Goa) /

Sol. Malathi (96013 53166) (Gujarat)

Wednesday
East
Sol. Yesumilan (86581 31635)
Thursday
Central
Sol. Reeta Gokhle (96659 83740)
Friday
Karnataka/Andhra Pradesh & Telangana
Sol. Preethi (74060 87324) (Karnataka) /

Sol. Dr. Pradeep (90478 99746) (AP) /

Sol. Innar Reddy (77020 63937) (Telangana)

Saturday
Tamilnadu
Sol. Menaka (80726 53915)