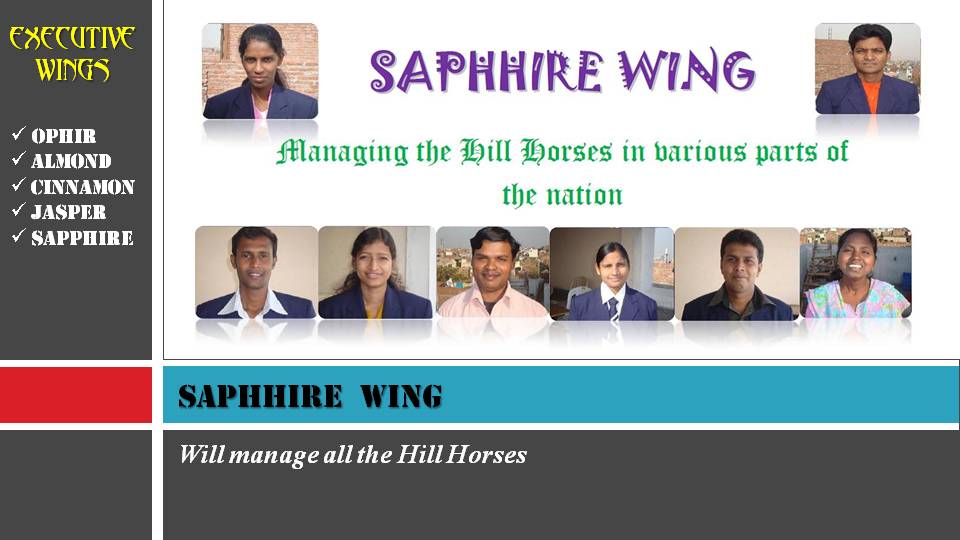 Eshcol National Harvest Festival
Sapphire Wing
Manages the Hill Horses functioning in the Caves
Duties of the Sapphire Wing  Captain
Supervises the Evangelization work of the Hill Horses in the Caves
Takes care of their Spiritual needs
HH come together once in a month
For Spiritual enrichment, Relaxation and Fellowship.
The monthly programme will conclude with the muster call.
Sapphire Wing sub captains will be appointed in each city where HHs are placed. If needed more than one could be appointed
 Sapphire Wing  
Hill Horses have completed their Trainings
They have undergone the  four  phases of Training – SEP, EHC,  PST & BGT
After their placement by the Cinnamon Wing, their needs are taken care of by the Sapphire Wing
When they were collected as 20% from different Churches, they were like raw material and crude oil
Through the tireless work of more than 500 sculptors in the past few months, they are now moulded into precious vessels, finished stones,  sharpened arrows and powerful bullets
They went into four  workshops after having being hewn from the rock of their local Church
Shekinah – Where they were  selected and sized– Thanks to all the  Shekinah Teachers.
EHC- where they were pruned and  cleaned – Thanks to the efforts of  EHC Teachers.
PST – Where they were trained in many skills  so that they can stand on their own feet while doing ministry.  Thanks to the  teachers.
In BGT they were trained in their Ministry Gifts so that they can the proclaim Gospel effectively
The Jasper Wing members – 100s of them  mobilized resources – both physical, material &  spiritual, for these trainings.
Hill Horses  are being  launched to their respective caves