Message for reflection – Sr. Angelica AOJ
Enmity instead of harmony
The whole creation was in perfect harmony with Adam before fall.
The Lord Himself put enmity between the seed of woman ( Mankind) and the seed of the serpent  Humanity was divided into two.
Seed of woman and seed of the serpent
Gen 3:15  And I will put enmity between you and the woman, and between your seed and her Seed; He will bruise your head, and you shall bruise His heel.
This enmity reflected in all the spheres of his life.
Adam became enemy to himself, his own body, soul & spirit.He lost harmony between them. He became a slave to war going on within him.

His body became enemy against his soul & spirit
Gal 5:17  For the flesh lusts against the Spirit, and the Spirit against the flesh. And these are contrary to one another; lest whatever you may will, these things you do.
His mind is not under his control
Rom 8:7  because the carnal mind is enmity against God, for it is not subject to the Law of God, neither indeed can it be.
The world became enemy to him.
Jas 4:4

Adulterers and adulteresses! Do you not know that the friendship of the world is enmity with God? Therefore whoever desires to be a friend of the world is the enemy of God.
The chapters of Bible  from Genesis 4 onwards is a complete exposure and manifestation of the above.
His own wife, children, nature, animals, atmosphere, soil, everything publicly declare their enmity with him., One after the other in perfect sequence breaks away from him leaving Adam and his descendants in mental torture and  anguish! Everything that God had entrusted with him, slipped away from his hand  one after the other!
Sr. Angelica AOJ
VISIONS AND REVELATIONS
31st May 2022
(My first vision): There was a dry and empty land. Plants were growing and a man came and started cutting plants.  Another person came and pushed the man who was cutting out of the land and slapped him.  He started watering the plants and in no time the empty dry land turned into a new fresh green forest.
Stage is set free. Psalm 46:1, 47:1. Good bye Devil. All his powers and angels good bye forever.TC people from India are going to Africa and set the land free, people free.
After morning worship, I got a vision. A dark brown snake coming from where the ducks are kept. It was going out through open place. I was running towards roadside.
During worship, I saw heaven opened and Jesus was pointing at us and showing the Father and said,"See my sons and daughters are worshiping".
Today's worship touched me.The Lord was happy seeing his children happy.
I saw a map in vision. It was rectangular in shape and yellow colored. After sometime, light came onto it and then something like golden colour came upon it and then it started twinkling.
Sol.Lavina:Today, I worshiped with angles.
TROOP CHURCH
Trade wise troop was organized in a medical company in March.
Troop among parents of special children were started.
Fellowship gathering organized in 3 constituencies Chennai north / south/ center/ Pondicherry.
BFF (BE FORMED AND FORM)
Batch – 683 conducted in Greater Noida, Uttar Pradesh from 25.05.2022 to 02.07.2022.All the 20 believers are transformed into hill horses. They have become smps & smlas to shatter the strongholds of satan in the north region.
Dignity Of Work – BFF training helps the trainees to express their love through work.They involve in all types of work.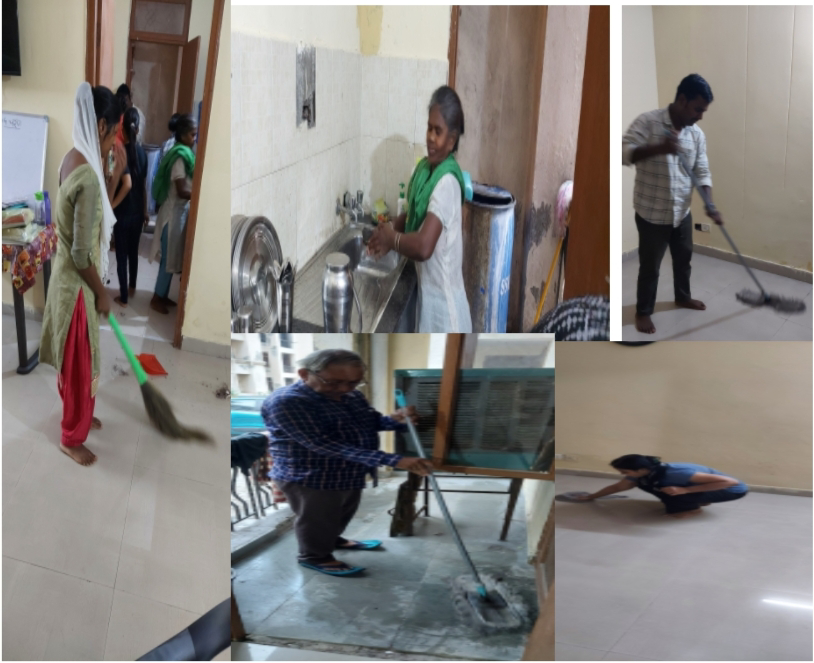 Managing Staff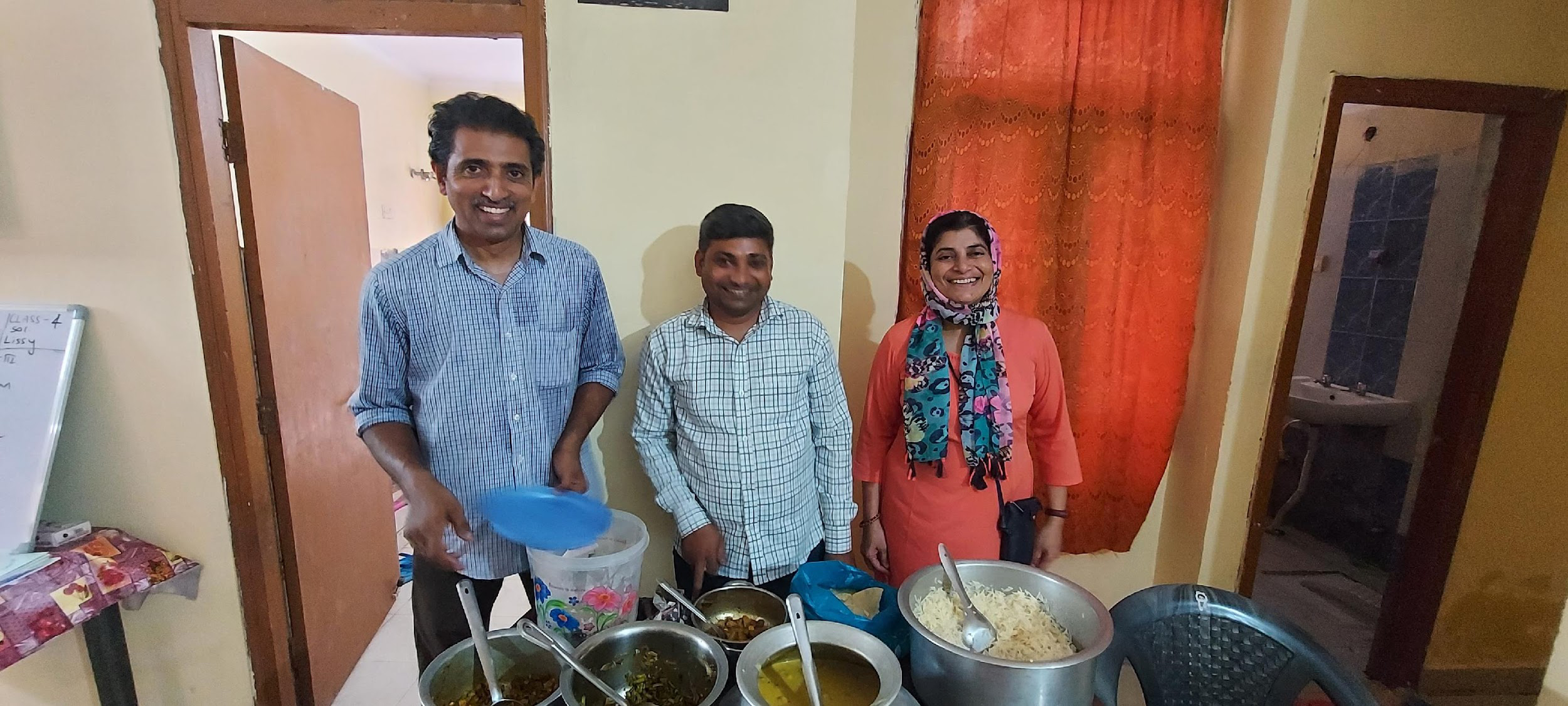 Greater Noida Prayer Team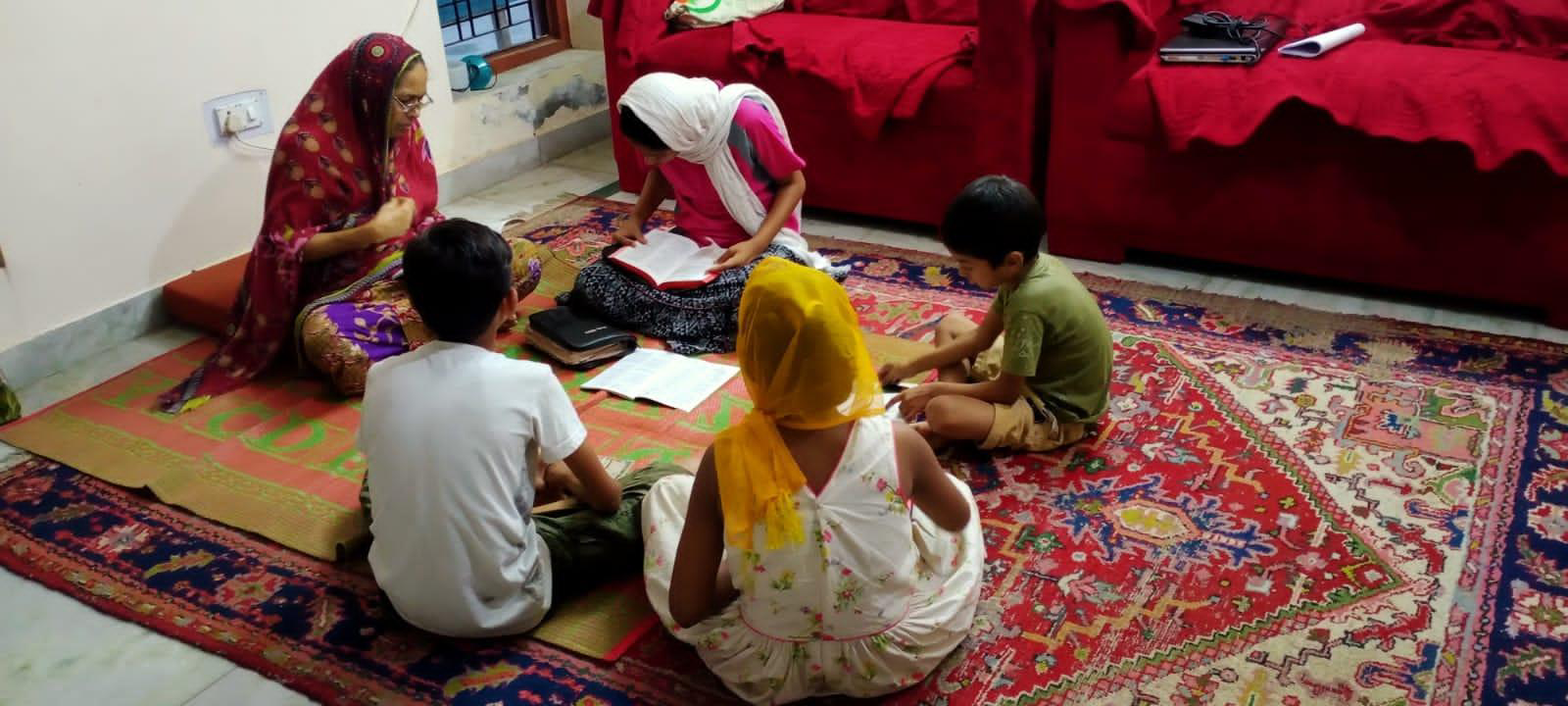 Sol. Mahesh & Sol. Paulose – Printed the notes for BFF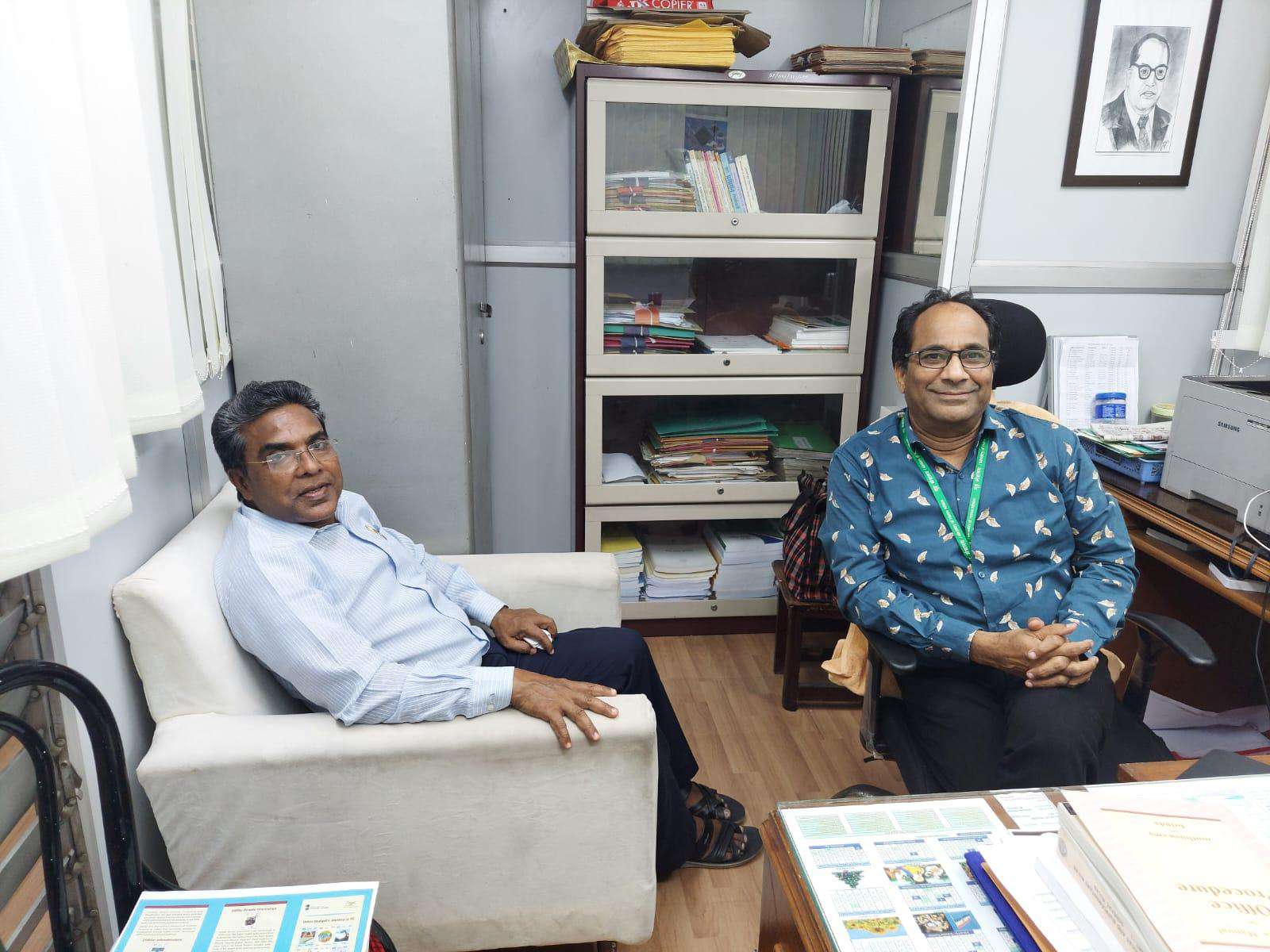 Students enjoying the meals at BFF!
FRP LEVEL (Forgiveness and Reconciliation)
The first gift school to be attended by every one. When you attend FRP gift school.
You will be Delivered from the bondages
You will Deliver others
You will be Trained to become a strong soldier in Christ
You will identify the evil spirits in your lives and cast them out
You will Exercise the authority given to believers
BETHESDA SCHOOL OF HEALING TESTIMONY
Sol.Diana: Our marriage was through the church, and my husband has been very angry ever since.The life that the Lord has given for us is not a life that we have thought.But,God has joined us together. According to the verses "What God has joined together, let not man separate", we are together in all the problems. For the last four months, I have been in my mother's house. Many people said that it is better to separate but according to my faith,God brought my husband back. Through this class, I learned that everything can be accomplished through prayer. Glory be to God, Amen.
HOSPITALITY GIFT SCHOOL
To welcome other people is hospitality.
Especially for Tamilians
Hospitality is a deep rooted character.
To make them understand the correct theme of hospitality, is really a challenged task.
JEREMIAH SCHOOL OF PROPHECY TESTIMONIES
Activating Prophecy Training
The Global church -- entering into a new era – Prophetic era.
Fulfilment of Acts 2:17. Every one, elders, children, servants will prophesy!
The Joshua generation coming up!
Today's need is to equip believers for this movement and war strategy to be taught
"Activating Prophecy Trainings" conducted by The Army of Jesus.
Practical training given in prophesying, From Sep 24.9.2013- 9.5.2014, 44 batches conducted
DAVID WORSHIP SCHOOL TESTIMONIES
Sol.Priya : I am an Hindu girl who accepted the Lord and received anointing through the gift schools.In today's class I learnt about the word "Holy" it was really a turning point for me.In the upcoming days I will do worship,God showered his blessings upon me splendidly.
Sol.Asha:In today's class I learnt about how to live holy in both the spirit and in the world.I learnt how to be holy in spirit and to worship the Lord in spirit.
NIGHT PRAYER
You, Lord, are a shield around me,
    my glory, the One who lifts my head high.
I call out to the Lord,
    and he answers me from his holy mountain.
I lie down and sleep;
    I wake again, because the Lord sustains me.
Psalm 3:3-5
MORNING WORSHIP
Testimonies
Sol.Gerard: My relative's Son was in depression.One day my relatives came to Panjim to visit me and it was my duty to pray for my relative's son. I felt peace after the prayer. Glory be to the Lord .I also prayed against anti-conversion bill.In a little time the opposition leader michal Lobo said there is no need of anti conversion bill.Glory be to the Lord!
Sol.Fatima: One of my finger was paining a lot .So I prayed and anointed the oil and applied to my finger and the pain went off. All glory to Jesus christ!
NAZARETH SCHOOL OF FAMILY BUILDING
Growth of NSFB
2019 – TN, Delhi,Maharashtra,Goa,Kerala,Telungana,AP(7 States)
2020 – Karnataka,Gujarath,Jharhand,Arunachal Pradesh,Odisha (7+5(new) = 12 States)
2021 – UP East,Bihar,MP,Chattisgarh,W.Bengal,Nagaland,Punjab,UP West, Haryana, Himachal, Ladak, Uttankhand, J&K, Chandigarh (12+14 (new) = 26)(Around 60 online and offline classes)
Participants from Norway, England, Oman, Dubai, Abu Dhabi, Australia, USA Joined
2022 – Pondicherry + Doha (26+2) = 27 states + 1 (National)
CHILDREN BIBLE SCHOOL (CBS)
Prayer Points
Kindly continue to pray for Ahana who is admitted in AIIMS and for her complete deliverance from cystic fibrosis.
Parents should allow children to join CBS with interest.
Please pray that the teachers & students relationship to build like Jesus with His disciples' relationship.
We need to have more and more children to attend CBS.
FINANCIAL DISCIPLINE SCHOOL
"I know how to be brought low, and I know how to abound. In any and every circumstance, I have learned the secret of facing plenty and hunger, abundance and need. I can do all things through him who strengthens me."
PHILIP 4:12-13
ECC
Programme details
This programme carried out for one month of duration. The first day of program candidates receive the orientation of their schedules – morning wake up timing, prayers, exercise, refreshments, cleaning activities, sessions, exams, skill work, counselling, and troop church prayers. They learn 90 to 100 classes from both biblical and general views. On the final day, talents day programme were conducted by welcoming of chief guest. They give some biblical and motivational speech to the families and canditates.programme ended with facilitating the chief guest with gifts, distribution of certificates to candidates and closing prayer.
Morning Worship
Morning Worship is going on online (Zoom app) from 5:30 am to 7:00 am in Tamil Nadu and many other States in their own languages.
For details please contact
Sol. Shakespeare - 90037 71216, 62833 81962
Be Formed and Form (BFF)
Be Formed and Form is a
5 day short term course.
As per
Eph 4:11-13
, it perfects the saints,  for the work of the ministry, for the edifying of the body of Christ, ………until we all come into the unity of the faith and of the knowledge of the Son of God, to a full-grown man, to the measure of the stature of the fullness of Christ; The Lord wants the Church to be transformed according to
Eph 5:26, 27
to make her holy, (cleansing her by the washing with water through the word), and to present her as a radiant Church. By BFF training, the Church awakes and arises to shine in the world. So far 600 batches have been conducted across India in various languages. The students were from almost all the States of India and abroad. For Further details: Contact
Sol.Jagdish Naik Ph:9930804564
Come, be blessed and bless others!
Sapphire University
Those interested to know/join the university, for further clarifications and to know about our work may visit our website.
Information
Dear soldiers,
To keep information accessible we have made few web pages in the name of aojinfo.in, kindly store this address in your browser so you may access it any time. The addresses of the web pages are as follows
1) http://giftschool.online - Gift school schedule
2) aojinfo.in/beryl - Announcements of AOJ
3) aojinfo.in/wheel - Message
4) aojinfo.in/tc - Troop Church method, English
5) aojinfo.in/tcm - Troop Church eight week messages, English
6) aojinfo.in/troopchurch - Troop Church method, Tamil
7) aojinfo.in/tcmessage - Troop Church eight week message, Tamil
For Information
National Worship Coordinating team has been directed to collect any revelation/inspiration received during worship, (both personal/troop prayer atmosphere).We are expected to report these revelations every Sunday, scheduled meeting online.
We need to prayerfully move ahead asking the Lord for further directions to bring Divine Governance in our midst. Hence, we welcome you to participate in Kingdom building and restoration process. Kindly message the revelations with interpretations (as per the leading of Holy Spirit) on personal chat or Shield West group, by Saturday or before.
NOTE: Worship is the key to Prophecy.
Kingdom Human Rejuvenation & Development Centre (KHRDC)
A Section 25(Not for Profit) company which focuses on Training and Skill Development in all the States of India.   We provide training and equip them for workplace evangelism. We raise reliable, sincere and trustworthy people in the workplace like Joseph and Daniel who put God first in everything they do. Interested people can attend the Trainings. For details of Training, visit the Weblinks given above.
7 fold Agenda for the Global Churches/Church Leaders/Evangelists/Missionaries … (given on 27.10.2014)
To safeguard them from COVID 19 and solution for their Livelihood (Based On Early Christian Church Acts 2: 42-47)
No mention about money or tithe offering (via online also) in the Churches
No construction of Church buildings. Stop the Church building works even that are now going on.
Moulding and training believers and releasing them from the Church after 6 months.
Graduation of six months old believers
Dividing the Church into small groups of 10.
Pastors should look for jobs and get employed.
No full time pastors for the church.
Why the Lord has permitted COVID-19 ?
To Restore the Church of Jesus Christ Acts 2:42-47
National Worship Centre
No.70, (Old no 41) F1, First floor,
Bethel Enclave, Baba Foundations, (near SBI Branch)
Siruvallur High Road,
Perambur,
Chennai 600011.
National Worship Centre is a Centre where the Lord of hosts, the Lord God Almighty is worshipped in His majesty all the 24 hours. Per day 12 worship teams come to worship from different parts of the Nation. One slot consists of 2 hours. The opening of NWC also turns to be the trumpet sign to start the fatal war against Satan to win this Nation for Christ! Do you want to join this praising Army?
Book your slots
Tel: 7708505152
Praise God for the successful completion of 35,995   slots  in National Worship Centre with a Non Stop Worship (24/7)
PROPHECY NEWS – Wildfires rage in Greece, Spain and Italy as heatwave moves across Europe
Wildfires rage in Greece, Spain and Italy as heatwave moves across Europe
Wildfires are raging across Europe, where a heatwave has intensified drought conditions.Though temperatures have cooled in France and the UK, firefighters are still tackling blazes in Greece, Spain and Italy.
The fires in France's badly hit south-west have started to be brought under control.
And as the heatwave moves north-east, low water levels are hampering transport on rivers in Germany.
In Greece, nearly 500 firefighters were tackling a blaze on Mount Penteli, to the north-east of the capital Athens.
In the nearby town of Pallini, state electricity workers were scrambling to remove burnt pylons, the BBC's Kostas Koukoumakas reports.
Takis Panagopoulos, 87, woke up at 03:00 (00:00 GMT) to a red sky. "The fire surrounded the house and I managed to leave the area by car," he said.
Mr Panagopoulos, who was for many years an amateur actor, said his house could be rebuilt but his collection of more than 1,200 theatre books had been turned to ashes.
Firefighting helicopters were dropping water, one after the other. Winds in excess of 80km/h (49mph) have made it harder to contain the fire.
Almost all the water carriers in the region have been deployed. Greece's fire service said additional support was expected from other regions.
Hundreds of people have been evacuated from surrounding areas, including eastern Gerakas, which is home to nearly 30,000 people. A paediatric hospital and the National Observatory of Athens have also been vacated.
France has had some of the worst fires, particularly in the southwest region of Gironde, though conditions for tackling them have improved. Temperatures fell from 40C (104F) on Tuesday to the mid-20s on Wednesday.
"The conditions are favourable" to tackle the blazes, the mayor of La Teste-de-Buch - one of the affected areas in Gironde - told the BBC. Patrick Davet added, however, that it was necessary to stay "humble" as conditions could change.
French President Emmanuel Macron was due to visit the region.
Spain has also been battling multiple wildfires. Prime Minister Pedro Sanchez said more than 500 people had died from the heatwave so far.
Though one in the central province of Zamora has been brought under control, according to the local government, two large wildfires are still out of control in the north-western region of Galicia. A fire in the Gredos mountain range is also spreading east towards the Madrid region, the BBC's Guy Hedgecoe reports.
Some 5,600 hectares (13,800 acres) of land have also been burnt in the north-eastern region of Aragon. Mr Sanchez is due to visit the region on Wednesday.
Major fires have also affected Italy in the past days, causing the country to be put on its highest heatwave alert for Thursday. Italian infrastructure has also been heavily impacted, with temporary closure of a key rail route between Rome and Florence, Italian media report.
The trains on the route have since resumed service. But another fire stopped the traffic on part of a motorway in the north-east for hours.
As the heatwave moves north-eastwards, warnings of hot weather of up to 39C (102F) are in place for parts of Germany on Wednesday, according to its national weather service, DWD.
The hot weather has also hampered transport in the country, with low water levels on the Rhine and Danube meaning cargo ships are having to significantly reduce their loads, authorities said.
Despite the hot temperatures forecast in many parts of the country, thunderstorms are predicted in the west. Heavy rain, strong gusts of wind of around 100km/h and even hail are forecast.
Thunderstorms are also expected in Belgium. Heavy rainfall, hail storms and lighting strikes are forecast, the national forecaster RMI says.
https://www.bbc.com/news/world-europe-62235561
Announcement
FYI: Information's to be forwarded to the State Secretaries: Please work with your core team and get this information for publishing in Archive portal.
We require Testimonies from Gift School/Troop Churches, Report works for Documentation, Plans for the month for your State-20 Point Program Execution (word document), Praise Reports for Regional Meetings, Shadow Parliament Reports, any others...
SMP, Smla lists (updated ones).
Data should be sent forth to this email address - weekly - Regional allocation Email so it can be uploaded to server. Otherwise it can be sent to me personally in WhatsApp, will forward to IT wing.
Any difficulties in Documentary creation also please feel free to reach out, we will try to work it.
We will try to make all things documented for the month of July, August, and September.
Documentation is vital to show where we stand. Amen
AOJ Matrimony
Are you searching for a suitable bride/bridegroom for your loved ones? Do not worry. AOJ is providing you with free counselling and help through AOJ Matrimony Team. The Matrimony Team will help you to search for a suitable match for your loved ones, pray for them, guide them, and assist them and also solemnize the marriage.
Please have the enclosed profile application duly filled by your prospective bride/bridegroom and send it to us.
Feel free to clear your doubts and enquiries through phone or WhatsApp message or email.
Contact Particulars:
S.No.
Name
Whatsapp No.
Email ID
1
T.Leslie
9444907772
theoleslie@yahoo.com

2
Johnson
7358549693
Kfcm1995@gmail.com
3
Sol.Amala Arunachalam
9942203525
4
Sujatha Madhuram
9884892025
 

By Post to

Bro T.Leslie, F-1, Sabari Bagawathi Flats, Plot No.1, 8th Cross Street,

Sarvamangala Nagar,  Chitlapakkam,  Chennai - 600 064
AOJ MATRIMONY PROFILE
NAME (in block letters)                               :
Date of birth                                                  :
Height/Weight                                                            :
Complexion                                                    :
Languages known                                         :
Qualification                                                  :
Job/Business with details & Income.          :
Your present address                                                :         
Your permanent address                              :
Resident of                                                     :
Your Cell number and email ID                 :
Name & address of Troop Church             :
Father's name & Profession                        :
Mother's name & Profession                                   :
Siblings                                                           :
Your expectation                                           :
DATE:                                                                                                           SIGNATURE
 Signature of Zonal Coordinator of your Troop Church
Name of National Coordinators of Gift Schools and other AOJ Operations 2022 January to June
S.No
Name of Gift Schools of AOJ Operations
Coordinator & Leader Name
 Mobile No.
1
Troop church
Sol.Bindhu Chacko
9061242836
2
BFF
Sol.Jagdish
9930804564
3
Worship

Sol.Theodore

9840154775
Online International Worship
Sol.Raymond
9725107874
4
Deliverance
Sol.Joyce Beula
9842514163
Deliverance Level 1
Sol.Prabhu
9865265306
Deliverance Level 2
Sol.Benjamin Philip
9003021979
5
Healing
Dr.Deepthi
9003209519
Healing Level 1
Dr.Albert Jones
9840577293
Healing Level 2
Sol.Prameela
6
Prophecy

Sol.Shebe Lalu
9562637539
Prophecy Level 1
Sol.Veena Dua
9015652467
Prophecy Level 2
Sol.Shanker
9765987097
7
Financial Discipline
Sol.Himakshi
8708881760
8
Family Building
Sol.Sonny & Usha
Marriage preparation classes
Sol.Keerthana
9487704602
9
Hospitality
Sol.Neelam Sharma
9910532357
10
Morning Worship
Sol. Shakespeare
9003771216
11
Children  Bible School (CBS)
Sol. Jeslyn
9790001292
12
Beryl Wing(Communication, KG, Ezuchikkural)
Sol.Felix
7358420497
13
Daniel Academy Level 2
Sol.Gigi Jacob
9008293700
14
ECC
Sol. Shadrach
9361197303
15
Evangelism through Business
Sol.Sudha Deep
7305332244,

9884318338,

7305332233

16
IT  Wing
Sol.Pinta
17
Training for Translators
Sol.Arun Kumar Pune
7276216777
18
Night Prayer
Sol.Inna Reddy
7702063937
19
TC for Trades
Sol.Sudha Deep
7305332244,

9884318338,

7305332233

20
David school of Worship
Sol.Camilia
9940471819
WORSHIP DETAILS FROM JANUARY 2022
DAY
REGION
COORDINATOR
Sunday
North
Sol. Ajaypal (70658 85778)
Monday
Tamilnadu & Kerala
Sol. Menaka (80726 53915) (Tamilnadu) /

Sol. Sabina (98471 76553) (Kerala)

Tuesday
West
Sol. Savitha (97026 24364) (Maharashtra) /

Sol. Ratna (88052 05676) (Goa) /

Sol. Malathi (96013 53166) (Gujarat)

Wednesday
East
Sol. Yesumilan (86581 31635)
Thursday
Central
Sol. Reeta Gokhle (96659 83740)
Friday
Karnataka/Andhra Pradesh & Telangana
Sol. Preethi (74060 87324) (Karnataka) /

Sol. Dr. Pradeep (90478 99746) (AP) /

Sol. Innar Reddy (77020 63937) (Telangana)

Saturday
Tamilnadu
Sol. Menaka (80726 53915)