Message for reflection – Sr. Angelica AOJ
Rectification needed after repentance & confession
Ezr 10:11  Now then make confession to the LORD, the God of your fathers and do his will. Separate yourselves from the peoples of the land and from the foreign wives."
While I was reading this verses in the Bible, Holy Spirit started moving in me. What a great reform this is? Every sin committed has 2 impacts.
The   evil impact on in the individual who commits
The evil impact on the  society in which he lives.
Repentance and confession of sins  only  will not solve problems created by sin.
It needs  rectification.
Mat 3:8  Bear fruit in keeping with repentance.
The reforms brought forth by Ezra, demanded  two kinds of rectification by the people.
Separate  yourselves from the people of the land
Separate  yourselves from the foreign wives
First one  could be done easily. Let us come to the second one.
Separating themselves from the foreign wives
Israel was a chosen nation and the Lord had kept them separate from all other nations.
Deu 14:2  For you are a people holy to the LORD your God, and the LORD has chosen you to be a people for his treasured possession, out of all the peoples who are on the face of the earth. (Deu 7:6, Deu 26:18-19, Deu 28:9; Exo 19:5-6;)
The Lord had strictly warned them not to take wives from foreign nations. But they did and desecrated themselves. Nehemiah and Ezra, the servants of God wanted to purify the people from all their impurities, consecrate and dedicate them again to the Lord. Stringent and hard laws had to be introduced. This may look little hard to do but the command  of the Lord  remains unchangeable.
Mat 3:10  Even now the axe is laid to the root of the trees. Every tree therefore that does not bear good fruit is cut down and thrown into the fire.
Mat 3:11  "I baptize you with water for repentance, but he who is coming after me is mightier than I, whose sandals I am not worthy to carry. He will baptize you with the Holy Spirit and fire. 
Mat 3:12  His winnowing fork is in his hand, and he will clear his threshing floor and gather his wheat into the barn, but the chaff he will burn with unquenchable fire."
The Lord  separates "the woman's  seed" from the  "serpent seed".   He does this without any respect for persons.  The winnowing fork (Word of God) does this separation. It will separate the harvested  grain into 2 varieties.
The wheat – will be gathered into the barn (Jesus' Kingdom)
The chaff  - will be thrown  into the unquenchable fire. (Hell)
In Old Testament the selection was  by bloodline  and genealogy. But in New Testament it is by Faith in Jesus Christ.
Faith in Jesus Christ  requires obeying His Commandments.
Today the winnowing fork He used for separation is  "The  commandments of the Lord".
Joh 14:23  Jesus answered him, "If anyone loves me, he will keep my word, and my Father will love him, and we will come to him and make our home with him.
Let's be careful that no impurities which needs rectification enters into the camp of AOJ?
Can you imagine the after effects of separating husbands from the foreign wives they took? What would have happened on the day of sending these wives back from their families?
What would have happened to the children?
Today what are  foreign things in marriage?
Husbands and wives united in marriage against the will of God, with  other motives  than begetting Godly generation on earth or against the commandments of God.
Marriages taking place for  money, power,  etc.
Let's be careful and alert  in keeping our souls  pure and sacred in His sight.   There is no compromise in the Word of God.
Israelites did it during the time of Ezra and Nehemiah.
Zacchaeus came out voluntarily with a rectification  of his past life after meeting Jesus.
Mary Magdalene after repentance  and committed her life in the ministry with Jesus following Him upto Calvary.
Every time we repent, let us bear fruit in keeping with repentance
Sr. Angelica AOJ
PRAYER ANSWERED:
On 8th Nov, 2021 and 15th Nov, 2021, two prophecies were made for relief to Delhiites from the polluted air. On Jan 9, 2022 and now on 24th May, 2022, AQI index which was around 400 signifying unhealthy air is now in satisfactory category. We praise God for continuously answering our prayers.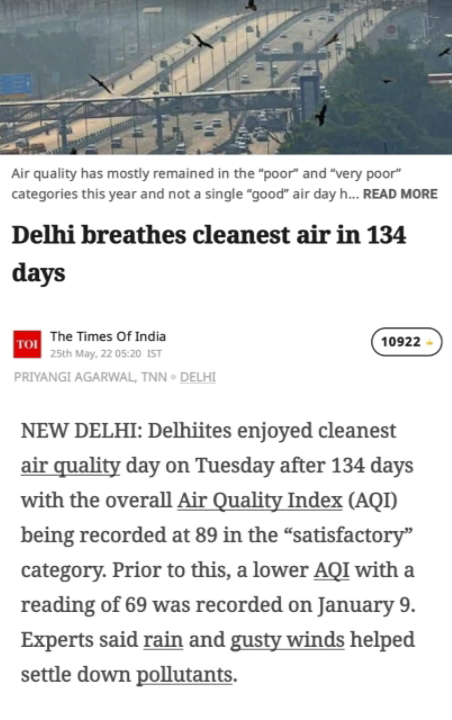 Reference: https://m.timesofindia.com/city/delhi/delhi-breathes-cleanest-air-in-134-days/articleshow/91774149.cms
TROOP CHURCH
EBENEZER TROOP CHURCH was coordinated by Sol. Mahesh on 15th May, 2022 from 5:30 am to 7am every Sunday. Around 15 members participated .
JEHOVAH RAPHA TROOP CHURCH was coordinated by Sol. Sunita Zambre from 19th March to 7th May, 2022 at 10 pm.
SHARON TROOP CHURCH was coordinated by Sol. Mini Shibi.Every day at 10 to 11 am.9 - 10 members participated.
FRP (Forgiveness and Reconciliation) TESTIMONIES
Sol. Neelam Soni: She was blessed by these classes and learnt the depth of the Word of God.
Sol. Kusumlata: Her father received physical healing and she was very much influenced with the classes.
Sol. Rajwati: Her grand daughter passed with good marks and was very much influenced with the class. She was filled with His knowledge and wisdom.
BETHESDA SCHOOL OF HEALING TESTIMONIES
Healing school level 1 was organized by Sol. Lissy and coordinated by Sol. Mohini and Sol. Kusumlata from May 23, 2022 to  May 30, 2022 from 2 pm to 4 pm in Hindi.
Sol. Kusumlata: Her friend's son received physical healing because of these classes. Praise God!
Sol. Niramala Sharma: She grew in the Lord and was delivered from the evil spirit.
HOSPITALITY GIFT SCHOOL TESTIMONIES
DO NOT FORGET TO SHOW HOSPITALITY TO STRANGERS, FOR BY SO DOING SOME PEOPLE HAVE SHOWN HOSPITALITY TO ANGELS WITHOUT KNOWING IT.
Hebrews 13:2
JEREMIAH SCHOOL OF PROPHECY TESTIMONIES
Jeremiah school of  Prophesy  Level - II was conducted in Puducherry zone from 2. 00 Pm to 5.00 Pm
DAVID WORSHIP SCHOOL TESTIMONY
Sol. Raju:  It was a good help to get closer to the Lord. He gave me a lot of words to remove any of the things that were within me and still draw closer to the Lord. To God be the glory.
Sol.Manimegalai:  I attended a three-day class at the David Worship School and learned a lot in all three days. On the last day Dr.Petricia was praying fervently at noon saying that God is singing in your tongue and God is anointing you.God anointed me and blessed me with a song on my tongue.
Song:
Soldiers of Jesus - We are Soldiers of Jesus
Let's get up - early in the morning,
Let us worship - our God!
Soldiers of Jesus
We are the soldiers of Jesus!
We will pray daily, in the name of the Lord,
to build what is to be built, and to unleash what is to be unleashed.
God gave the above song.Glory be to the Lord.
NIGHT PRAYER
During that night the LORD said to Gideon,
"Get up, go down against the camp,
because I am going to give it into your hands.
Judges 7:9
Night Prayer for west zone will be conducted every 4th Saturday of the month from 9 PM to 1 AM. All the SMP, coordinators and prayer warriors have participated.
MORNING PRAYER GROUPS
ABRAHAM ZONE (HIMACHAL PRADESH)  BIFURCATED INTO 2:
JOSHUA ZONE  FROM 25/10/2021.
ABRAHAM ZONE.
FAMILY BUILDING SCHOOL TESTIMONY
Sol.Roseline Jeya Mary:  These classes were very helpful to me.I know how to survive after all these years. I learned how to have a husband-wife relationship and how to raise children.I just learned that abortion is tantamount to murder. I would like to thank the teacher who took the class and the sister who attended.
Sol.Manimegalai: Praise be to the Holy Name of the Lord. In today's class all things were very useful to me.I will hold the Lord on one side and pray well. But, I failed in child rearing. Asking the Lord how to raise children without raising them wisely and giving them more wealth and giving them what they ask for, did not bring up the children properly. My time is wasted not even doing the Lord's service properly. I became tense and prayed. I am very sorry to think that I have left the fort in child rearing. I now feel that it is a sin to raise children to my liking without obeying my husband. There is no problem for me and my husband except the suffering that comes with children. Now I have prayed and  confessed to the Lord. Thank God for making me ‌listen this class.
CHILDREN BIBLE SCHOOL (CBS)
Train up a child in the way he should go:
and when he is old, he will not depart from it.
Proverbs 22:6
FINANCIAL DISCIPLINE SCHOOL
Debt Consolidation Loans - Getting a Debt Consolidation Loan, Even With Poor Credit Want to know how to properly manage the economy? Want to know where to invest? FINANCIAL DISCIPLINE school tell us about how to manage the economy.
ECC
The ECC training program launched on 5th Aug – 18, aims at  training  & rejuvenating  people who are rejected by the society and transform them into better citizens.
EVANGELISM THROUGH BUSINESS
But in your hearts revere Christ as Lord. Always be prepared to give an answer to everyone who asks you to give the reason for the hope that you have. But do this with gentleness and respect,
1 Peter 3:15
Morning Worship
Morning Worship is going on online (Zoom app) from 5:30 am to 7:00 am in Tamil Nadu and many other States in their own languages.
For details please contact
Sol. Shakespeare - 90037 71216, 62833 81962
Be Formed and Form (BFF)
Be Formed and Form is a
5 day short term course.
As per
Eph 4:11-13
, it perfects the saints,  for the work of the ministry, for the edifying of the body of Christ, ………until we all come into the unity of the faith and of the knowledge of the Son of God, to a full-grown man, to the measure of the stature of the fullness of Christ; The Lord wants the Church to be transformed according to
Eph 5:26, 27
to make her holy, (cleansing her by the washing with water through the word), and to present her as a radiant Church. By BFF training, the Church awakes and arises to shine in the world. So far 600 batches have been conducted across India in various languages. The students were from almost all the States of India and abroad. For Further details: Contact
Sol.Jagdish Naik Ph:9930804564
Come, be blessed and bless others!
Sapphire University
Those interested to know/join the university, for further clarifications and to know about our work may visit our website.
Information
Dear soldiers,
To keep information accessible we have made few web pages in the name of aojinfo.in, kindly store this address in your browser so you may access it any time. The addresses of the web pages are as follows
1) http://giftschool.online - Gift school schedule
2) aojinfo.in/beryl - Announcements of AOJ
3) aojinfo.in/wheel - Message
4) aojinfo.in/tc - Troop Church method, English
5) aojinfo.in/tcm - Troop Church eight week messages, English
6) aojinfo.in/troopchurch - Troop Church method, Tamil
7) aojinfo.in/tcmessage - Troop Church eight week message, Tamil
For Information
National Worship Coordinating team has been directed to collect any revelation/inspiration received during worship, (both personal/troop prayer atmosphere).We are expected to report these revelations every Sunday, scheduled meeting online.
We need to prayerfully move ahead asking the Lord for further directions to bring Divine Governance in our midst. Hence, we welcome you to participate in Kingdom building and restoration process. Kindly message the revelations with interpretations (as per the leading of Holy Spirit) on personal chat or Shield West group, by Saturday or before.
NOTE: Worship is the key to Prophecy.
Kingdom Human Rejuvenation & Development Centre (KHRDC)
A Section 25(Not for Profit) company which focuses on Training and Skill Development in all the States of India.   We provide training and equip them for workplace evangelism. We raise reliable, sincere and trustworthy people in the workplace like Joseph and Daniel who put God first in everything they do. Interested people can attend the Trainings. For details of Training, visit the Weblinks given above.
7 fold Agenda for the Global Churches/Church Leaders/Evangelists/Missionaries … (given on 27.10.2014)
To safeguard them from COVID 19 and solution for their Livelihood (Based On Early Christian Church Acts 2: 42-47)
No mention about money or tithe offering (via online also) in the Churches
No construction of Church buildings. Stop the Church building works even that are now going on.
Moulding and training believers and releasing them from the Church after 6 months.
Graduation of six months old believers
Dividing the Church into small groups of 10.
Pastors should look for jobs and get employed.
No full time pastors for the church.
Why the Lord has permitted COVID-19 ?
To Restore the Church of Jesus Christ Acts 2:42-47
National Worship Centre
No.70, (Old no 41) F1, First floor,
Bethel Enclave, Baba Foundations, (near SBI Branch)
Siruvallur High Road,
Perambur,
Chennai 600011.
National Worship Centre is a Centre where the Lord of hosts, the Lord God Almighty is worshipped in His majesty all the 24 hours. Per day 12 worship teams come to worship from different parts of the Nation. One slot consists of 2 hours. The opening of NWC also turns to be the trumpet sign to start the fatal war against Satan to win this Nation for Christ! Do you want to join this praising Army?
Book your slots
Tel: 7708505152
Praise God for the successful completion of 35,578    slots in National Worship Centre with a Non Stop Worship (24/7)
PROPHECY NEWS – What Does Bible Prophecy Say About Volcanoes?
What Does Bible Prophecy Say About Volcanoes?
Volcanoes are often triggered or accompanied by earthquakes, which are directly mentioned in Bible prophecy. Jesus Christ included earthquakes in His famous Olivet Prophecy. He prophesied of "famines, pestilences, and earthquakes in various places" (Matthew 24:7, emphasis added throughout).
Prophetic passages in the Old Testament warn mankind of phenomena described very similarly to what we call volcanoes today. "You will be punished by the Lord of hosts with thunder and earthquake and great noise, with storm and tempest and the flame of devouring fire" (Isaiah 29:6).
These biblical prophecies are often associated with catastrophic events leading up to Christ's second coming. "Blow the trumpet in Zion, and sound an alarm in My holy mountain! Let all the inhabitants of the land tremble; for the day of the Lord is coming…a day of darkness and gloominess, a day of clouds and thick darkness" (Joel 2:1-2).
The Song of Moses also speaks prophetically of similar divine punishments. "They have provoked Me to jealousy by what is not God; they have moved Me to anger by their foolish idols… For a fire is kindled in My anger, and shall burn to the lowest hell; it shall consume the earth with her increase, and set on fire the foundations of the mountains" (Deuteronomy 32:21-22).
The apostle John describes major events leading to the second coming in the final book of the Bible. "I looked when He [Christ] opened the sixth seal, and behold, there was a great earthquake; and the sun became black as sackcloth of hair, and the moon became like blood… And every mountain and island was moved out of its place" (Revelation 6:12-14).
Whether or not these prophecies specifically refer to volcanoes, they are all dire warnings of disasters brought on by humanity's sins and rejection of God.
Yet you should remember the sobering words of Jesus Christ in His Olivet Prophecy: "Watch therefore, and pray always that you may be counted worthy to escape all these things that will come to pass, and to stand before the Son of Man" (Luke 21:36).
https://www.ucg.org/beyond-today/blogs/what-does-bible-prophecy-say-about-volcanoes
Announcement
FYI: Information's to be forwarded to the State Secretaries: Please work with your core team and get this information for publishing in Archive portal.
We require Testimonies from Gift School/Troop Churches, Report works for Documentation, Plans for the month for your State-20 Point Program Execution (word document), Praise Reports for Regional Meetings, Shadow Parliament Reports, any others...
SMP, Smla lists (updated ones).
Data should be sent forth to this email address - weekly - Regional allocation Email so it can be uploaded to server. Otherwise it can be sent to me personally in WhatsApp, will forward to IT wing.
Any difficulties in Documentary creation also please feel free to reach out, we will try to work it.
We will try to make all things documented for the month of July, August, and September.
Documentation is vital to show where we stand. Amen
AOJ Matrimony
Are you searching for a suitable bride/bridegroom for your loved ones? Do not worry. AOJ is providing you with free counselling and help through AOJ Matrimony Team. The Matrimony Team will help you to search for a suitable match for your loved ones, pray for them, guide them, and assist them and also solemnize the marriage.
Please have the enclosed profile application duly filled by your prospective bride/bridegroom and send it to us.
Feel free to clear your doubts and enquiries through phone or WhatsApp message or email.
Contact Particulars:
S.No.
Name
Whatsapp No.
Email ID
1
T.Leslie
9444907772
theoleslie@yahoo.com

2
Johnson
7358549693
Kfcm1995@gmail.com
3
Sol.Amala Arunachalam
9942203525
4
Sujatha Madhuram
9884892025
 

By Post to

Bro T.Leslie, F-1, Sabari Bagawathi Flats, Plot No.1, 8th Cross Street,

Sarvamangala Nagar,  Chitlapakkam,  Chennai - 600 064
AOJ MATRIMONY PROFILE
NAME (in block letters)                               :
Date of birth                                                  :
Height/Weight                                                            :
Complexion                                                    :
Languages known                                         :
Qualification                                                  :
Job/Business with details & Income.          :
Your present address                                                :         
Your permanent address                              :
Resident of                                                     :
Your Cell number and email ID                 :
Name & address of Troop Church             :
Father's name & Profession                        :
Mother's name & Profession                                   :
Siblings                                                           :
Your expectation                                           :
DATE:                                                                                                           SIGNATURE
 Signature of Zonal Coordinator of your Troop Church
Name of National Coordinators of Gift Schools and other AOJ Operations 2022 January to June
S.No
Name of Gift Schools of AOJ Operations
Coordinator & Leader Name
 Mobile No.
1
Troop church
Sol.Bindhu Chacko
9061242836
2
BFF
Sol.Jagdish
9930804564
3
Worship

Sol.Theodore

9840154775
Online International Worship
Sol.Raymond
9725107874
4
Deliverance
Sol.Joyce Beula
9842514163
Deliverance Level 1
Sol.Prabhu
9865265306
Deliverance Level 2
Sol.Benjamin Philip
9003021979
5
Healing
Dr.Deepthi
9003209519
Healing Level 1
Dr.Albert Jones
9840577293
Healing Level 2
Sol.Prameela
6
Prophecy

Sol.Shebe Lalu
9562637539
Prophecy Level 1
Sol.Veena Dua
9015652467
Prophecy Level 2
Sol.Shanker
9765987097
7
Financial Discipline
Sol.Himakshi
8708881760
8
Family Building
Sol.Sonny & Usha
Marriage preparation classes
Sol.Keerthana
9487704602
9
Hospitality
Sol.Neelam Sharma
9910532357
10
Morning Worship
Sol. Shakespeare
9003771216
11
Children  Bible School (CBS)
Sol. Jeslyn
9790001292
12
Beryl Wing(Communication, KG, Ezuchikkural)
Sol.Felix
7358420497
13
Daniel Academy Level 2
Sol.Gigi Jacob
9008293700
14
ECC
Sol. Shadrach
9361197303
15
Evangelism through Business
Sol.Sudha Deep
7305332244,

9884318338,

7305332233

16
IT  Wing
Sol.Pinta
17
Training for Translators
Sol.Arun Kumar Pune
7276216777
18
Night Prayer
Sol.Inna Reddy
7702063937
19
TC for Trades
Sol.Sudha Deep
7305332244,

9884318338,

7305332233

20
David school of Worship
Sol.Camilia
9940471819
WORSHIP DETAILS FROM JANUARY 2022
DAY
REGION
COORDINATOR
Sunday
North
Sol. Ajaypal (70658 85778)
Monday
Tamilnadu & Kerala
Sol. Menaka (80726 53915) (Tamilnadu) /

Sol. Sabina (98471 76553) (Kerala)

Tuesday
West
Sol. Savitha (97026 24364) (Maharashtra) /

Sol. Ratna (88052 05676) (Goa) /

Sol. Malathi (96013 53166) (Gujarat)

Wednesday
East
Sol. Yesumilan (86581 31635)
Thursday
Central
Sol. Reeta Gokhle (96659 83740)
Friday
Karnataka/Andhra Pradesh & Telangana
Sol. Preethi (74060 87324) (Karnataka) /

Sol. Dr. Pradeep (90478 99746) (AP) /

Sol. Innar Reddy (77020 63937) (Telangana)

Saturday
Tamilnadu
Sol. Menaka (80726 53915)