Message for reflection – Sr. Angelica AOJ
What Adam lost in fall?
What Adam lost  in his fall was exactly the  gift  to administer or to rule, a gift which was priceless  and freely given. The whole earth with its animal kingdom, vegetation, oceanic kingdom, the arena of astronomy was subjected to his authority. In sin, he lost control over everything.
Adam's sin brought loss to the earth  in two levels
When Adam lost control over the Creation, the Creation also suffered without a proper  Administrator.
Creation is still longing to come under the ruling  of the one  whom God has  appointed.  Its earnest anguish is expressed in the Bible
Rom 8:19-21 
For the earnest expectation of the creation waits for the manifestation of the sons of God.   For the creation was not willingly subjected to vanity, but because of Him who subjected it on hope   that the creation itself also shall be delivered from the bondage of corruption into the glorious liberty of the children of God. 
When  the earth lost its proper administrator  it suffered another evil simultaneously. It was brought under a  wrong administrator, satan,   enemy of  God and  man.
He made the earth his own kingdom and started ruling  the earth according to his own norms. He started implementing his laws in this earthly kingdom.
His laws of administration are basically threefold.  "stealing, killing and  destroying". (John 10:10)
In the following chapters of the Bible clearly portraits  how Adam is losing this authority  over the creation one by one. They systematically  break  away  from Adam after the fall.
Enmity instead of harmony
The whole creation was in perfect harmony with Adam before fall.
The Lord Himself put enmity between the seed of woman ( Mankind)  and the seed of the serpent 
Humanity was divided into two.
Seed of woman and seed of the serpent
Gen 3:15  And I will put enmity between you and the woman, and between your seed and her Seed; He will bruise your head, and you shall bruise His heel. 
This enmity reflected in all the spheres of his life.
Adam became enemy to himself, his own body, soul & spirit. . He lost harmony between them. He became a slave to war going on within him.
His body became enemy against his soul & spirit
Gal 5:17  For the flesh lusts against the Spirit, and the Spirit against the flesh. And these are contrary to one another; lest whatever you may will, these things you do.
His mind is not under his control
Rom 8:7  because the carnal mind is enmity against God, for it is not subject to the Law of God, neither indeed can it be. 
The world became enemy to him.
Jas 4:4  Adulterers and adulteresses! Do you not know that the friendship of the world is enmity with God? Therefore whoever desires to be a friend of the world is the enemy of God. 
The chapters of Bible  from Genesis 4 onwards is a complete exposure and manifestation of the above.
His own wife, children, nature, animals, atmosphere, soil, everything publicly declare their enmity with him., One after the other in perfect sequence breaks away from him leaving Adam and his descendants in mental torture and  anguish! Everything that God had entrusted with him, slipped away from his hand  one after the other!
Jesus brought everything back to us. Now we can exercise authority over them.
Sr. Angelica AOJ
TESTIMONY
Sol. Camilia Theodore: I live in Manappakkam, Chennai. We recently moved here. Garbage was dumped 5 feet high in the empty space in front of our house. Thus the place was used for many years. I raised my hands on the mound and began to prophesy in the name of Jesus Christ that this mound would be emptied immediately, that this place should be clean, and that no one should dump rubbish here.Within a month the corporations came and removed the rubbish. The joy that God heard my prayer filled my heart. Over the next two months it was converted into a kabaddi playground. Youngsters from many areas come here daily to play kabaddi. I thank God for listening to my prayers and turning this place into useful one.
Sol. Benjamin became a catalyst to Churches
Dear Soldiers of AOJ,
Greetings in the name of the Lord Jesus Christ!
In 2021 the Lord started speaking about the plans and strategies of the Lord for AOJ for 2022. One of them was AOJ Soldiers will be used in Institutional Churches. It was difficult to believe.
But it really happened and is happening continuously. I would like to narrate one such incident.
On 22nd May 2022, I received a message from a saved "Robert Salem"  "Hi Sister".
I didn't reply because there was only one message in this number. sent by me on Feb 25, 2021. That was FRP Level 2 invitation in Tamil. It was not replied also. So I didn't respond. . Then I received 2 photographs of a dead body of a middle aged man put in coffin. I ignored this as one among the 100s of messages.
Then a girl from an unknown number called me and said, "Pr. Robert Kennedy expired. While he was alive, he used to tell us about you. "
I could not identify Robert Kennedy since I knew his name as Robert, not Robert Kennedy. I told her, "I do not know this person. Why do you call me now?"
"You should help us now. When our Pastor was alive he used to tell us a lot about you and your ministry. He had alerted us about the wrong things that are going on in other Churches. "
"What help do you need now"? I asked.
"We need only your prayers".
Then I started asking her name, details. This much information I could collect from her.
Pr. Robert Kennedy was running a Church of 20 members. She is one of the Church members. He used to do a lot of deliverance ministry. (By this time I identified him. We used to discuss a lot about the wrongs that are going on in the institutional churches. He used to ask me for prayers. He was a man mostly in fasting and prayer.) 2 days ago he had a heart attack. He was taken to the hospital and he passed away.
His sheep did not know what to do. They collected some money and conducted the funeral service.  Since he was preaching against the wrong practices in the church other pastors in the area did not cooperate much.
They wanted our guidance.  So I thought of conducting FRP training for them on zoom. When I spoke to Shanmugapriya (Priya) about it she was so happy. I introduced Sol. Joyce Beula and Sol. Benjamin of Deliverance Department. Glory be to God. They took it seriously. One day we called the believers over the phone and had a video chat. Some 10 members (male and female) were there. We promised them to conduct a training FRP for 8 days (2 hours each a day). She replied,
"Not only 8 days, kindly guide us always".
It clicked and struck my mind. I realized that they need a Shepherd now". The Lord is handing over this 20 sheep into the hands of AOJ.
Sol. Benjamin took it seriously and discussed with me with burden.  29th was the Sunday. They all might come to the place where they used to gather under the Pastor. They would be looking for someone to take that place.  He took up the responsibility. Glory be to God. He enlightened me telling,
"It will be nice if someone among us can go in person and comfort them this first week".
I came to know that he was visiting his mother in Sivagangai at that time, it seemed difficult for him to go but he promised to send someone else.
Since I was in Baroda, today, 29.05.2022, I didn't even think of Omalur Salem since we had enough things here to deal. In between a thought came to call Priya. But it should disturb their worship.
Later I came to know about this miracle. Sol. Benjamin went there all the way from Sivagangai with his wife, mother and child Joshua .Priya had thanked me in a message. I didn't know why. Then she called and said, "Thank you for sending Sol. Benjamin." I did not send him. The Lord sent him there.
I looked in google and found the distance 330 kms.  He sacrificed one day in his holidays and took the pain to go and meet the Immanuel Church people so that they could feel the protection and comfort of a shepherd.
Thank you Jesus for inspiring Sol. Benjamin and his family to go to Omalur Salem to comfort your children. You asked Peter once, "Do you love me more than others?   Look after my sheep".
Let's thank God, for raising such zealous committed soldiers in AOJ.  May God bless this soldier. Amazing are the ways of the Lord. The Lord is righteous.
Dear soldiers, have thirst for souls. He will entrust souls with you. Amen.
Sr. Angelica AOJ
TROOP CHURCH
| | | | | | |
| --- | --- | --- | --- | --- | --- |
| S.No | TROOP PLACE | TROOP NAME | DISTRICT | CONSTITUENCY | LEADER |
| 1 | Tamilnadu | Peter | Tiruchirappali | Tiruchirappali | Sol.Alphonse |
| 2 | Tamilnadu | ELOHEM | Coimbatore | Coimbatore | Sol.Jasmine |
| 3 | Tamilnadu | Nova | Chennai | Arakkonam | Sol.Mohanasundaram |
| 4 | Tamilnadu | Esther | Tiruvallur | Arakkonam | Sol.Mohanasundaram |
| 5 | Tamilnadu | Hannah | Chennai | Chennai North | Sol.Chandra |
| 6 | Tamilnadu | Timothy | Chennai | Chennai Central | Sol.Steniya |
| 7 | Tamilnadu | Samuel | Chennai | Chennai Central | Sol.Santhini |
| 8 | Tamilnadu | Paul Church | Tiruchirappali | Tiruchirappali | Sol.Rani John |
| 9 | Tamilnadu | Daniel | Chennai | Chennai south | Sol.P.Celine mary |
| 10 | Tamilnadu | David TC | Chennai | Chennai North | Sol.Regi |
| 11 | Tamilnadu | Sharon TC | Nilgiris | Nilgiris | Sol.Dr.Shanthi Anto |
| 12 | Tamilnadu | Carmel troop Church | Chennai | Chennai North | Sol.Jacob |
| 13 | Tamilnadu | Sap and Green | Chennai | Chennai North | Sol.Devi |
| 14 | Tamilnadu | ELSHADDAI | Kanyakumari | Kanyakumari | Sol.Priya |
| 15 | Tamilnadu | EPPATHA | Chennai | Chennai North | Sol.Robin Singh |
| 16 | Tamilnadu | Jehovah | Kanyakumari | Kanyakumari | Sol.Sasikala |
| 17 | Tamilnadu | Raphael | Kanyakumari | Kanyakumari | Sol.Sasikala |
| 18 | Tamilnadu | Christian soldiers | Chennai | Chennai Central | Sol.Sandra |
| 19 | Tamilnadu | Samuel | Chennai | Chennai North | Sol.Shanthi |
| 20 | Tamilnadu | Daniel | Chennai | Chennai North | Sol.John Antony |
| 21 | Tamilnadu | ARK OF NOAH | Virudhunagar | Sivagangai | Petricia |
| 22 | Tamilnadu | NOAH | Sivagangai | Virudhunagar | Priya Kannan |
| 23 | Tamilnadu | ELROWHE | Chennai | Chennai North | Prabavathi |
| 24 | Tamilnadu | El Shaddai | Chennai | Kancheepuram | Theodore |
| 25 | Tamilnadu | ELROWHE | Chennai | Chennai North | Prabavathi |
| 26 | Tamilnadu | Zion | Coimbatore | Coimbatore | Christopher |
| 27 | Tamilnadu | Antioch troop church | Tiruvallur | Tiruvallur | Selvam |
| 28 | Tamilnadu | Jabez troop church | Chennai | Chennai North | Sol.Benwin |
| 29 | Tamilnadu | Vanathin vasal | Coimbatore | Coimbatore | Sol.Joel |
BFF (BE FORMED AND FORM) CHENNAI
FRP (Forgiveness and Reconciliation) TESTIMONIES
Sol Hemlata; Praise the Lord! She received answers to her questions which she had since long. She was truly blessed by these classes.
Sol.Babli Nagar. She prophesied for her husband's job and he got the job. She was blessed by these classes.
Sol.Manna Mandal: She joined from Kolkata. She was blessed with the holy word of God and praised the Lord.
BETHESDA SCHOOL OF HEALING TESTIMONIES
Sol.Rajwati: She learnt deep things of God in these classes.
Sol.Anju: She received answers to her questions in the classes.
Sol.Neelam Soni: She learnt new things in the classes and was blessed.
All the soldiers testified the goodness of God in these classes. Praise God!
HOSPITALITY GIFT SCHOOL TESTIMONIES
Sol.Carol Priya: I was thinking that hospitality was the way we would look after the next one. But they said so many things that it was pretty clear about the hospitality based on scripture. I thank God for that.
Sol.Arokiamary: By the grace of God in today's class I learnt about character, morality and time management. Whatever they said was like filming out what happened in my life. The Lord gave me the ideas and knowledge to handle many things and to make wise decision. The devil is waiting to see how we can be overthrown at any moment. The liar is watching everything we do. When I think of living for the Lord, then a fatigue comes and I start to think that I cannot do this, Can't live so holy. I cannot live like Jesus thinks. There was a fatigue, a setback. But, how to fix my life I knew today. I learned how to cultivate this land. I learned that only the Word of God can do that, and that the Holy Spirit would lead us. Discipline is important. I agree to walk with the companionship of the Holy Spirit. Glory to God.
JEREMIAH SCHOOL OF PROPHECY TESTIMONIES
Sol Jayalakshmi Sundar: I attended the prophecy classes. If I need to explain it simply, there is a saying "When the ear is not fed, it can lead to a slight stomach upset". Every word is so comforting to the spiritual hunger. What was on my mind was the words of the Lord, the vision and its interpretations, how the Lord speaks with us, knowing what its impact would be. To God be the glory.
Sol.Vimala Grace: At the time of the anointing I felt more of the power of the anointing. Not only that but Jesus gave a word. "I will bless them and my hilly surroundings and cause it to rain in due season blessed be the forces of the field whose work gives the earth its fruit. And they shall prosper in their land, and they shall know that I am the LORD, when I shall destroy the ropes of their face, and deliver them out of the hand of their bondmen". God spoke this word to me at the anointing to glorify God.
Sol.Manimegalai: Jeremiah's prophetic school classes were very helpful to me. I learned how to prophesy and how to achieve victory with faith. I learned how to write a prophetic decree. All these six lessons were very helpful to me. To God be the glory.
DAVID WORSHIP SCHOOL TESTIMONY
Sol.Manimegalai: I learned many things through the David Worship Training School. The Lord poured out an infinite anointing on me and put a new song on my tongue. Get up early in the morning and we will praise the Lord. We will bring people living in darkness into the dramatic light of Jesus. Pray for the nations and let it belong to the Lord. We will rejoice in the Lord with shouts of joy. We are soldiers of his army all glory to Jesus our Lord.
Prayer: Holy God, save us from our enemies and their tricks. We depend on you in all situations of our lives.
NIGHT PRAYER
Night prayer was conducted on every Friday in the month of May, 2022 from 11pm to 1am.
MORNING WORSHIP
Morning worship in Tamil Nadu, Details of the groups (East, West, North South Zone wise)
East zone
Perumbalur
Trichy
 Pondicherry
Western Zone
Coimbatore, Pollachi.
 Nilgiris.
Erode.
Tirupur, Dharmapuri, Krishnagiri.
 Salem ,Namakkal,Kallakurichi
Sulur.
Jeeva malai
North zone
Chennai Central zone:Thiruvannamalai, Vellore, Villupuram, Tiruvallur.
Chennai South.
Chennai North: Perumbudur, kanchipuram.
Southern zone
Tirunelveli.
 Kanyakumari.
South Misbah (Tenkasi).
Praise the Lord!
FAMILY BUILDING SCHOOL
By the grace and mercies of the Lord, Family Building School Level 2 was conducted from 19/5/22 to 22/5/22 between 9:00 to 11:00 pm. It was only for a closed group, whoever has attended level 1.
CHILDREN BIBLE SCHOOL (CBS)
Let the little children come to me, and do not hinder them, for the kingdom of God belongs to such as these.
Truly I tell you, anyone who will not receive the kingdom of God like a little child will never enter it.
Luke 18:16-17
FINANCIAL DISCIPLINE SCHOOL
"Honor the Lord with your wealth, with the firstfruits of all your crops; then your barns will be filled to overflowing, and your vats will brim over with new wine."
Proverbs 3:9
Morning Worship
Morning Worship is going on online (Zoom app) from 5:30 am to 7:00 am in Tamil Nadu and many other States in their own languages.
For details please contact
Sol. Shakespeare - 90037 71216, 62833 81962
Be Formed and Form (BFF)
Be Formed and Form is a
5 day short term course.
As per
Eph 4:11-13
, it perfects the saints,  for the work of the ministry, for the edifying of the body of Christ, ………until we all come into the unity of the faith and of the knowledge of the Son of God, to a full-grown man, to the measure of the stature of the fullness of Christ; The Lord wants the Church to be transformed according to
Eph 5:26, 27
to make her holy, (cleansing her by the washing with water through the word), and to present her as a radiant Church. By BFF training, the Church awakes and arises to shine in the world. So far 600 batches have been conducted across India in various languages. The students were from almost all the States of India and abroad. For Further details: Contact
Sol.Jagdish Naik Ph:9930804564
Come, be blessed and bless others!
Sapphire University
Those interested to know/join the university, for further clarifications and to know about our work may visit our website.
Information
Dear soldiers,
To keep information accessible we have made few web pages in the name of aojinfo.in, kindly store this address in your browser so you may access it any time. The addresses of the web pages are as follows
1) http://giftschool.online - Gift school schedule
2) aojinfo.in/beryl - Announcements of AOJ
3) aojinfo.in/wheel - Message
4) aojinfo.in/tc - Troop Church method, English
5) aojinfo.in/tcm - Troop Church eight week messages, English
6) aojinfo.in/troopchurch - Troop Church method, Tamil
7) aojinfo.in/tcmessage - Troop Church eight week message, Tamil
For Information
National Worship Coordinating team has been directed to collect any revelation/inspiration received during worship, (both personal/troop prayer atmosphere).We are expected to report these revelations every Sunday, scheduled meeting online.
We need to prayerfully move ahead asking the Lord for further directions to bring Divine Governance in our midst. Hence, we welcome you to participate in Kingdom building and restoration process. Kindly message the revelations with interpretations (as per the leading of Holy Spirit) on personal chat or Shield West group, by Saturday or before.
NOTE: Worship is the key to Prophecy.
Kingdom Human Rejuvenation & Development Centre (KHRDC)
A Section 25(Not for Profit) company which focuses on Training and Skill Development in all the States of India.   We provide training and equip them for workplace evangelism. We raise reliable, sincere and trustworthy people in the workplace like Joseph and Daniel who put God first in everything they do. Interested people can attend the Trainings. For details of Training, visit the Weblinks given above.
7 fold Agenda for the Global Churches/Church Leaders/Evangelists/Missionaries … (given on 27.10.2014)
To safeguard them from COVID 19 and solution for their Livelihood (Based On Early Christian Church Acts 2: 42-47)
No mention about money or tithe offering (via online also) in the Churches
No construction of Church buildings. Stop the Church building works even that are now going on.
Moulding and training believers and releasing them from the Church after 6 months.
Graduation of six months old believers
Dividing the Church into small groups of 10.
Pastors should look for jobs and get employed.
No full time pastors for the church.
Why the Lord has permitted COVID-19 ?
To Restore the Church of Jesus Christ Acts 2:42-47
National Worship Centre
No.70, (Old no 41) F1, First floor,
Bethel Enclave, Baba Foundations, (near SBI Branch)
Siruvallur High Road,
Perambur,
Chennai 600011.
National Worship Centre is a Centre where the Lord of hosts, the Lord God Almighty is worshipped in His majesty all the 24 hours. Per day 12 worship teams come to worship from different parts of the Nation. One slot consists of 2 hours. The opening of NWC also turns to be the trumpet sign to start the fatal war against Satan to win this Nation for Christ! Do you want to join this praising Army?
Book your slots
Tel: 7708505152
Praise God for the successful completion of 35,494   slots in National Worship Centre with a Non Stop Worship (24/7)
PROPHECY NEWS – THESE 5 SIGNS OF JESUS' SECOND COMING
THESE 5 SIGNS OF JESUS' SECOND COMING
In the last days, so many people are vigilantly awaiting the Lord Jesus' coming, so many people are weeping and calling out to the Lord Jesus, and so many people are seeking signs of Jesus' second coming, but they are lost without a direction. Are you one of them? Today, let's discuss five signs of Jesus' second coming by integrating some verses in Matthew 24, so that you can see clearly the fact of the fulfillment of the prophecies concerning the Lord's return and find the way to welcome the Lord.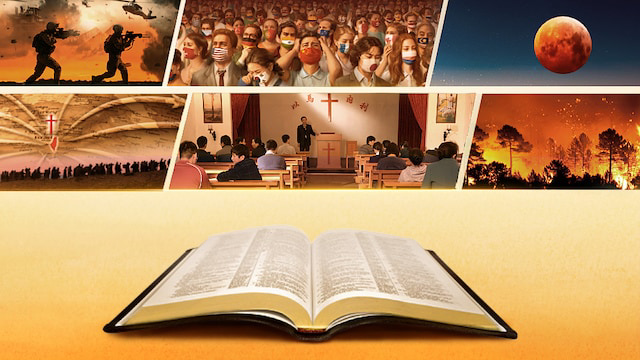 SIGN ONE: THE APPEARANCE OF FALSE CHRISTS
In Matthew 24:4–5 it says: "Take heed that no man deceive you. For many shall come in My name, saying, I am Christ; and shall deceive many."
From the Lord's prophecy, we can understand that when the Lord Jesus comes again, there will appear false Christs that try to pass themselves off with the Lord Jesus' name. Has this omen been seen? Today, in the last days, some false Christs that call themselves Christ have appeared one after another in countries such as South Korea, China and Japan. They take things out of context, misinterpret the Bible, impersonate the Lord Jesus' name to say some words that bless people and make promises to people, and also try to imitate the Lord Jesus by performing some signs and wonders, healing the sick and casting out demons to deceive people. But no matter what means false Christs employ, none of them can do the works the returned Lord will perform as prophesied in Revelation, such as speaking to the churches, breaking the seven seals and opening the scroll, reaping and uniting all denominations as one, separating the sheep from the goats, and rewarding the good while punishing the evil. Moreover, the Lord Jesus prophesied that the Spirit of truth will come in the last days and tell us all of the truth we do not understand. Only Christ can express the truth; false Christs cannot. False Christs do not possess the essence of God, so they cannot express the truth to provide us with life or do the work of God Himself, but can only rely on showing some simple signs and wonders to deceive people. These are the characteristics of false Christs the Lord Jesus told us in Matthew 24:24: "For there shall arise false Christs, and false prophets, and shall show great signs and wonders; so that, if it were possible, they shall deceive the very elect." We can see from this that the sign of false Christs appearing in the last days has appeared. All those who are only capable of performing a few simple signs and wonders to deceive people are false Christs without a doubt. And we must know that without the coming of the true Christ there will be no false Christs to speak of. This is the basic knowledge—the true and false exist simultaneously. It is just because of the arrival of the true Christ that false Christs appear.
SIGN TWO: WARS AND DISASTERS
It says in Matthew 24:6–8: "And you shall hear of wars and rumors of wars: see that you be not troubled: for all these things must come to pass, but the end is not yet. For nation shall rise against nation, and kingdom against kingdom: and there shall be famines, and pestilences, and earthquakes, in divers places. All these are the beginning of sorrows."
These prophecies show us that when the Lord comes again, there must be wars, famines and earthquakes. Entering the 21st century, we hear of frequent wars, such as the war in Afghanistan, the war in Iraq, the wars between Israel and its surrounding countries, and the war in Syria. As far as famines go, since 2003, many places have faced a food crisis one after another, such as Darfur of Sudan, the Horn of Africa, Burma, Afghanistan, Kenya, and other countries. In February of 2020, there was also the worst locust infestation in 25 years in eastern Africa: 400 billion locusts consumed the food for almost 35 thousand people in just a single day, with the result that many countries suffered from a serious food crisis. Later, the locusts swarmed India and Pakistan. Besides, earthquakes have been happening: the Indian Ocean tsunami in 2004, the Wenchuan earthquake in China in 2008, the earthquake in Haiti in 2010, the 8.1-magnitude earthquake in Nepal in 2015, the earthquake in Indonesia in 2018, the earthquake in the Caribbean in 2020, and so on. Are these not the beginning of disasters? On top of this, the pandemic has also spread rapidly since 2019, invading many countries in the world. From these facts we can be certain that the Lord Jesus' prophecy has been fulfilled.
SIGN THREE: INIQUITY ABOUNDS AND THE LOVE OF BELIEVERS IS COLD
Matthew 24:12 says: "And because iniquity shall abound, the love of many shall wax cold."
We can see from the Lord's prophecy that the iniquity in the religious world will increase in the last days. Let's look at the situation of the religious world right now: Some pastors and elders do not focus on leading their believers in practicing the Lord's words, but instead follow worldly trends, covet riches, lead the followers to get rich and walk the worldly path; some pastors only care about protecting their own status, vie with co-workers and engage in jealous disputes, so much so that they even form cliques and create factions; some even embezzle offerings to God and engage in sexual misconduct, completely becoming evil-doing resistors of God. Some denominations also judge and condemn each other, and carry out membership schemes to control believers. Because of the increase in iniquity, believers are unable to gain supply, and thus give no thought to worshiping God and working for the Lord and live enmeshed in worldly entanglements. What's more, when they attend church gatherings, many go just to be a part of the fun, to perform religious ceremonies, to hawk their wares or to find a romantic partner. Think of the end of the Age of Law. The temple that had previously been filled with the glory of Jehovah God appeared desolate, and the priests made poor sacrifices and turned the temple into a marketplace, entirely deviated from God's way and did not have any reverence toward Him. Is there any difference between the churches of today and the temple at the end of the Age of Law? In these things, the fulfillment of this prophecy of the Lord is apparent.
SIGN FOUR: THE SPREAD OF THE GOSPEL TO THE ENDS OF THE EARTH
Matthew 24:14 records: "And this gospel of the kingdom shall be preached in all the world for a witness to all nations; and then shall the end come."
This prophecy tells us that one of the signs of Jesus' second coming in the last days is that all the nations of the world will hear the gospel of the Lord Jesus. When the Lord Jesus was nailed to the cross and completed His work of redemption, the Holy Spirit began to guide God's chosen people to bear witness to the Lord Jesus. The apostles started to spread the name of the Lord Jesus Christ in Syria, Asia, Macedonia, Roma, and elsewhere. Thus Christian churches sprang up, like shoots growing after rain, and established in these areas. After that, Christians suffered persecution from the Roman Empire and had to go into exile all over the world. Consequently, the gospel spread throughout the earth. Today, the Lord Jesus' gospel has spread across the entire universe, Christians can be found all over the world and many democratic countries have adopted Christianity as their state religion. Even in China, where the party in power is atheistic, many people have accepted the gospel of the Lord Jesus. It is apparent that this prophecy of the Lord has been fulfilled.
SIGN FIVE: THE RESTORATION OF ISRAEL
It records in Matthew 24:32–33: "Now learn a parable of the fig tree; When his branch is yet tender, and puts forth leaves, you know that summer is near: So likewise you, when you shall see all these things, know that it is near, even at the doors."
As people who believe in the Lord all know, "the fig tree" refers to Israel, and the fig tree putting forth its leaves refers to the restoration of Israel. Actually, Israel was restored on May 14, 1948 and was formally accepted as a member of the United Nations the next year. It is clear that this prophecy of the Lord Jesus' second coming has also been fulfilled.
We can determine from the above facts that the prophecies of the Lord Jesus' second coming have already been fulfilled and that the Lord returned long ago. At this point, some brothers and sisters may ask: "If the Lord has returned, how come we haven't yet welcomed Him?" If we want to welcome the Lord, we must first know what work the Lord will do upon His return. The Lord Jesus prophesied: "I have yet many things to say to you, but you cannot bear them now. However, when He, the Spirit of truth, is come, He will guide you into all truth: for He shall not speak of Himself; but whatever He shall hear, that shall He speak: and He will show you things to come" (John 16:12–13). "And if any man hear My words, and believe not, I judge him not: for I came not to judge the world, but to save the world. He that rejects Me, and receives not My words, has one that judges him: the word that I have spoken, the same shall judge him in the last day" (John 12:47–48). "Sanctify them through Your truth: Your word is truth" (John 17:17). And it says in 1 Peter 4:17: "For the time is come that judgment must begin at the house of God." We can understand from these verses that when the Lord returns in the last days, He will carry out the work of judgment beginning from the house of God and express the truth to judge man, pointing out the way for us to be purified of sin. These are the truths never before uttered by the Lord Jesus in the Age of Grace, and the work He had yet to do. Therefore, as long as someone testifies that the Lord has returned, and that He is expressing the truth and performing the work of judgment beginning from the house of God, we should take the initiative to seek and investigate. So long as we are sure this way has the truth and can show us the way to cleanse our sins, is that not welcoming the Lord?
In the world today, only The Church of Almighty God testifies that the Lord has already returned as Almighty God, Christ of the last days. On the foundation of the Lord Jesus' work of redemption, Almighty God expresses the truth and performs a stage of work to judge and purify mankind, thereby enabling us to fully escape the binds of sin and be brought into the kingdom of heaven. Almighty God's appearance and work have entirely fulfilled the prophecy of the Lord Jesus performing the work of judgment in the last days. The Lord Jesus said: "Seek, and you shall find; knock, and it shall be opened to you" (Matthew 7:7). As long as we genuinely seek, we will have the chance to reunite with the Lord and dine at the marriage supper of the Lamb.
Editor's Note: We have seen the signs of Jesus' second coming, and through this we can be certain that the Lord has returned. So, do you wish to welcome the Lord soon? Do you wish to attend the feast of the Lamb? We invite you to contact us anytime via online chat.
https://answerforchristians.org/signs-of-Jesus-second-coming.html?gclid=CjwKCAjwkYGVBhArEiwA4sZLuPp5bmb4qhKhD-tNEiQxzaOdSLJEBNLUFY1cYgpRQJGjG-utCwngsxoC9cAQAvD_BwE
Announcement
FYI: Information's to be forwarded to the State Secretaries: Please work with your core team and get this information for publishing in Archive portal.
We require Testimonies from Gift School/Troop Churches, Report works for Documentation, Plans for the month for your State-20 Point Program Execution (word document), Praise Reports for Regional Meetings, Shadow Parliament Reports, any others...
SMP, Smla lists (updated ones).
Data should be sent forth to this email address - weekly - Regional allocation Email so it can be uploaded to server. Otherwise it can be sent to me personally in WhatsApp, will forward to IT wing.
Any difficulties in Documentary creation also please feel free to reach out, we will try to work it.
We will try to make all things documented for the month of July, August, and September.
Documentation is vital to show where we stand. Amen
AOJ Matrimony
Are you searching for a suitable bride/bridegroom for your loved ones? Do not worry. AOJ is providing you with free counselling and help through AOJ Matrimony Team. The Matrimony Team will help you to search for a suitable match for your loved ones, pray for them, guide them, and assist them and also solemnize the marriage.
Please have the enclosed profile application duly filled by your prospective bride/bridegroom and send it to us.
Feel free to clear your doubts and enquiries through phone or WhatsApp message or email.
Contact Particulars:
S.No.
Name
Whatsapp No.
Email ID
1
T.Leslie
9444907772
theoleslie@yahoo.com

2
Johnson
7358549693
Kfcm1995@gmail.com
3
Sol.Amala Arunachalam
9942203525
4
Sujatha Madhuram
9884892025
 

By Post to

Bro T.Leslie, F-1, Sabari Bagawathi Flats, Plot No.1, 8th Cross Street,

Sarvamangala Nagar,  Chitlapakkam,  Chennai - 600 064
AOJ MATRIMONY PROFILE
NAME (in block letters)                               :
Date of birth                                                  :
Height/Weight                                                            :
Complexion                                                    :
Languages known                                         :
Qualification                                                  :
Job/Business with details & Income.          :
Your present address                                                :         
Your permanent address                              :
Resident of                                                     :
Your Cell number and email ID                 :
Name & address of Troop Church             :
Father's name & Profession                        :
Mother's name & Profession                                   :
Siblings                                                           :
Your expectation                                           :
DATE:                                                                                                           SIGNATURE
 Signature of Zonal Coordinator of your Troop Church
Name of National Coordinators of Gift Schools and other AOJ Operations 2022 January to June
S.No
Name of Gift Schools of AOJ Operations
Coordinator & Leader Name
 Mobile No.
1
Troop church
Sol.Bindhu Chacko
9061242836
2
BFF
Sol.Jagdish
9930804564
3
Worship

Sol.Theodore

9840154775
Online International Worship
Sol.Raymond
9725107874
4
Deliverance
Sol.Joyce Beula
9842514163
Deliverance Level 1
Sol.Prabhu
9865265306
Deliverance Level 2
Sol.Benjamin Philip
9003021979
5
Healing
Dr.Deepthi
9003209519
Healing Level 1
Dr.Albert Jones
9840577293
Healing Level 2
Sol.Prameela
6
Prophecy

Sol.Shebe Lalu
9562637539
Prophecy Level 1
Sol.Veena Dua
9015652467
Prophecy Level 2
Sol.Shanker
9765987097
7
Financial Discipline
Sol.Himakshi
8708881760
8
Family Building
Sol.Sonny & Usha
Marriage preparation classes
Sol.Keerthana
9487704602
9
Hospitality
Sol.Neelam Sharma
9910532357
10
Morning Worship
Sol. Shakespeare
9003771216
11
Children  Bible School (CBS)
Sol. Jeslyn
9790001292
12
Beryl Wing(Communication, KG, Ezuchikkural)
Sol.Felix
7358420497
13
Daniel Academy Level 2
Sol.Gigi Jacob
9008293700
14
ECC
Sol. Shadrach
9361197303
15
Evangelism through Business
Sol.Sudha Deep
7305332244,

9884318338,

7305332233

16
IT  Wing
Sol.Pinta
17
Training for Translators
Sol.Arun Kumar Pune
7276216777
18
Night Prayer
Sol.Inna Reddy
7702063937
19
TC for Trades
Sol.Sudha Deep
7305332244,

9884318338,

7305332233

20
David school of Worship
Sol.Camilia
9940471819
WORSHIP DETAILS FROM JANUARY 2022
DAY
REGION
COORDINATOR
Sunday
North
Sol. Ajaypal (70658 85778)
Monday
Tamilnadu & Kerala
Sol. Menaka (80726 53915) (Tamilnadu) /

Sol. Sabina (98471 76553) (Kerala)

Tuesday
West
Sol. Savitha (97026 24364) (Maharashtra) /

Sol. Ratna (88052 05676) (Goa) /

Sol. Malathi (96013 53166) (Gujarat)

Wednesday
East
Sol. Yesumilan (86581 31635)
Thursday
Central
Sol. Reeta Gokhle (96659 83740)
Friday
Karnataka/Andhra Pradesh & Telangana
Sol. Preethi (74060 87324) (Karnataka) /

Sol. Dr. Pradeep (90478 99746) (AP) /

Sol. Innar Reddy (77020 63937) (Telangana)

Saturday
Tamilnadu
Sol. Menaka (80726 53915)