Message for reflection – Sr. Angelica AOJ
Luke 13:18-19
Then said he, Unto what is the kingdom of God like? and unto which shall I resemble it? It is like a grain of mustard seed, which a man took, and cast into his garden; and it grew, and waxed a great tree; and the fowls of the air lodged in the branches of it.
Human heart  is a garden where every man sows various kinds of seeds.
Today I asked the Lord the grace to plant the following seeds in my heart.
The seed of humility
The seed of self discipline and accepting God's discipline
Seed of meditating the Word of God every day
Seed of zeal for souls
Seed of trading with the God given talents
Seed of seeking the face of God always in everything.
Seed of struggling against sin to the point of bloodshed.
Whatever seed we plant in our hearts, it will grow. The Lord will make it grow and it will become a tree. As every tree provide shade, any seed you plant will grow into a tree. Every tree, irrespective of its variety, will provide shade for human beings.
The seed you chose to plant in your garden (whatever variety it may be) will grow into a tree and will provide shade.
Many people will come seeking comfort from you.
Can you make a self analysis to discern what are the seeds you planted in your heart  years ago? It would have grown in you as a tree by now. People would be coming to you in search of something which they see in you.
Let us take the seed of God's disciplining in our lives. Two days ago the Lord reproved me of a particular matter.  After that I got terrified  even to go to His presence,  for personal prayer. I couldn't feel His Fatherly love and concern. My mind saw  Him as a judge.
After a day, while being in Common prayer,  Holy Spirit spoke to me through Heb 12:5
"And have you forgotten the exhortation that addresses you as sons?
My son, do not regard lightly the discipline of the Lord, Nor be weary when reproved by Him,
For the Lord disciplines the one he loves, And chastises every son whom he receives".
When I read this message which my loving Father sent to me, my heart melted and  I broke into tears. I said, "Lord you can reprove me, correct me, punish me and  even kill me. I will be with you only. But never allow me to be away from you eternally. I held His feet tight and said, I will not go away from you".
My mind got  reconciled with Him and  again I could enter into his presence. My closeness with my loving Father  was restored.
It is necessary to accept God's disciplining in our life, whatever way it comes .
It might come directly or through someone else. In whatever way it comes, let's accept it.
Let's plant all kinds of fruit seeds in your  garden.
If you plant the seeds of Love, joy, peace, patience, kindness, goodness, faithfulness,  gentleness, self-control; we will have a great harvest. We have to train up the believers of the Churches .  At the same time, let's provide seed, plenty of seeds  to the other countries too! How much harvest, how many trees you produce, depends on you.
Sr. Angelica AOJ
HEAVENLY COURT APPEALS AND FULFILLMENT
As troop members prayed for individual families whom they knew in central Chennai for their problems and appealed to God that troopers have to reach out for these family members for troops to be started in their houses.
Gambling is wagering something of value on an event with an uncertain outcome with the intent of winning something else as a value.Soliders appealed against gambling issues which appears often in Aundha Nagnath, Hingoli. We thank God for his marvelous act upon this issue. Almighty God opened the eyes of the officials and made them take action toward this issue and also few other cases which we filed.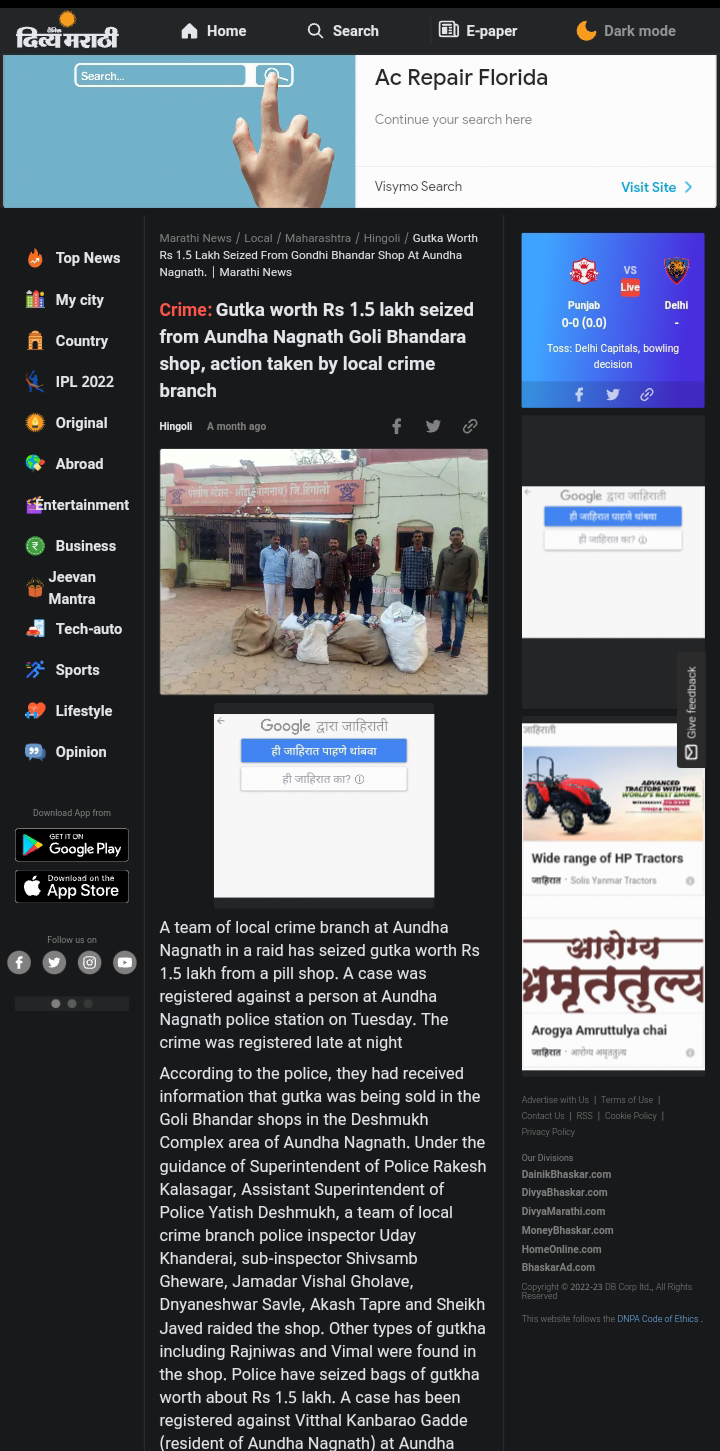 FELLOWSHIP
Romans 12:4-5
"For just as we have many members in one body and all the bodies do not have the same function, so we, who are many, are one body in Christ, and individually members one of another."
Fellowship meeting was held at KHRDC hall in Paper Mills Road. It was filled with praise and worship. The Lord's presence was there when prayer was held. Families were prayed over by the elders in the group. Nearly 38 members joined the fellowship. Talent show and children show were held. We thank God for his love towards us. Amen.
TROOP CHURCH
BFF
 "All authority in heaven and on earth has been given to Me. Go therefore and make disciples of all nations, baptizing them in the name of the Father and the Son and the Holy Spirit, teaching them to obey all that I have commanded you. Matthew 28:18-20.
Residential BFF at Aurangabad, Maharashtra. It was conducted from 17th to 22nd Mar 2022.13 members participated 4 male and 9 female. Where 4 took baptism and 5 Volunteers were raised.4 Teachers and 7 SMLAs were raised.
Morning worship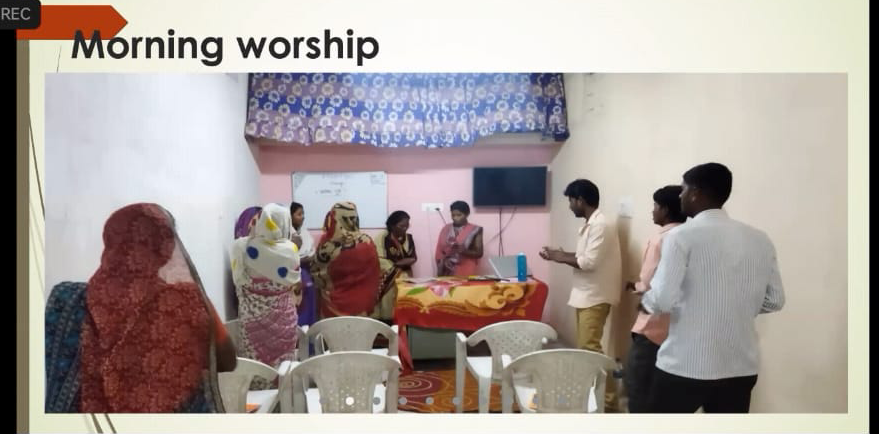 Learning from different teachers with various talents, experience is an added reward to the trainees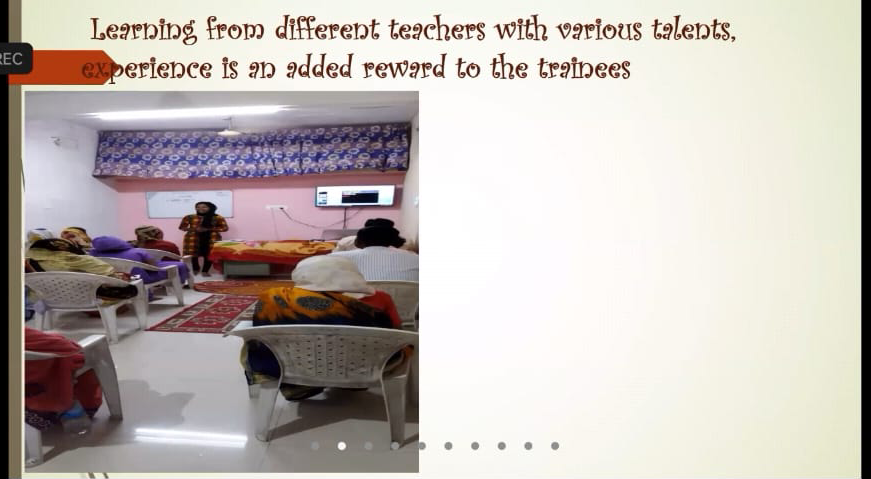 Practical sessions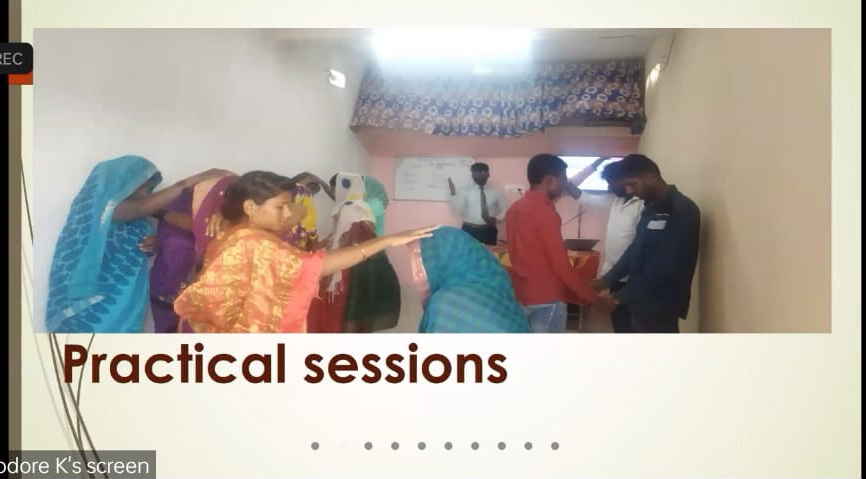 Testimonies:
One sister was giving many reasons from the first day that she wanted to leave the training, however from the 3rd day she started taking interest and when she went for practical on 4th day, she was very much amazed to see that the Lord has chosen her and using her for His Kingdom. She gave her name for teaching and volunteer in the next batch.
One brother was trying to escape from the training centre, however The Lord touched him and he started paying attention in the class and reading the Bible. After going home he immediately started Troop Church with his family members.
Many sisters and brothers experienced healing and deliverance.
Glory to God!
FRP (Forgiveness and Reconciliation)
Because he has set his love on me, therefore will I deliver him: I will set him on high, because he has known my name. He shall call on me, and I will answer him: I will be with him in trouble; I will deliver him, and honor him. With long life will I satisfy him, and show him my salvation
Psalm 91:14-16 
FRP level 1
FRP Level 1 was conducted in West Zone from 21.03.22 to 28.03.22 between 05:45 AM to 07:00 AM
Around

26

members attended. FRP Level 1 was arranged from April 10th to 13th 2022 in Pondicherry through Zoom from 2.00 PM to 5.00 PM
FRP level 2
FRP Level was conducted in West Zone from 29.03.22 to 13.04.22 between 05:45 AM to 07:00 AM.
Around

20

members attended.
BETHESDA SCHOOL OF HEALING
"LORD my God, I called to you for help, and you healed me." — Psalm 30:2
Healing school was held through Zoom App from 8th to 11th Mar 2022 in Hindi. Organized by Sol.Sushma and coordinated by Sol.Krishna.15 members Participated.
Testimonies:
All brothers and sisters prayed for each other and the Lord gave them healing.
Prabhavati sister's son was in ICU. During the healing gift school, he received complete healing and was discharged from ICU.
Participants realized the authority they have received through Jesus.
HOSPITALITY GIFT SCHOOL
JEREMIAH SCHOOL OF PROPHECY
Follow the way of love and eagerly desire spiritual gifts, especially the gift of prophecy.
1 Corinthians 14:1
DAVID WORSHIP SCHOOL
Jh 4:24 - "God is Spirit, and those who worship him must worship in Spirit and Truth."
David gift school of worship was conducted to teach true worship of the Lord. It was held at Vangani, Maharashtra, from 5th to 6th Mar 2022.Around 15 members participated. The school was organized by Sol. Rahul and coordinated by Sol. Sukumari.
Testimonies
All the participants wrote and sang new songs, they were amazed that the Lord used them to make new songs and give glory to God.
Participants understood the barriers of worship and prayed to remove them from their life.
One brother who used to make and sing rap songs realized that it is not the correct way to sing to the Lord, he took a decision to stop it.
ONLINE WORSHIP
Exodus 23:25 Worship the Lord your God, and his blessing will be on your food and water. I will take away sickness from among you.
Online worship for south zone started in May 2020.
The sessions are conducted every month on 11th from 12AM to 12 PM.
Zone wise approach will be started. Team will split and work independently.
More coordinators will be raised.
MORNING WORSHIP
Psalm 59:16 But I will sing of your strength, in the morning I will sing of your love; for you are my fortress, my refuge in times of trouble.
Morning Worship is conducted in Goa from 6:00 am to 7:30am Monday to Friday.
Testimonies
During morning worship we prayed for sister Kulsumbi she was in hospital and in critical condition in ICU and she was unconscious. After prayers she was removed from the ICU and she was discharged from hospital as she was healed. All glory to Jesus Christ.
One sister had body pain, also she was not able to walk, and she was using Belly Belt but during class practical she got healing and threw away that belt.
Bro Sairam was in need of death certificate of his father in law as it was not registered after death.So he had to produce witness and the advocate told him to give some statement but the witness gave whatever he knew the correct information.So he was unable to get Death certificate.So we prayed in the Troop church and the Certificate was issued and he gave glory to lord Jesus Christ.
NIGHT PRAYER
Psalm 119:62 At midnight I will rise to give thanks unto thee because of thy righteous judgments.
Night prayer is conducted every Saturday from 9.00 pm to 11.30pm.
From 10pm to 12:30 am night prayer was conducted. Sol.Theodore was the guest speaker, who delivered the word of God. The Lord's Supper was also held.
We prayed in Night prayer on Saturday in Joshus group (North Zone) for corruption to be eliminated in TN.News published on Monday newspaper and some news published in Sunday is given below. Glory to God
Reference: https://www.dinamalar.com/news_detail.asp?id=2971230
https://www.dinamalar.com/news_detail.asp?id=2970897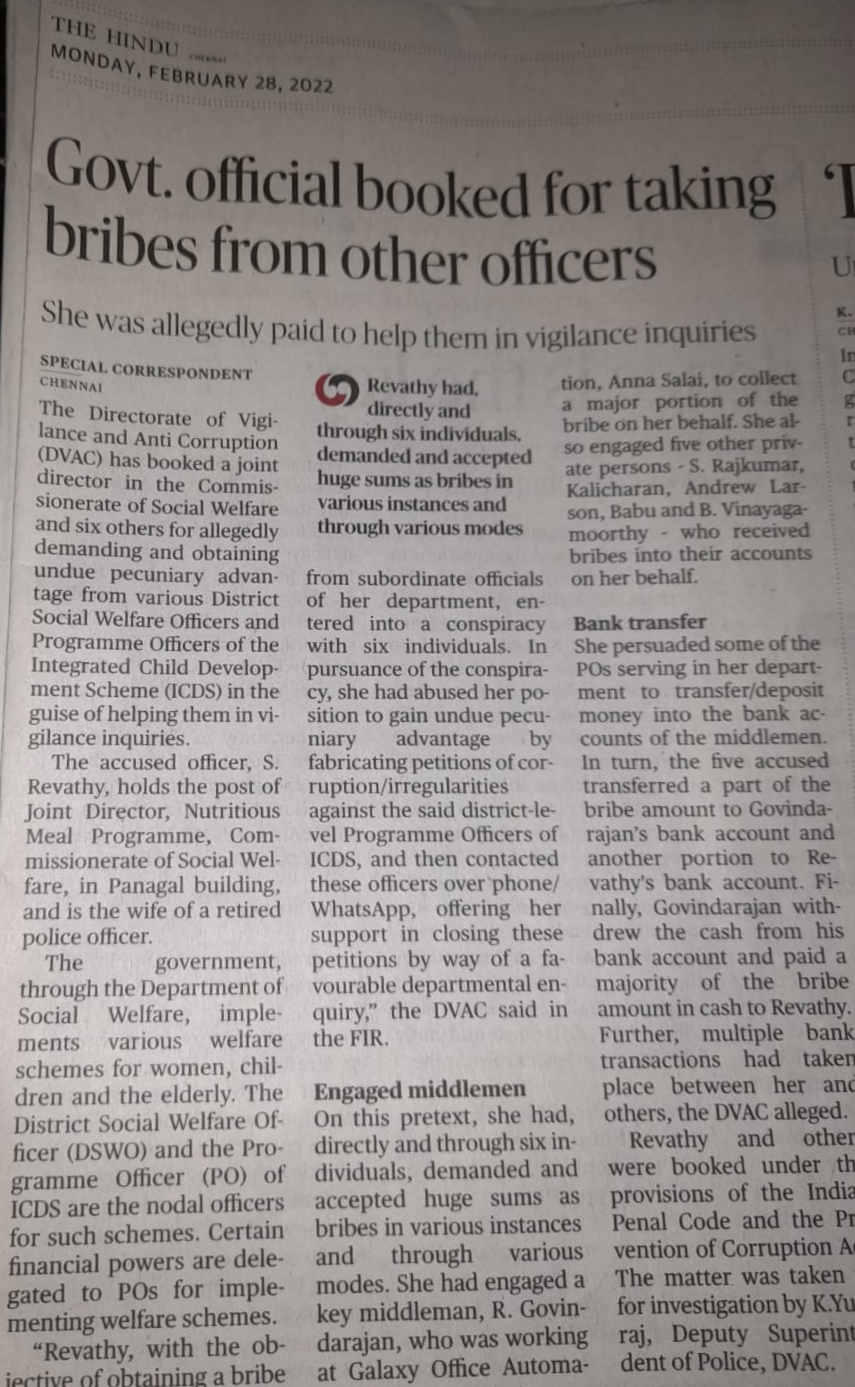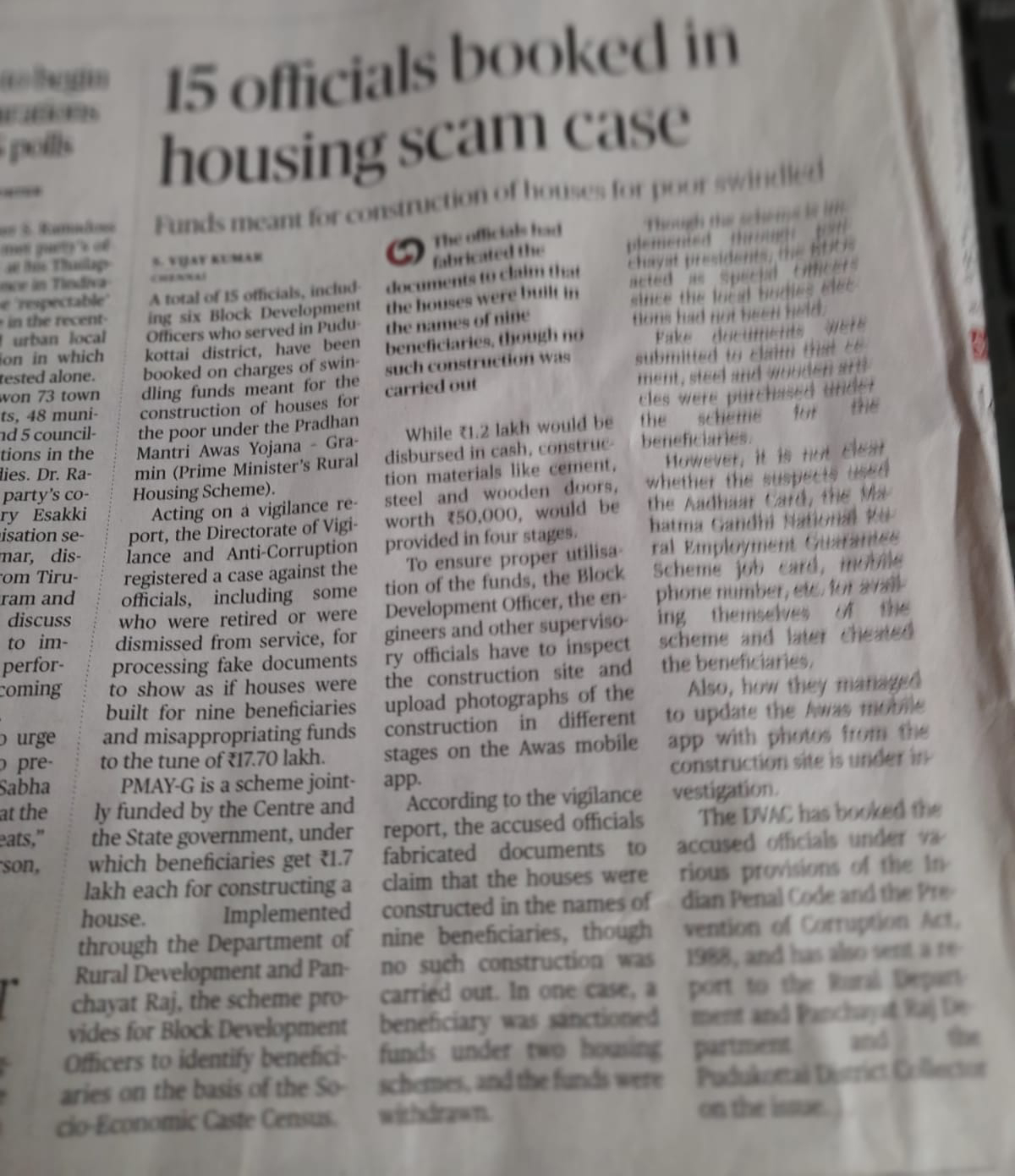 TEACHER TRAINING
FAMILY BUILDING SCHOOL
Genesis 1: 28 God blessed them and said to them, "Be fruitful and increase in number; fill the earth and subdue it.
From 31st Mar to 08th April 2022 the family building classes was conducted. 23 members participated 16 were consistent participants and 12 responding participants.5 teachers were raised.
Matrimony service
The team is planning to add a few more conditions/ instructions to the existing format- those who register with us should not be particular about the caste, community and denomination.
They should inform us about how they want the marriage ceremony to be conducted.
We, being the national team, decided to take up a coordinator for Tamil Nadu and have four zones namely, north, south, east and west and each zone will have a coordinator.
CHILDREN BIBLE SCHOOL (CBS)
Jesus said, "Let the little children come to me, and do not hinder them, for the kingdom of heaven belongs to such as these." Matthew 19:14
Testimonies of students from class 1 & 2
Pricilla thanked God for helping her excel in her studies and also for healing her mother's ear in Jesus name. All glory to Jesus!
Deborah thanked God for healing her of throat pain in Jesus name. Thank you Lord Jesus!
Kevin thanked God for healing him of allergic itching in Jesus name! Hallelujah! All glory to Jesus!
Arul Samuel thanked God for the holidays he could enjoy in Jesus name. Thank you Lord Jesus! Praise the Lord.
A Testimony from Rona of class 9 English standard. During the COVID time, I had a hard time without any bible classes to teach me the word of God. I was praying that God would help me find a good Sunday school and He led me to this fellowship. I was surprised when the syllabus they followed was the same as my old class. I am very thankful and grateful to God for helping, guiding and always being there when I need him.
All glory to God! Amen.
FINANCIAL DISCIPLINE SCHOOL
According to Bible, Earth with all its riches is given to man - Genesis 1:38  And God blessed them, and God said unto them, Be fruitful, and multiply, and replenish the earth, and subdue it: and have dominion over the fish of the sea, and over the fowl of the air, and over every living thing that moveth upon the earth. The greatest wealth of God is JESUS. The one who chooses Jesus Christ is the wealthiest man in the world. According to Phil 4:19 And my God will meet all your needs according to the riches of his glory in Christ Jesus.
EVANGELISM THROUGH BUSINESS
DANIEL ACADEMY
Psalm 45:1 -My heart is overflowing with a good matter; I speak of my works to the King; my tongue is the pen of a ready writer.
In the year 2022, the Lord is pouring out a new anointing on us, on our fingers to write, to search the treasures of the Word of God. Every month 30 Daniels will be selected and will be given one verse to meditate on. By sitting with the Holy Spirit, they will get the deepest treasure that is hidden in the verse.
KG (KINGDOM GAZETTE)
It is a weekly e-magazine published on every Sunday, which contains all the AOJ activities. Till date 16 Issues in Volume 10 were published.
IT WING
Importance of documentation
What are all the activities done in the constituency and zone, are stored only through documents.
Praise report is to - Praise God and Thank Him.
Storing them is very important, secretaries of South region, state, zone will send the documents to heavenlyhostofjesus@gmail.com for archives. We have developed an IT Team for each state to work along with Central IT Team.
Morning Worship
Morning Worship is going on online (Zoom app) from 5:30 am to 7:00 am in Tamil Nadu and many other States in their own languages.
For details please contact
Sol. Shakespeare - 90037 71216, 62833 81962
Be Formed and Form (BFF)
Be Formed and Form is a 5 day short term course. As per Eph 4:11-13, it perfects the saints,  for the work of the ministry, for the edifying of the body of Christ, ………until we all come into the unity of the faith and of the knowledge of the Son of God, to a full-grown man, to the measure of the stature of the fullness of Christ; The Lord wants the Church to be transformed according to Eph 5:26, 27 to make her holy, (cleansing her by the washing with water through the word), and to present her as a radiant Church. By BFF training, the Church awakes and arises to shine in the world. So far 600 batches have been conducted across India in various languages. The students were from almost all the States of India and abroad. For Further details: Contact
Sol.Jagdish Naik Ph:9930804564
Come, be blessed and bless others!
Sapphire University
http://sapphireuniversity.in/
Those interested to know/join the university, for further clarifications and to know about our work may visit our website.
Information
Dear soldiers,
To keep information accessible we have made few web pages in the name of aojinfo.in, kindly store this address in your browser so you may access it any time. The addresses of the web pages are as follows
1) http://giftschool.online - Gift school schedule
2) aojinfo.in/beryl - Announcements of AOJ
3) aojinfo.in/wheel - Message
4) aojinfo.in/tc - Troop Church method, English
5) aojinfo.in/tcm - Troop Church eight week messages, English
6) aojinfo.in/troopchurch - Troop Church method, Tamil
7) aojinfo.in/tcmessage - Troop Church eight week message, Tamil
For Information
National Worship Coordinating team has been directed to collect any revelation/inspiration received during worship, (both personal/troop prayer atmosphere).We are expected to report these revelations every Sunday, scheduled meeting online.
We need to prayerfully move ahead asking the Lord for further directions to bring Divine Governance in our midst. Hence, we welcome you to participate in Kingdom building and restoration process. Kindly message the revelations with interpretations (as per the leading of Holy Spirit) on personal chat or Shield West group, by Saturday or before.
NOTE: Worship is the key to Prophecy.
Kingdom Human Rejuvenation & Development Centre (KHRDC)
A Section 25(Not for Profit) company which focuses on Training and Skill Development in all the States of India.   We provide training and equip them for workplace evangelism. We raise reliable, sincere and trustworthy people in the workplace like Joseph and Daniel who put God first in everything they do. Interested people can attend the Trainings. For details of Training, visit the Weblinks given above.
7 fold Agenda for the Global Churches/Church Leaders/Evangelists/Missionaries … (given on 27.10.2014)
To safeguard them from COVID 19 and solution for their Livelihood (Based On Early Christian Church Acts 2: 42-47)
No mention about money or tithe offering (via online also) in the Churches
No construction of Church buildings. Stop the Church building works even that are now going on.
Moulding and training believers and releasing them from the Church after 6 months.
Graduation of six months old believers
Dividing the Church into small groups of 10.
Pastors should look for jobs and get employed.
No full time pastors for the church.
Why the Lord has permitted COVID-19 ?
To Restore the Church of Jesus Christ Acts 2:42-47
National Worship Centre
No.70, (Old no 41) F1, First floor,
Bethel Enclave, Baba Foundations, (near SBI Branch)
Siruvallur High Road,
Perambur,
Chennai 600011.
National Worship Centre is a Centre where the Lord of hosts, the Lord God Almighty is worshipped in His majesty all the 24 hours. Per day 12 worship teams come to worship from different parts of the Nation. One slot consists of 2 hours. The opening of NWC also turns to be the trumpet sign to start the fatal war against Satan to win this Nation for Christ! Do you want to join this praising Army?
Book your slots
Tel: 7708505152
Praise God for the successful completion of 34,906 slots in National Worship Centre with a Non Stop Worship (24/7)
THE ECONOMY CONTINUES TO DETERIORATE… THE MAIN DECISION TAKEN BY THE MINISTER OF FINANCE! BACK TO SRI LANKA
As the Sri Lankan economic crisis worsens day by day, the Sri Lankan government has taken a major step to control the situation.
Sri Lanka has experienced the worst economic crisis since independence. The situation there continued to deteriorate due to various reasons such as the spread of the corona and the economic crisis.
Due to this, the people of the country have joined the struggle against the Rajapaksa government. People from all walks of life are constantly protesting day and night. The continuing deteriorating economy on the one hand and the relentless people's struggle on the other have created a chaotic situation throughout Sri Lanka.
Meanwhile, the government is seeking help from various countries to improve the situation. Already, India has announced a $ 1 billion loan. India also provided 40,000 tonnes of diesel to meet the fuel shortage.
Despite this, the situation in Sri Lanka has not improved. Following this, the Sri Lankan delegation is going to the United States to seek further economic assistance.
Sri Lankan delegation travels to US to borrow $ 4 billion from organizations including International Monetary Fund This will help in repaying essential food items, fuel and debt. The committee, headed by new Finance Minister Ali Sabri, is scheduled to hold ongoing talks with various organizations from April 19 to 24 to get the loan.
The country's finance ministry recently announced that it would suspend repayment of foreign debt, including debt securities, until the completion of the debt restructuring program with the International Monetary Fund. A few days after the announcement, the Sri Lankan delegation is now leaving for the United States. It is noteworthy that Sri Lanka has to repay $ 7 billion in debt this year alone.
This is the first time since 1948 that Sri Lanka has not been able to repay a loan. Commenting on the US visit, Sri Lankan Finance Minister Ali Sabri said, "We urgently need urgent funding to bring Sri Lanka back to normalcy. They should provide us with these funds as soon as possible."
The economic and financial crisis in Sri Lanka is increasing day by day. Due to this, investors are also reluctant to invest in Sri Lanka. Due to this the Sri Lankan stock markets have been continuously declining. In the meantime, it has announced that it will close the stock market for a week before selling its shares to gain a clearer understanding of the economic situation.
https://tamil.oneindia.com/news/colombo/sri-lankan-delegation-heads-to-us-to-seek-4-billion-bailout-package-from-imf/articlecontent-pf679967-455268.html?ref_source=articlepage-Slot1-9&ref_medium=dsktp&ref_campaign=citylinkslider
Announcement
FYI: Informations to be forwarded to the State Secretaries: Please work with your core team and get this information for publishing in Archive portal.
We require Testimonies from Gift School/Troop Churches, Report works for Documentation, Plans for the month for your State-20 Point Program Execution (word document), Praise Reports for Regional Meetings, Shadow Parliament Reports, any others...
SMP, Smla lists (updated ones).
Data should be sent forth to this email address - weekly - Regional allocation Email so it can be uploaded to server. Otherwise it can be sent to me personally in WhatsApp, will forward to IT wing.
Any difficulties in Documentary creation also please feel free to reach out, we will try to work it.
We will try to make all things documented for the month of July, August, and September.
Documentation is vital to show where we stand. Amen
AOJ Matrimony
Are you searching for a suitable bride/bridegroom for your loved ones? Do not worry. AOJ is providing you with free counselling and help through AOJ Matrimony Team. The Matrimony Team will help you to search for a suitable match for your loved ones, pray for them, guide them, and assist them and also solemnize the marriage.
Please have the enclosed profile application duly filled by your prospective bride/bridegroom and send it to us.
Feel free to clear your doubts and enquiries through phone or WhatsApp message or email.
Contact Particulars:
S.No.
Name
Whatsapp No.
Email ID
1
T.Leslie
9444907772
theoleslie@yahoo.com

2
Johnson
7358549693
Kfcm1995@gmail.com
3
Sol.Amala Arunachalam
9942203525
4
Sujatha Madhuram
9884892025
 

By Post to

Bro T.Leslie, F-1, Sabari Bagawathi Flats, Plot No.1, 8th Cross Street,

Sarvamangala Nagar,  Chitlapakkam,  Chennai - 600 064
AOJ MATRIMONY PROFILE
NAME (in block letters)                               :
Date of birth                                                  :
Height/Weight                                                            :
Complexion                                                    :
Languages known                                         :
Qualification                                                  :
Job/Business with details & Income.          :
Your present address                                                :         
Your permanent address                              :
Resident of                                                     :
Your Cell number and email ID                 :
Name & address of Troop Church             :
Father's name & Profession                        :
Mother's name & Profession                                   :
Siblings                                                           :
Your expectation                                           :
DATE:                                                                                                           SIGNATURE
 Signature of Zonal Coordinator of your Troop Church
Name of National Coordinators of Gift Schools and other AOJ Operations 2022 January to June
S.No

Name of Gift Schools of AOJ Operations

Coordinator & Leader Name

 Mobile No.

1
Troop church
Sol.Bindhu Chacko
9061242836
2
BFF
Sol.Jagdish
9930804564
3
Worship

Sol.Theodore

9840154775
Online International Worship
Sol.Raymond
9725107874
4
Deliverance
Sol.Joyce Beula
9842514163
Deliverance Level 1
Sol.Prabhu
9865265306
Deliverance Level 2
Sol.Benjamin Philip
9003021979
5
Healing
Dr.Deepthi
9003209519
Healing Level 1
Dr.Albert Jones
9840577293
Healing Level 2
Sol.Prameela
6
Prophecy

Sol.Shebe Lalu
9562637539
Prophecy Level 1
Sol.Veena Dua
9015652467
Prophecy Level 2
Sol.Shanker
9765987097
7
Financial Discipline
Sol.Himakshi
8708881760
8
Family Building
Sol.Sonny & Usha
Marriage preparation classes
Sol.Keerthana
9487704602
9
Hospitality
Sol.Neelam Sharma
9910532357
10
Morning Worship
Sol. Shakespeare
9003771216
11
Children  Bible School (CBS)
Sol. Jeslyn
9790001292
12
Beryl Wing(Communication, KG, Ezuchikkural)
Sol.Felix
7358420497
13
Daniel Academy Level 2
Sol.Gigi Jacob
9008293700
14
ECC
Sol. Shadrach
9361197303
15
Evangelism through Business
Sol.Sudha Deep
7305332244,

9884318338,

7305332233

16
IT  Wing
Sol.Pinta
17
Training for Translators
Sol.Arun Kumar Pune
7276216777
18
Night Prayer
Sol.Inna Reddy
7702063937
19
TC for Trades
Sol.Sudha Deep
7305332244,

9884318338,

7305332233

20
David school of Worship
Sol.Camilia
9940471819
WORSHIP DETAILS FROM JANUARY 2022
DAY
REGION
COORDINATOR
Sunday
North
Sol. Ajaypal (70658 85778)
Monday
Tamilnadu & Kerala
Sol. Menaka (80726 53915) (Tamilnadu) /

Sol. Sabina (98471 76553) (Kerala)

Tuesday
West
Sol. Savitha (97026 24364) (Maharashtra) /

Sol. Ratna (88052 05676) (Goa) /

Sol. Malathi (96013 53166) (Gujarat)

Wednesday
East
Sol. Yesumilan (86581 31635)
Thursday
Central
Sol. Reeta Gokhle (96659 83740)
Friday
Karnataka/Andhra Pradesh & Telangana
Sol. Preethi (74060 87324) (Karnataka) /

Sol. Dr. Pradeep (90478 99746) (AP) /

Sol. Innar Reddy (77020 63937) (Telangana)

Saturday
Tamilnadu
Sol. Menaka (80726 53915)