Message for reflection – Sr. Leema Rose AOJ
It is good that I have been afflicted
Psalms 119:71 (UKJV)  It is good for me that I have been afflicted; that I might learn your statutes.
We are afflicted in so many ways every day. The cause of affliction will vary
Our own negligence in duty

Our carelessness

Our weaknesses

Our sicknesses

Others' envy on you

Not getting enough results out of our labour

Betrayal by others etc.
Whatever be the cause, God is concerned about us & our afflictions .
When we are in affliction, He also is affected with us.
Isaiah 52:5 (UKJV)  Now therefore, what have I here, says the LORD, that my people is taken away for nothing?
As long as His children are with Him, He is happy. But when His Children are taken away, the Lord is also in pain.
While going through affliction, if the people cry out to Him, He hears and come down from heaven to protect them. He takes all measures to deliver His children.He brings changes in  the whole scenario. 
He brings the required changes in our lives too and  shows us where we went wrong, where we stood  unprotected etc. He will also teach you more strategies of warfare,How you fought this war, how you could have fought in a different way & taken victory, how you could have avoided certain situations, temptations by standing with Jesus,  what precautionary steps you should take in future to avoid such situations etc. The outcome is, at present you are more  equipped for a high level war with the enemy.
Then your whole  life itself will be  changed.
That is why the Psalmist said,
It is good for me that I have been afflicted; that I might learn your statutes.
Since I am living in Tamil Nadu, I learned Tamil. The Lord gave fluency in Tamil. Since I got saved & was conducted trainings  in Tamil I started reading Tamil Bible. I was not fluent in English Bible verses.At a time the Lord asked me to use English Bible. 3,4 times I was prompted in my spirit to read Bible in English.But I discarded it wilfully.
All of a sudden, I was taken all over India to share the ENHF vision. Speaking in English, especially quoting Bible Verses in English popped up as a big issue for me. If I had obeyed the Lord & used English Bible, by that time I could have easily rectified that problem. Anyway I thanked the Lord and begged him to forgive me. He solved it & gave me fluency in English.I became more alert to the promptings of the Holy Spirit.All glory to God .
Sr. Angelica AOJ
HEAVENLY COURT APPEALS
In Thiruvallur constituency everyday a case is presented as an appeal in heavenly court. This month 30 Prayer requests were taken as appeal to the Heavenly court. We all stand in heavenly court daily evening 6:00 p.m 6:45 p.m. to make an appeal of the case and to repent and ask for forgiveness for our sins and request to get the judgment from heavenly Father
We made an appeal of the case to stop the online games
God answered our request. This was published in NEWS18 on January 6th 2022.Our chief minister Mr.M.K.Stalin said he would put a full stop to online games. "Will Put 'Full Stop' to Online Gaming With Stakes in Tamil Nadu", Says CM Stalin. The Tamil Nadu government is contesting companies and a federation in Supreme Court to restore gaming ban.
We made an appeal of the case for NEET exam
God answered our request. This was published in NDTV on January 26.The ruling DMK has been staunchly opposing NEET on several grounds including infringement upon the State's rights. Also, the party had time and again said that the test went against students belonging to backward classes and rural regions.
We made an appea of the case for Srilanka and their crisis
Projects covered under the LOCS extended to Sri Lanka includes the supply of petroleum products, railway projects,defence and infrastructure projects. Exim Bank has now in place 276 LOCs, covering 61 countries in Africa, Asia, Latin America and the Commonwealth of Independent States (CIS), with credit commitments of around USD 27.84 billion, available for financing exports from India
READ MORE AT: https://m.economictimes.com/
By God's grace so many cases were settled through this prayer. Thank you God.
SHADOW PARLI
Shadow Parli meeting was held in Goa as scheduled on 25th February 2022.10 SMLAs attended. Some excused themselves. List of SMLAS in Goa has been updated. We need to replace 6 SMLAS who are inactive after consulting. At the Shadow Parli meeting: We read "Christian History of the Constituency of Goa".In view of ensuing results of voting on the March 20th, Anti-defection bill was introduced and passed and presented in the Heavenly Court.
VISION FULFILLMENT
A day before sister Adelia could pass away, Leisha saw a vision of a beautiful white horse that was galloping and as he was galloping wings appeared to emerge out of its side and it flies into the sky. That's when she told me that aunty Adelia is being called to heaven. In prayer that same day another sister who has never seen her had a vision of Adelia dressed in a beautiful white bride's attire looking very beautiful. I remembered of this vision when Brother Gerard in his condolence message wrote that a valiant warrior is called home. Surely sister Adelia was a valiant Hill horse who galloped and completed her race. When her race was finished, this same hill horse has flown with its divine supernatural wings to heaven. Amen. Hallelujah
FELLOWSHIP
TROOP CHURCH TESTIMONIES
Esther Troop Church was conducted in Goa every Sunday. Sister Madhavi's left Leg was paining and she went through many sleepless nights. During prayer instantly her leg was healed and she       praised the Lord Jesus Christ.

"Adonai Troop Church "is conducted in Goa.
Helen's granddaughter used to suddenly wake up in the middle of night and shout with fear. This was happening every night. After we prayed in Adonai Troop Church she stopped doing that and now sleeps peacefully.

One of the TC member was facing severe financial problem. She was absent at the TC meeting. We prayed for her financial need. Next day she came and testified with tears that she received financial help more than what she needed.
Offline Troop Church was started in South Goa
Three TC in Margao

Three TC in Sanvordem
FRP (Forgiveness and Reconciliation)
BETHESDA SCHOOL OF HEALING
By God's grace healing school level 1 was conducted offline in Tisk Usgao (Goa).Totally around 18 members participated and 4 were children.Organised by Sol.Sejal, Sol.Sumitra and Sol.Seema in Hindi/Konkani and Coordinated by Sol.Shanta. Teachers are Sol. Shankar, Sol. Sejal and Sol. Sairam. All are blessed through this classes. Planning to conduct Bethesda school of healing level 1 and Frp level 1 in this month
Testimony
On 19th Bro Shankar, Bro Sariram, Sister Sumithra, Sister Seema and Sister Madhavi from Goa team went to Halsi Khanapur District Karnataka. We had a fellowship on 19th. Around 20 people came to the meeting both believers and non-believers. On 20th we conducted a troop church, many children attended the meeting. We felt the presence of God on both days. During the meeting some participant started crying and when we asked them, they told that the Lord touched them and they felt fear of God. We prayed for a girl named "Nagama". She was dum and deaf from birth, but she could write and read in Kanada. When we prayed for her suddenly she fell down and after 5 minutes she woke up. She could hear whatever we spoke during the conversation and on the second day she started speaking. She spoke papa (daddy), Mama (mother), Bro and Jesus. She spoke these words by the grace of God. All Glory to the Lord Jesus Christ.
JEREMIAH SCHOOL OF PROPHECY
School was held in Himachal Pradesh from 17 to 24 Feb. Teachers raised are Sol.Fabina & Sol. Asrita.

In Goa from 18th to 23rd February 2022 Jeremiah school of prophecy was conducted. Out of 4 students, one attended from Kenya and one student accepted for teacher training.2 SMLA were raised.

JSP conducted in Uttrakhand. 25 students attended, everyone has been raised as Smlas.

Testimony: Sol.Della -I have received a revelation in Class-4 in the practical session. Jesus said He will make you fishers of men. I enjoyed all the classes and was blessed. 
DAVID SCHOOL OF WORSHIP
"On that day I will raise up The tabernacle of David, which has fallen down. " Amos 9:11; Acts 15:16
"All the earth will worship You, And will sing praises to You; They will sing praises to Your name." Psalms 66:4
"And the earth was full of his praise" Habakkuk 3:3
The Lord gave a revelation to Sr. Angelica to start the worship school.
Worship school is being actively conducted from 2016. Over 200 schools have been conducted so far and many students were trained in worship and many teachers were built.
In 2020, the Lord has blessed the worship school and enabled it to split into multiple wings.
24 hours online worship is started on 1st April 2020 on zoom. Hundreds of worshippers are worshipping all over the country taking turns. Many coordinators are working day and night for it. The Lord has blessed it abundantly.
The Lord has also blessed the worship department and raised a Sapphire University. Many students are being trained in the skills to worship him. They are trained in singing as well as playing musical instruments.
The Lord has launched the Monthly worship. On 1st of every month, all the soldiers of the Lord's army will gather for worship. All the regions in India including the International region will worship and glorify him.
The Lord has blessed the whole team of worship abundantly physically, spiritually and materialistically.
All Glory to God.
Morning Worship
Thiruvallur constituency has been conducting morning worship from October month. Daily morning worship from 5.00a.m TO 6.30a.m.God has given many visions and verses during constituency prayer and country prayer. Praise the lord.
ONLINE WORSHIP
Two soldiers from Thiruvallur constituency attending 24hrs online worship. By God's grace we book the slot of worship early morning 1am to 2 am and 6 am to 7am every week
INTERNATIONAL WORSHIP CENTRE
International Worship Centre was inaugurated on 14th April at 2pm in the house owned by sol. Dr.Keerthana Benedict. Venue: No.70. (Old no 41), F1first floor, Bethel Enclave, (near SBI branch), Siruvallur High road, Perambur 600011.
Glory to God.
NIGHT PRAYER
Thiruvallur constituency has conducted a night prayer from 9pm to 12 pm.God has given many visions and bible verses. Verses: Isaiah: 11:2; 30:20.All glory to God.
Kingdom Human Rejuvenation Development Centre (KHRDC)
A Section 25(Not for Profit) company which focuses on Training and Skill Development in all the States of India.   We provide training and equip them for workplace evangelism. We raise reliable, sincere and trustworthy people in the workplace like Joseph and Daniel who put God first in everything they do. Interested people can attend the Trainings. For details of Training, visit the Weblinks given above.
CHILDREN BIBLE SCHOOL (CBS)
CBS Tamil teachers gather and pray every month on the first day between 9pm - 10 pm. All CBS teachers, principals, teachers gather and pray with core team every Saturday between 4 pm - 5 pm.
Cultural programme
On Sunday the 27th of March, the cultural programme was wonderfully performed by third and eighth standard students.
Vidhi conducted a biblical picture quiz for the students in which they participated enthusiastically.
Pratibha led the students into a time of intercession where they prayed fervently for children, AOJ and for our nation and for peace in this world. It was very touching.
BFF
Residential BFF conducted at Vangni, Maharashtra From 21st to 26th Mar 2022. Organised by Mumbai BFF Core Team (Sol.Anil and Sol.Soniya Bhosale, Sol.Pratik Jadhav and Sol.Sushil Jadhav).Coordinated by Sol. Mangal Saroj. Nearly 21 members Participated 13 male and 8 female.12 took baptism, one organizer, 6 volunteers and 8 teachers were raised.2 SMP and 19 SMLA were raised.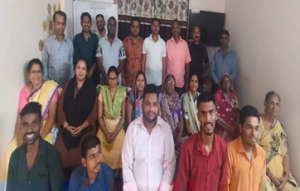 Learning from different teachers with various talents. Experience is an added reward to the trainees.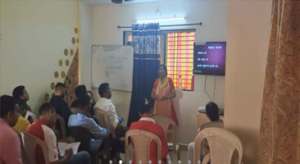 Morning worship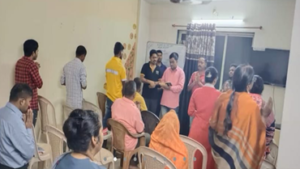 Experience of the divine presence and touch of the Holy Spirit is a glorious moment
Practical sessions were held. Where all their prayers were answered
Testimonies
1) Sol.Alice Thomas was suffering from Diabetes & BP but with faith she submitted herself and believes that she is healed.
2) Sol.Shashikant Adivasi was suffering from 1 kidney failure and other kidney was having stones and pain, however on 5th day his pain was totally gone. He experienced and believes that he is healed completely.
3) Sol.Krishna Devkatte was under evil oppression for many years, By God's grace he was healed on 1st day of troop church practical.
4) Sol.Venketesh Koli was healed from his inner wounds.
5) Sol.Swapnil Jadhav was in Addiction of alcohol. He was delivered from this addiction and he started getting Visions from God.
Baptism: 12 were baptised on 26th mar 2022.
Be Formed and Form (BFF)
Be Formed and Form is a 5 day short term course.
As per Eph 4:11-13, it perfects the saints,  for the work of the ministry, for the edifying of the body of Christ, ………until we all come into the unity of the faith and of the knowledge of the Son of God, to a full-grown man, to the measure of the stature of the fullness of Christ;
The Lord wants the Church to be transformed according to Eph 5:26, 27 to make her holy, (cleansing her by the washing with water through the word), and to present her as a radiant Church. By BFF training, the Church awakes and arises to shine in the world. So far 600 batches have been conducted across India in various languages. The students were from almost all the States of India and abroad. For Further details:
Contact Sol.Jagdish Naik Ph:9930804564
Come, be blessed and bless others!
NAZARETH SCHOOL OF FAMILY BUILDING
Family building classes are organized by Sol. Mukti and co-ordinated by Sol. Fabina on March 21, 2022 to March 26, 2022 in Hindi.

Testimony

Sol. Mukti: All the soldiers of Himachal were encouraged to grow in the word and not be the hearer only but the doer of the Word. I praise God for the classes of Family Building as the soldiers who never took any class came forward to take the class.
FINANCIAL DISCIPLINE SCHOOL
Testimonies
Babli nagar: She learnt to earn money honestly and not to waste money.
Rajwati: She learnt the importance and correct use of money. During anointing she felt the presence of Holy Spirit.
Reena: She learnt the value of earning money honestly and spending wisely. She felt cool wind during anointing and peace filled her.
Meena: She testified healing of hand pain and gained knowledge of how to use money wisely.
Jasmine: During anointing she felt cool wind and got peace. Praise God for His mighty anointing.
Mohini: She testified that first time during anointing, she felt peace of God.
Morning Worship
Morning Worship is going on online (Zoom app) from 5:30 am to 7:00 am in Tamil Nadu and many other States in their own languages.
For details please contact
Sol. Shakespeare - 90037 71216, 62833 81962
Sapphire University
Those interested to know/join the university, for further clarifications and to know about our work may visit our website.
http://sapphireuniversity.in/
Information
Dear soldiers, To keep information accessible we have made few web pages in the name of aojinfo.in, kindly store this address in your browser so you may access it any time. The addresses of the web pages are as follows 1) http://giftschool.online - Gift school schedule 2) aojinfo.in/beryl - Announcements of AOJ 3) aojinfo.in/wheel - Message 4) aojinfo.in/tc - Troop Church method, English 5) aojinfo.in/tcm - Troop Church eight week messages, English 6) aojinfo.in/troopchurch - Troop Church method, Tamil 7) aojinfo.in/tcmessage - Troop Church eight week message, Tamil ----------------------------------------------------------------------------------------------------------------------------------- For Information National Worship Coordinating team has been directed to collect any revelation/inspiration received during worship, (both personal/troop prayer atmosphere).We are expected to report these revelations every Sunday, scheduled meeting online. We need to prayerfully move ahead asking the Lord for further directions to bring Divine Governance in our midst. Hence, we welcome you to participate in Kingdom building and restoration process. Kindly message the revelations with interpretations (as per the leading of Holy Spirit) on personal chat or Shield West group, by Saturday or before. NOTE: Worship is the key to Prophecy.
7 fold Agenda for the Global Churches/Church Leaders/Evangelists/Missionaries …(given on 27.10.2014)
God's Command for the Global Churches/Church Leaders/Evangelists/Missionaries …
to safeguard them from COVID 19 and solution for their Livelihood
(Based On Early Christian Church Acts 2: 42-47)
No mention about money or tithe offering (via online also) in the Churches

No construction of Church buildings. Stop the Church building works even that are now going on.

Molding and training believers and releasing them from the Church after 6 months.

Graduation of six months old believers

Dividing the Church into small groups of 10

Pastors should look for jobs and get employed

No full time pastors for the church.
Why The Lord has permitted the COVID 19?
To Restore The Church of Jesus Christ Acts 2:42-47
This is the God's Command for the Global Believers …
National Worship Centre
No.70, (Old no 41) F1, First floor,
Bethel Enclave, Baba Foundations, (near SBI Branch)
Siruvallur High Road,
Perambur,
Chennai 600011.
National Worship Centre is a Centre where the Lord of hosts, the Lord God Almighty is worshipped in His majesty all the 24 hours. Per day 12 worship teams come to worship from different parts of the Nation. One slot consists of 2 hours. The opening of NWC also turns to be the trumpet sign to start the fatal war against Satan to win this Nation for Christ! Do you want to join this praising Army?
Book your slots
Tel: 7708505152
Praise God for the successful completion of 34,822 slots in National Worship Centre with a Non Stop Worship (24/7)
FOOD FAMINE! $ 50 TRILLION LOAN! PAKISTAN COLLAPSED LIKE THAT..WHAT DID IMRAN
Like Sri Lanka, Pakistan is in dire financial straits. It is noteworthy that Pakistan is already in the throes of overthrowing Prime Minister Imran Khan due to the financial crisis.
Pakistan has passed a no-confidence motion against Prime Minister Imran Khan. The Muttahida Qaumi Movement (MQM), one of the ruling coalition parties, today withdrew its support for Imran.
As a result, Prime Minister Imran Khan's Pakistan Tehreek-e-Insaf party has lost its majority in Pakistan. Already 22 of the party's MPs have turned against the party. His party did worse than expected from opinion polls, which saw them at gaining about a third of the seats.
Flip
Thus Imran Khan is in danger of overthrowing the government. I am taking Pakistan to new heights. Imran Khan came to power claiming to take Pakistan's economy to new heights. But the Pakistani economy has plummeted for a number of reasons, including poor economic policies, borrowing from China, a shortage of exports and a shortage of foreign exchange.
Cash value
In Pakistan, the rupee continues to depreciate against the dollar. The value has gone up from Rs 108 at the beginning of last year to Rs 182 this year. Yes, the Pakistani rupee is worth 182 against the dollar. To that extent the situation there has worsened. It is noteworthy that the value of the ruble is 82, even in war-torn Russia. The country's monetary value has fallen by 16 per cent in the last one year.
The amount of the loan
In addition, the country's debt-to-GDP ratio has peaked. The equivalent of total debt to GDP there was 86 percent in the past 2019. It has now risen to 88 per cent. Similarly, net import debt, which is equivalent to Pakistan's exports, is on the rise. Increased to 7 percent. No country in the world is in such a bad situation. That means a debt ratio of $ 15 billion. No other country in the world has a debt ratio of more than $ 5 billion (excluding Mongolia).
Food shortages
Pakistan also currently has severe food shortages. There barley and wheat will be in stock only until April. If production does not start immediately there will be a famine in the country. As well as vegetables, the prices of essential commodities have gone up. There, retail inflation stood at 12.2 percent and headline inflation at 23.6 percent. Pakistan's total debt exceeds $ 50 trillion.
Power shortage
It has risen from $ 20 trillion to $ 50 trillion in just 39 months. There is also a severe power shortage. Currently there is a shortage of 5000 MW daily. There has never been a power shortage there to this extent. There is such a bad situation there due to the shortage of crude oil and coal. Thus the daily power outage is more than 4 hours.
Food famine
There is a possibility of food shortages in Pakistan soon. At present, petrol is priced at Rs 149.86 and diesel at Rs 118.31. With Pakistan facing a similar impact on Sri Lanka, a coup d'tat is developing in the country. But it is noteworthy that even if a new regime is formed there, the economy will not recover immediately.
https://tamil.oneindia.com/news/colombo/pakistan-economic-crisis-what-is-the-real-condition-of-the-islamic-nation-under-imran-khan-rule-453483.html
Announcement
1.FYI: Informations to be forwarded to the State Secretaries: Please work with your core team and get this information for publishing in Archive portal.
We require Testimonies from Gift School/Troop Churches, Report works for Documentation, Plans for the month for your State-20 Point Program Execution (word document), Praise Reports for Regional Meetings, Shadow Parliament Reports, any others...
SMP, Smla lists (updated ones).
Data should be sent forth to this email address - weekly - Regional allocation Email so it can be uploaded to server. Otherwise it can be sent to me personally in WhatsApp, will forward to IT wing.
Any difficulties in Documentary creation also please feel free to reach out, we will try to work it.
We will try to make all things documented for the month of July, August, and September.
Documentation is vital to show where we stand. Amen
AOJ Matrimony
Are you searching for a suitable bride/bridegroom for your loved ones? Do not worry. AOJ is providing you with free counselling and help through AOJ Matrimony Team. The Matrimony Team will help you to search for a suitable match for your loved ones, pray for them, guide them, and assist them and also solemnize the marriage.
Please have the enclosed profile application duly filled by your prospective bride/bridegroom and send it to us.
Feel free to clear your doubts and enquiries through phone or WhatsApp message or email.
Contact Particulars:
S.No.
Name
Whatsapp No.
Email ID
1
T.Leslie
9444907772
theoleslie@yahoo.com

2
Johnson
7358549693
Kfcm1995@gmail.com
3
Sol.Amala Arunachalam
9942203525
4
Sujatha Madhuram
9884892025
 

By Post to

Bro T.Leslie, F-1, Sabari Bagawathi Flats, Plot No.1, 8th Cross Street,

Sarvamangala Nagar,  Chitlapakkam,  Chennai - 600 064
AOJ MATRIMONY PROFILE
NAME (in block letters)                               :
Date of birth                                                  :
Height/Weight                                                            :
Complexion                                                    :
Languages known                                         :
Qualification                                                  :
Job/Business with details & Income.          :
Your present address                                                :         
Your permanent address                              :
Resident of                                                     :
Your Cell number and email ID                 :
Name & address of Troop Church             :
Father's name & Profession                        :
Mother's name & Profession                                   :
Siblings                                                           :
Your expectation                                           :
DATE:                                                                                                           SIGNATURE
 Signature of Zonal Coordinator of your Troop Church
Name of National Coordinators of Gift Schools and other AOJ Operations 2022 January to June
S.No
Name of Gift Schools of AOJ Operations
Coordinator & Leader Name
 Mobile No.
1
Troop church
Sol.Bindhu Chacko
9061242836
2
BFF
Sol.Jagdish
9930804564
3
Worship

Sol.Theodore

9840154775
Online International Worship
Sol.Raymond
9725107874
4
Deliverance
Sol.Joyce Beula
9842514163
Deliverance Level 1
Sol.Prabhu
9865265306
Deliverance Level 2
Sol.Benjamin Philip
9003021979
5
Healing
Dr.Deepthi
9003209519
Healing Level 1
Dr.Albert Jones
9840577293
Healing Level 2
Sol.Prameela
6
Prophecy

Sol.Shebe Lalu
9562637539
Prophecy Level 1
Sol.Veena Dua
9015652467
Prophecy Level 2
Sol.Shanker
9765987097
7
Financial Discipline
Sol.Himakshi
8708881760
8
Family Building
Sol.Sonny & Usha
Marriage preparation classes
Sol.Keerthana
9487704602
9
Hospitality
Sol.Neelam Sharma
9910532357
10
Morning Worship
Sol. Shakespeare
9003771216
11
Children  Bible School (CBS)
Sol. Jeslyn
9790001292
12
Beryl Wing(Communication, KG, Ezuchikkural)
Sol.Felix
7358420497
13
Daniel Academy Level 2
Sol.Gigi Jacob
9008293700
14
ECC
Sol. Shadrach
9361197303
15
Evangelism through Business
Sol.Sudha Deep
7305332244,

9884318338,

7305332233

16
IT  Wing
Sol.Pinta
17
Training for Translators
Sol.Arun Kumar Pune
7276216777
18
Night Prayer
Sol.Inna Reddy
7702063937
19
TC for Trades
Sol.Sudha Deep
7305332244,

9884318338,

7305332233

20
David school of Worship
Sol.Camilia
9940471819
WORSHIP DETAILS FROM JANUARY 2022
DAY
REGION
COORDINATOR
Sunday
North
Sol. Ajaypal (70658 85778)
Monday
Tamilnadu & Kerala
Sol. Menaka (80726 53915) (Tamilnadu) /

Sol. Sabina (98471 76553) (Kerala)

Tuesday
West
Sol. Savitha (97026 24364) (Maharashtra) /

Sol. Ratna (88052 05676) (Goa) /

Sol. Malathi (96013 53166) (Gujarat)

Wednesday
East
Sol. Yesumilan (86581 31635)
Thursday
Central
Sol. Reeta Gokhle (96659 83740)
Friday
Karnataka/Andhra Pradesh & Telangana
Sol. Preethi (74060 87324) (Karnataka) /

Sol. Dr. Pradeep (90478 99746) (AP) /

Sol. Innar Reddy (77020 63937) (Telangana)

Saturday
Tamilnadu
Sol. Menaka (80726 53915)