Message for reflection – Sr. Angelica AJ
The wind blows where it wishes
Joh 3:8  The wind blows where it wishes, and you hear its sound, but you do not know where it comes from or where it goes. So it is with everyone who is born of the Spirit."
When a child is born into this world, during the time of delivery, the first sign will be the sound it makes, "cry". If it does not cry, doctors identifies there is some problem.
So also, one who is borne in the spirit makes sounds wherever he/she  moves.
Ezekiel, when he was taken to the valley of dry bones, he prophesied over the bones and immediately it is said,
Eze 37:7  "And I prophesied as I was commanded; and as I prophesied, there was a noise, and behold a rustling, and the bones came together, bone to its bone"
Wherever a spirit filled man is moving, there will be a a sign of life, noise, a rattling, an earthquake, a division, a riot, a miracle, a shout, merrymaking, singing, etc.etc.
Wherever you live or move, that place will be shaken, some people will be shaken, the Church will be shaken, one  whole  religion will be shaken, centuries old traditions will be shaken etc. That is the sign of life! The life in the Spirit.
Wherever Jesus went people came in crowds because of the impact He created among them.
In Lk 4: 15, we read of His first entry into the synagogue after being filled by the Spirit and teaching there. The impact it created is written below.
Luk 4:28-29  And they were all filled with wrath in the synagogue, as they heard these things;   and they rose up, and cast him forth out of the city, and led him unto the brow of the hill whereon their city was built, that they might throw him down headlong. 
In the life of Apostle Paul also we see the same. Wherever he went, a stir was there.  As if  a strong wind,  a storm, a tsunami,  a tornado, visited the place. Things  will not be the same as before the  visit. Something would have happened.
 The Army of Jesus is also used like that. Wherever it passes through, the noise is heard. Wherever it is there, a sound is heard.
Joh 3:8  The wind blows where it wishes, .......................................... So it is with everyone who is born of the Spirit."
The Spirit may take and use them beyond their expectations. They cannot predict their own future, cannot make major plans, But they have to be at the disposal of God all the 24 hours. . They should make themselves available for divine appointment any time, any day any hour.
These 2 months very important. We are not the same as in the month of January 2020. We never know what we will be at the end of 2020.
Let's allow the " Potter" to mould  our Constituency to take any shape, any design.
Sr. Angelica AJ
Warfare prayer of the soldiers of the Army of Jesus to bind and destroy the works of the devil
Let us bind and destroy the works of the devil in the name of Jesus Christ who has conquered sin, satan, curse and death on the cross
2 Cor 4:2 

The spirit which makes one walk  in craftiness
Morning Worship is going on online (Zoom app) from 5:30 am to 7:00 am in Tamil Nadu and many other places
For details please contact
Sol. Shakespeare - 90037 71216, 62833 81962
Sapphire University
Those interested to know/join the university, for further clarifications and to know about our work may check our website.
Be Formed and Form is a 5 day short term course. As per Eph 4:11-13, it perfects the saints,  for the work of the ministry, for the edifying of the body of Christ, ………until we all come into the unity of the faith and of the knowledge of the Son of God, to a full-grown man, to the measure of the stature of the fullness of Christ; 
The Lord wants the Church to be transformed according to Eph 5:26,27, to  make her holy, (cleansing her by the washing with water through the word), and to present her as a radiant Church. By  BFF training , the Church awakes and arises to shine in the world. So far 529 batches have been conducted  across India in various languages. The students were from almost all the States of India & abroad.
Contact Sol. Blessy Ph : 98410 34637
It's a unique Christ designed course, transforms souls, delivers people from bondage, enlightens people on true knowledge of Christ and the word of God, Anointing of the Holy Spirit is abundant all through the programme.
Come, be blessed and bless others!
Him we preach, warning every man and teaching every man in all wisdom, that we may present every man perfect in Christ Jesus.

Col:1:28
A Section 25(Not for Profit) company which focuses on Training and Skill Development in all the States of India. Acts as a link between the employer (Company) and the employee. We provide training and equip for workplace evangelism. We raise reliable, sincere and trustworthy people in the workplace like Joseph and Daniel who put God first in everything they do. We provide temporary or permanent jobs.
Interested people can register with us by sending your resume and contact details to.
Mail Id : paulvasanthan.gc@gmail.com
Contact No: 812467749
For Information
National Worship Coordinating team has been directed to collect any revelation/inspiration received during worship, (either in personal/troop prayer atmosphere).
We are expected to report these revelations every Sunday, scheduled meeting online.
We need to prayerfully move ahead asking the Lord for further directions to bring Divine Governance in our midst.
Hence, we welcome you to participate in Kingdom building and restoration process.
Kindly message the revelations with interpretations (as per the leading of Holy Spirit) on personal chat or Shield West group,
by Saturday or before.
NOTE: Worship is the key to Prophecy.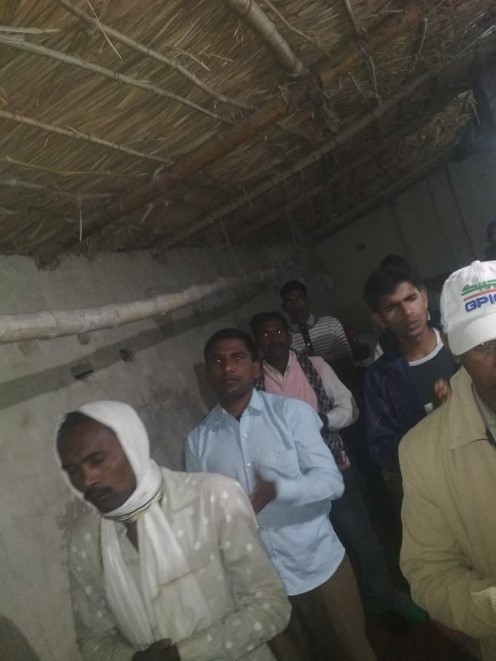 Information
Dear soldiers,
To keep information accessible we have made few web pages in the name of aojinfo.in, kindly store this address in your browser so you may access it any time. The addresses of the web pages are as follows
1) http://giftschool.online -  Gift school schedule
2) aojinfo.in/beryl -  Announcement
3) aojinfo.in/wheel -  Message
4) aojinfo.in/tc -  Troop Church method, English
5) aojinfo.in/tcm -  Troop Church eight week messages, English
6) aojinfo.in/troopchurch -  Troop Church method, Tamil
7) aojinfo.in/tcmessage -  Troop Church eight week message, Tamil
Matrimonial Team – Sol. Leslie
Announcement : Any alliance of AOJ people with Non-AOJ people should be brought to the notice of the Matrimonial team
Other suggestions: If unmarried people come and approach the Matrimonial team for help to conduct the marriage against the will of their parents, the Matrimonial team will get in touch with the parents to try and facilitate it. Under no circumstance will the Matrimonial team conduct the marriage without the consent of the parents.
Testimony from John Troop Church by Soldier Agnes
I would like to testify God's favour and how we need to confess , believe and walk in authority knowing who we are.
I had a friend who lost her husband and in the middle east they use the Sharia law to give the family all his assets and belongings that are in the country. They  had 3 cars on his name so she got a letter from the embassy and was told that just go with it and they would transfer it but on arriving they refused and said embassy has to get it from the Foreign  Ministry.
When she told me this I told her let's try again and next morning I prayed 'Heavenly Father I'm your daughter and I am going in authority and will find favour for her to get her rightful claim and let it be a testimony for her to see and to witness what I spoke to her. In Jesus name I pray'
The next day when we went  we found favour right from the watchman to the captain. The cars were blocked as 2 out of the 3 children are above 18 yrs. So, she was not entitled to change it in her name but the captain removed the block and sent us to the Ministry of Foreign affairs to stamp the letter which was a question of just 20 minutes with no usual rush. Praise God all 3 cars were transferred in to her name.
The day before I was talking to her younger daughter about what it is to be a child of God and the power in the name of Jesus.  So at the end God testified what HE is  able to do when we believe and trust in Him.
 Sol. ROSY MATHEW (Smp. Trivandrum)
Glory to the Lord. All his deeds are marvellous in our sight. The Lord is answering all our prayers, and he has done what we thought was impossible to happen.
I am working in Trivandrum for the past 7 years and my family lives in Angamaly. I have been praying for a job transfer to Angamaly since then. I made a direct request to, Oommen Chandy sir, our former chief minister and Dr. K.T. Jaleel, Minister for Minority Welfare, but I didn't receive an order for a transfer. And we as a family have been praying through. I have also made request to our current Chief Minister of Kerala, Pinarayi Vijayan, without a positive response. They informed me that I couldn't get a transfer as I was working in a super numeric post.
 And after 6 years, we stopped praying for transfer as I'm about to retire in the near future. However, due to the pandemic outbreak of coronavirus, I sent an email to the higher official since I couldn't travel back to Trivandrum. And glory to the Lord,  I was granted with permission to work in my Panchayat without any further delay. My retirement is in March 2021, and I was provided with the same post in Angamaly as prayed earlier.  The Lord has answered our prayer.
The Lord answers all our prayers. Our God is the God of impossible.
Article
God's Command for the Global Churches/Church Leaders/Evangelists/Missionaries …
to safeguard them from COVID 19 and solution for their Livelihood
(Based On Early Christian Church Acts 2: 42-47)
No mention about money or tithe offering (via online also) in the Churches

No construction of Church buildings. Stop the Church building works even that are now going on.

Molding and training believers and releasing them from the Church after 6 months.

Graduation of six months old believers

Dividing the Church into small groups of 10

Pastors should look for jobs and get employed

No full time pastors for the church.
Why The Lord has permitted the COVID 19?
To Restore The Church of Jesus Christ Acts 2:42-47
This is the God's Command for the Global Believers …
National Worship Centre
Father's House,
Brotherhood Missions,
4/364 E, Anna Salai 2nd Cross Street,
ECR, Palavakkam, Chennai 600041.
Tamil Nadu, India.
National Worship Centre is a Centre where the Lord of hosts, the Lord God Almighty is worshipped in His majesty all the 24 hours. Per day 12 worship teams come to worship from different parts of the Nation. One slot consists of 2 hours. The opening of NWC also turns to be the trumpet sign to start the fatal war against satan to win this Nation for Christ! Do you want to join this praising Army?
Book your slots
Tel : 7708505152
Praise God for the successful completion of

28,861

 

slots

in National Worship Centre with a Non Stop Worship (24/7)
Christian NEWS Update
The Government Is Eradicating Churches': Chinese Churches Shut Down or Repurposed into Factories, Propaganda Centers
The Chinese Communist Party is taking drastic action against church venues in order to prevent Christians from meeting and holding services.
According to Bitter Winter, a magazine on religious freedom and human rights in China, local governments have called for the demolishing or the repurposing of churches into entertainment venues, factories, as well as propaganda centers for the CCP.
Over 70 Protestant venues were shut down in 2019 in Jiangsu Province's prefecture-level cities of Lianyungang and Suqian.
One church, which had been unused since shutting down in June of last year, was rented out on August 25.
Another church, the Chenzhuang Church was sold on July 26 for 20,000 RMB (about $ 3,000).
"We didn't have a chance to save our church," a congregation member recalled.
A resident from Suqian city's Shuyang county told Bitter Winter that a shutdown Three-Self Church was converted into a memorial hall for China's revolutionary heroes.
The church will now be used to teach the young generation about China's revolutionary spirit," a village official explained.
After the church was shut down, its members would continue its gatherings in the homes of believers.
https://www.christianheadlines.com/contributors/milton-quintanilla/the-government-is-eradicating-churches-chinese-churches-shut-down-or-repurposed-into-factories-propaganda-centers.html
Christian Pastor and Bible Translator Reportedly Tortured, Killed by Indonesian Army
A Christian pastor was shot and killed in Indonesia during a series of deadly military shootings amid tensions between security forces and separatist groups.
CNN reports the pastor, Yeremia Zanambani, is known for translating the Bible into Papua's Moni dialect. The Indonesian government said in a statement they are investigating, contending that he was shot by an armed criminal group while tending his pigs in Intan Jaya in September.
However, the pastor's church, the Indonesian Gospel Tabernacle Church, argued it had received information Zanambani was actually tortured and shot by Indonesian National Armed Forces (TNI) officers.
The head of the Papua Province Humanitarian Team for Cases of Violence Against Religious Figures, Haris Azhar, said in a press conference that TNI members had given a two-day deadline to return weapons confiscated during a separate shootout two days earlier.
The message was accompanied by threats that if the Hitadipa district was not returned, it would be bombed," said Azhar.
He added that soldiers had specifically sought out the pastor while he was tending to his pigs with the intent to kill him. "Immediately there was an order to 'raise your hand!' and the Pastor Yeremia answered with his hands raised saying that I am a 'servant of God'," said Azhar.
Azhar said the pastor's shooting was carried out with standard military firearms. 
The Indonesian Communion of Churches has called on Indonesian President Joko Widodo demanding the culprits be held responsible
Antara News reports the region's top military commander said that any soldier found to be involved will be punished
https://www.faithwire.com/2020/11/06/christian-pastor-and-bible-translator-reportedly-tortured-killed-by-indonesian-army/
24 Hours Worship through Zoom – Sol. Johny +91 98427 81183
Day
Region
Coordinator
Contact number

Sunday

midnight –midnight (24Hrs)

North Region

Sol.Ajayapal

7065885778

Monday

midnight –midnight(24Hrs)

North East Region

Sol.Alan Bulo

8413926580

Tuesday

midnight –midnight (24Hrs)

West Region

Sol.Shelton

9921949966

Wednesday

midnight –midnight (24Hrs)

East Region

Sol.Smith Prathap Singh

9486860805

Thursday

midnight –midnight (24Hrs)

Central Region

Sol.Rachel Jacob

8689896938

Friday 1st half

00.00 midnight – 12.00 noon

South  Region- Tamilnadu

Sol.Joshua Rajesh

8754116877

Friday 2nd half

12.00 noon – 00.00 midnight

South Region -  Kerala

Sol.Anoop Johnson

9400640799

Saturday 1st half

00.00 midnight – 12.00 noon

South Region - Karnataka

Sol.Marcelline

9731020288

Saturday 2nd half

12.00 noon – 00.00 midnight

South Region - Telengana/Andhra

Sol.Vani

8374412377
List of National Coordinators
| | | |
| --- | --- | --- |
| List of  Programs | Coordinators Name | Mobile Number |
| BFF Training | Sol. Blessy Vivian | +91 98410 34637 |
| Conducting Troop Church | Sol. Mohanasundaram | +91 94451 20678 |
| Paul School of Deliverance (FRP) | Sol.Benjamin | +91 90030 21979 |
| Jeremiah School of Prophecy | Sol. Benovin | +91 82201 23810 |
| David School of Worship | Sol. Theodre | +91 98401 54775 |
| Bethestha  School of Healing | Sol. Dr.Albert | +91 98405 77293 |
| Martha School of Hospitality | Sol. Dinesh Crimson | +91  96633 62589 |
| Nazareth School of Family Building | Sol. Dr.Sujatha / Sol. Paul Hudson | +91 96771 92227 / |
| Joseph school of Financial Discipline | Sol. Dr.Benedict | +91 98405 44151 |
| Night Prayer | Sol. Vani Santhosh | +91 83744 12377 |
| Shadow Parli | Sol. Arvind (Goa) | +91 98221 81817 |
| Communication  (Beryl wing ) Kingdom Gazette | Sol. Felix | +91 73584 20497 |
| Transformation India Programme --TIP (Free service) | Sol. Dr.Acha | +91 93600 18004 |
| Children Programme | Sol. Paul Vasanthan/Dr.Petricia | +91 81246 77493/ |
| 24 hours Worship | Sol. Johny | +91 98427 81183 |
| Ezhuchikkural (Monthly Magazine – Tamil)                                                                                     | Sr. Anitta AJ | 9540328369 |
| Media (Zoom) | Sol. Shaji Thomas | +91 81800 11100 |