Message for reflection – Sr. Angelica AJ
Peter was standing with them
Jn 18:18  Now the servants and the officers were standing there, having made a fire of coals; for it was cold; and they were warming themselves: and Peter also was with them, standing and warming himself. 
We all know how Peter, the chief of the Apostles,  came to deny Jesus 3 times and later repented. While I was meditating on this, the Lord gave me certain insights. Let me share it.
The phrase "Peter was standing with them" aroused  curiosity in me.
Where was Peter standing?
 "Peter was standing with them". 
"Now the servants and the officers were standing there, having made a fire of coals; for it was cold; and they were warming themselves" Jn 18:18
Peter  was standing with the  servants and officers of the Jews – the place of Annas  the high  priest
Jn 18:12 -13 So the band and the chief captain, and the officers of the Jews, seized Jesus and bound him,  and led him to Annas first; for he was father in law to Caiaphas, who was high priest that year.
Why should Peter appear there? Is it  to show his solidarity with Jesus ? To defend Jesus? No. Just out of curiosity.
His foolhardiness and curiosity led him there. While the Master was before one bar, Peter stood at another, but how miserably he failed! In spite of his brave talk, he was swept off his feet!
Jn 18:16  but Peter stood outside at the door. So the other disciple, who was known to the high priest, went out and spoke to the servant girl who kept watch at the door, and brought Peter in. 
The lesson to learn
Peter did not have the discernment where he should stand and where he should not.
Peter's fall was due to his self-confidence and lack of prayer. After Jesus got arrested, when he was not able to do anything to save Jesus from their hands, why should he go and stand with the officers and warm himself? How can he think of warming himself from cold when Jesus was in such a dangerous situation?
It shows his childishness and irresponsibility.
Psa 1:1  Blessed is the man who walks not in the counsel of the wicked, nor stands in the way of sinners, nor sits in the seat of scoffers; 
Jacob in his conversation with his children in his deathbed,  advices his children in which company they should join in which they should not.
Gen 49:6  Let my soul come not into their council; O my glory, be not joined to their company. For in their anger they killed men,.......
2Co 6:14  Do not be unequally yoked with unbelievers. For what partnership has righteousness with lawlessness? Or what fellowship has light with darkness? 
Those who are weak should beware of exposing themselves in places and company where they are liable to fail. Do not warm yourself at the world's fires.  Unless we have learned to avail ourselves of that power which is made perfect only in weakness, we should never take a chance to go and stand in the council of the world. It was a mistake for Peter to throw himself into such a vortex of trial.
Three lessons emerge from Peter's failure:
(1) Let us not sleep through the precious moments which Heaven affords before each hour of trial, but use them for putting on the whole armour of God, that we may be able to stand in the evil day. These are the days satan is struggling to deceive even the chosen ones in India.
(2) Let us not vaunt our own strength. We need more than resolution to sustain us in the hour of conflict.
(3) Let us not cast ourselves down from the mountainside, unless absolutely sure that God bids us to do so. He will not otherwise give His angels charge to keep us.
Morning Worship is going on online (Zoom app) from 5:30 am to 7:00 am in Tamil Nadu and many other places
For details please contact
Sol. Shakespeare - 90037 71216, 62833 81962
Sapphire University
Those interested to know/join the university, for further clarifications and to know about our work may check our website.
Be Formed and Form is a 5 day short term course. As per Eph 4:11-13, it perfects the saints,  for the work of the ministry, for the edifying of the body of Christ, ………until we all come into the unity of the faith and of the knowledge of the Son of God, to a full-grown man, to the measure of the stature of the fullness of Christ; 
The Lord wants the Church to be transformed according to Eph 5:26,27, to  make her holy, (cleansing her by the washing with water through the word), and to present her as a radiant Church. By  BFF training , the Church awakes and arises to shine in the world. So far 529 batches have been conducted  across India in various languages. The students were from almost all the States of India & abroad.
Contact Sol. Blessy Ph : 98410 34637
It's a unique Christ designed course, transforms souls, delivers people from bondage, enlightens people on true knowledge of Christ and the word of God, Anointing of the Holy Spirit is abundant all through the programme.
Come, be blessed and bless others!
Him we preach, warning every man and teaching every man in all wisdom, that we may present every man perfect in Christ Jesus.

Col:1:28
BFF Batch no 11 /579 @Karjat, Maharashtra
A Section 25(Not for Profit) company which focuses on Training and Skill Development in all the States of India. Acts as a link between the employer (Company) and the employee. We provide training and equip for workplace evangelism. We raise reliable, sincere and trustworthy people in the workplace like Joseph and Daniel who put God first in everything they do. We provide temporary or permanent jobs.
Interested people can register with us by sending your resume and contact details to.
Mail Id : paulvasanthan.gc@gmail.com
Contact No: 812467749
For Information
National Worship Coordinating team has been directed to collect any revelation/inspiration received during worship, (either in personal/troop prayer atmosphere).
We are expected to report these revelations every Sunday, scheduled meeting online.
We need to prayerfully move ahead asking the Lord for further directions to bring Divine Governance in our midst.
Hence, we welcome you to participate in Kingdom building and restoration process.
Kindly message the revelations with interpretations (as per the leading of Holy Spirit) on personal chat or Shield West group,
by Saturday or before.
NOTE: Worship is the key to Prophecy.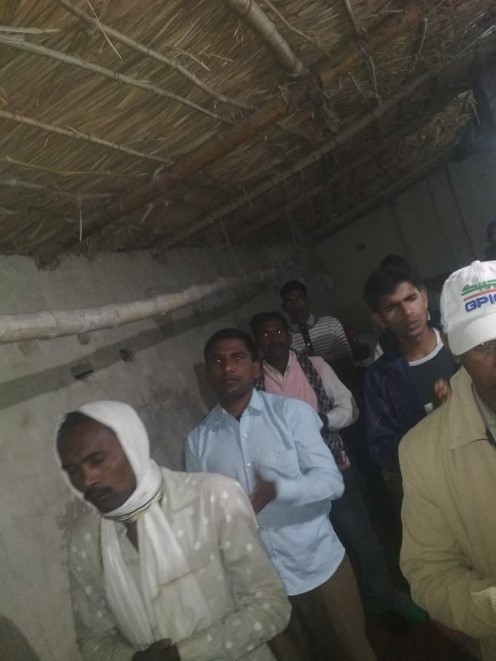 Information
Dear soldiers,
To keep information accessible we have made few web pages in the name of aojinfo.in, kindly store this address in your browser so you may access it any time. The addresses of the web pages are as follows
1) http://giftschool.online -  Gift school schedule
2) aojinfo.in/beryl -  Announcement
3) aojinfo.in/wheel -  Message
4) aojinfo.in/tc -  Troop Church method, English
5) aojinfo.in/tcm -  Troop Church eight week messages, English
6) aojinfo.in/troopchurch -  Troop Church method, Tamil
7) aojinfo.in/tcmessage -  Troop Church eight week message, Tamil
Article
God's Command for the Global Churches/Church Leaders/Evangelists/Missionaries …
to safeguard them from COVID 19 and solution for their Livelihood
(Based On Early Christian Church Acts 2: 42-47)
No mention about money or tithe offering (via online also) in the Churches

No construction of Church buildings. Stop the Church building works even that are now going on.

Molding and training believers and releasing them from the Church after 6 months.

Graduation of six months old believers

Dividing the Church into small groups of 10

Pastors should look for jobs and get employed

No full time pastors for the church.
Why The Lord has permitted the COVID 19?
To Restore The Church of Jesus Christ Acts 2:42-47
This is the God's Command for the Global Believers …
National Worship Centre
Father's House,
Brotherhood Missions,
4/364 E, Anna Salai 2nd Cross Street,
ECR, Palavakkam, Chennai 600041.
Tamil Nadu, India.
National Worship Centre is a Centre where the Lord of hosts, the Lord God Almighty is worshipped in His majesty all the 24 hours. Per day 12 worship teams come to worship from different parts of the Nation. One slot consists of 2 hours. The opening of NWC also turns to be the trumpet sign to start the fatal war against satan to win this Nation for Christ! Do you want to join this praising Army?
Book your slots
Tel : 7708505152
Praise God for the successful completion of

28919 slots

in National Worship Centre with a Non Stop Worship (24/7)
Christian NEWS Update
Indian High Court Stands Up for Christians Persecuted by Hindu Nationals
Christians in India received a respite from Hindu persecution recently as the country's high court ruled that Christians whose houses were bulldozed for refusing to convert to Hinduism will be allowed to return without more persecution for their beliefs.
Christians in the region of Chhattisgarh experienced the persecution recently and filed a petition over the matter, The Christian Post reports.
There were reportedly three separate attacks that displaced the Christians for more than a month. 16 homes were attacked and women were being attacked while men tore their clothes. "I kept pleading with them but they kept beating me. My only fault was that I follow Christianity," one woman stated to Stories Asia.
According to International Christian Concern, the Christians were called to a village meeting and told to recant their faith, or else. The Christians refused and that was the beginning of the attacks. "We ran for our lives," one of the survivors, Vijay Sori, told International Christian Concern. "The death threat they hurled against us were very frightening. There was no other way than to flee from the village."
In addition to this, four of the men remain imprisoned for simply refusing to convert to Hinduism. This violates India's constitution, which provides freedom of religion for all in Article 25, which states "all persons are equally entitled to freedom of conscience and the right to freely profess, practice, and propagate religion subject to public order, morality and health."
Even though the high court told the persecution to stop, the local authorities have reportedly looked the other way, according to other Christians in the region. This means the nationalists who forced the attacks may go completely unhindered by police.
https://www.christianheadlines.com/contributors/john-paluska/indian-high-court-stands-up-for-christians-persecuted-by-hindu-nationals.html
Iranian Christian convert gets 80 lashes for drinking communion wine
An Iranian Christian convert, who is serving a six-year prison sentence, has received 80 lashes for drinking communion wine. He is the second convert to receive such a punishment in just over a month. 
Article 18, a London-based nonprofit that exposes abuses against Christians in Muslim-majority Iran, reports that Zaman Fadaee (who goes by the name Saheb) was flogged on Sunday in connection to a 2016 conviction for drinking wine as part of communion.
In Iran, it is illegal for Muslims to drink alcohol but the practice is permitted for religious minorities. However, advocates warn that Iran does not recognize former Muslim converts as Christian. 
Fadaee, a member of the Church of Iran, was arrested along with Pastor Yousef Nadarkhani and four other members of Nadarkhani's Rasht-based church in May 2016. In September 2016, converts Fadaee, Yasser Mossayebzadeh and Youhan Omidi were sentenced to 80 lashes for drinking communion wine by a court in Rasht.
On Oct. 14, Omidi received his 80 lashes about a month after he began a two-year term in exile in the city of Borazjan, about a 15-hour drive from his home in Rasht. 
Fadaee is serving a six-year sentence in Tehran's Evin Prison for the charge of organizing house churches and "promoting 'Zionist' Christianity," according to Article 18. 
The converts were each initially given 10-year prison sentences in 2017, which they began serving in 2018. But during a retrial earlier this year, their sentences were reduced.
While Fadaee and Nadarkhani's sentences were reduced to six years in prison with two years of internal exile, Omidi's sentence was reduced to two years. He was released from prison in August and began his two years of internal exile a month later.
Mossayebzadeh was also sentenced to 80 lashes. But Article 18 reports that he has not been summoned yet to receive the lashes. 
"It had been assumed that both Saheb and Yasser would be flogged after their release from prison, as happened in Youhan's case," the Article 18 report states. "However, Saheb was summoned to the Shahid Moghadas Revolutionary Court next to Evin Prison yesterday, and told his sentence must be carried out then and there."
News of Fadaee's flogging was condemned by State Department official Gabriel Noronha. 
"Now hearing from @articleeighteen that another Iranian Christian has been lashed 80 times for drinking communion wine — and is serving 6 years in prison for organizing house churches," Noronha tweeted. "ISIS, Al-Qaeda, and the Islamic Republic of Iran are birds of the same radical feather.
In October, State Department spokesperson Morgan Ortagus condemned the reported flogging of Omidi.
"Deeply disturbed by reports Iran lashed Mohammad Reza Omidi 80 times for drinking communion wine," she wrote on Twitter at the time. "He already served two years in prison for belonging to a house church. We condemn these unjust punishments and urge Iran to allow all Iranians the freedom to practice their beliefs."
The U.S. government and international human rights activists have often criticized the Iranian government over human rights abuses against religious minorities. Governed by a theocratic regime and Islamic law, Iran is listed by the State Department as a "country of particular concern" for tolerating or engaging in systemic violations of religious freedom.
Open Doors USA, a persecution watchdog group that monitors human rights abuses in over 60 countries, ranks Iran as the ninth worst country in the world when it comes to Christian persecution
Among many restrictions on the Christian community, the government prohibits church services from being conducted in the Farsi language. The government also bans Muslims from leaving Islam. 
Christian converts who participate in house churches do so in fear that they could be arrested for doing so. 
During the 2020 reporting period — Nov. 1, 2018, to Oct. 31, 2019 — Open Doors reports that at least 169 Christians were arrested in Iran. 
https://www.christianpost.com/news/iranian-convert-gets-80-lashes-for-drinking-communion-wine.html
24 Hours Worship through Zoom – Sol. Johny +91 98427 81183
Day
Region
Coordinator
Contact number

Sunday

midnight –midnight (24Hrs)

North Region

Sol.Ajayapal

7065885778

Monday

midnight –midnight(24Hrs)

North East Region

Sol.Alan Bulo

8413926580

Tuesday

midnight –midnight (24Hrs)

West Region

Sol.Shelton

9921949966

Wednesday

midnight –midnight (24Hrs)

East Region

Sol.Smith Prathap Singh

9486860805

Thursday

midnight –midnight (24Hrs)

Central Region

Sol.Rachel Jacob

8689896938

Friday 1st half

00.00 midnight – 12.00 noon

South  Region- Tamilnadu

Sol.Joshua Rajesh

8754116877

Friday 2nd half

12.00 noon – 00.00 midnight

South Region -  Kerala

Sol.Anoop Johnson

9400640799

Saturday 1st half

00.00 midnight – 12.00 noon

South Region - Karnataka

Sol.Marcelline

9731020288

Saturday 2nd half

12.00 noon – 00.00 midnight

South Region - Telengana/Andhra

Sol.Vani

8374412377
List of National Coordinators
| | | |
| --- | --- | --- |
| List of  Programs | Coordinators Name | Mobile Number |
| BFF Training | Sr.Anitta AJ | 91 9540328369/  9094921714 |
| Conducting Troop Church | Sol. Mohanasundaram | +91 94451 20678 |
| Paul School of Deliverance (FRP) | Sol.Benjamin | +91 90030 21979 |
| Jeremiah School of Prophecy | Sol. Benovin | +91 82201 23810 |
| David School of Worship | Sol. Theodre | +91 98401 54775 |
| Bethestha  School of Healing | Sol. Dr.Albert | +91 98405 77293 |
| Martha School of Hospitality | Sol. Dinesh Crimson | +91  96633 62589 |
| Nazareth School of Family Building | Sol. Dr.Sujatha / Sol. Paul Hudson | 91 96771 92227 / 91 90031 82275 |
| Joseph school of Financial Discipline | Sol. Dr.Benedict | +91 98405 44151 |
| Night Prayer | Sol. Vani Santhosh | +91 83744 12377 |
| Shadow Parli | Sol. Arvind (Goa) | +91 98221 81817 |
| Communication  (Beryl wing ) Kingdom Gazette | Sol. Felix | +91 73584 20497 |
| Transformation India Programme --TIP (Free service) | Sol. Dr.Acha | +91 93600 18004 |
| Children Programme | Sol. Paul Vasanthan/Dr.Petricia | 91 81246 77493/ 91 98424 82493 |
| 24 hours Worship | Sol. Johny | +91 98427 81183 |
| Ezhuchikkural (Monthly Magazine – Tamil)                                                                                     | Sr. Anitta AJ | 9540328369 |
| Media (Zoom) | Sol. Shaji Thomas | +91 81800 11100 |