Message for reflection – Sr. Angelica AOJ
NO ONE WHO HAS BEEN DRINKING OLD WINE WANTS NEW WINE!
Luke 5:39 No one who has been drinking old wine wants new wine, because he says, "The old wine is good enough!"
In Jesus time, the Jewish religion was saturated with the Old Testament Bible teaching. "Eye for an eye, tooth for a tooth". But Jesus brought a new code of teaching. It brought a paradigm shift in the latter of the two main commandments. 'Love your neighbor as you love yourself'.
But the Jewish leaders could not digest this. The old teaching seemed to be good enough for them because the new teaching required an upside down change in their customs and systems.
In the Jewish class there were two categories; the oppressor and the oppressed.
The religious leaders were the oppressing class and the ordinary Jews were the oppressed. The Jewish religion was following the hierarchical system which was introduced into human history by Nimrod. All the religions, institutions in this world follow this system which divides the society into two categories. Jesus brought a revolutionary change  by breaking this system.
He asked water from a low caste woman and when she refused Jesus made her understand who He was. The Samaritans of a whole village believed in Jesus and He stayed with them for two days. Through preaching the Good Samaritan parable, Jesus presented God having a soft corner for the Samaritans, the less privileged class.
He favoured the tax collector Levi and went to his house for a dinner. In the parable of the Pharisee and tax collector, the latter was heard and went back righteous.
All those kings provoked the Pharisees. They preferred the "old wine" i.e. their system to continue. The less privileged heard the preaching of Jesus and valued it. But the oppressive class, with their political and religious power made them silent.
This Jesus is still alive and is still continuing the same work through the generations.
Dearly beloved, you are called to bring Jesus' Kingdom into this world.  The political, religious, cultural system which exists in your surroundings, in your Constituency should be brought in direct alignment with the principles of Jesus Kingdom.
Identify the oppressed class of the society in your Constituency. Caste, Religion, Colour, Education, tradition, money, muscle strength, anything can be the discriminating factor. Join the oppressed class. God is always with the poor and oppressed. When you make visits, enter into any house of the poor and needy, pray with them, seal them in the name of Jesus. They will taste the "New Wine" and say, 'this is good'.
Psalm 34:8 Taste and see that the LORD is good! How blessed is the person who trusts in him! Once they taste, they will start liking the new wine! Make them taste it! That's your challenge!
Sr. Angelica AOJ
HEAVENLY COURT APPEALS AND FULFILLMENT
Appealed for the agricultural budget 2022-23.God has answered it by introducing a digital agriculture in Tamil Nadu at a cost of Rs.8 crore.
Reference:https://www.puthiyathalaimurai.com/newsview/132675/The-agriculture-budget-was-tabled-in-the-legislature-today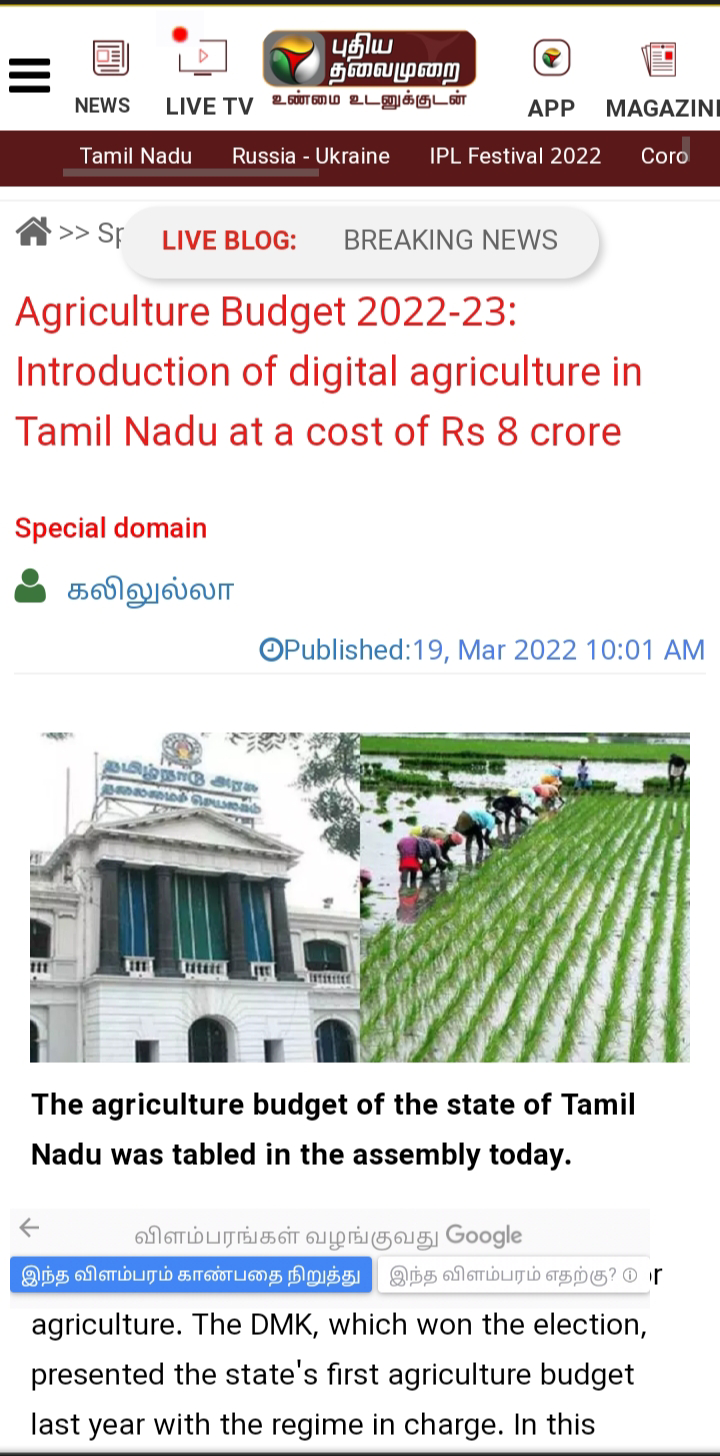 Most Indians agree on the view that 'the wife should obey the husband' as reported in the polling conducted in New Delhi.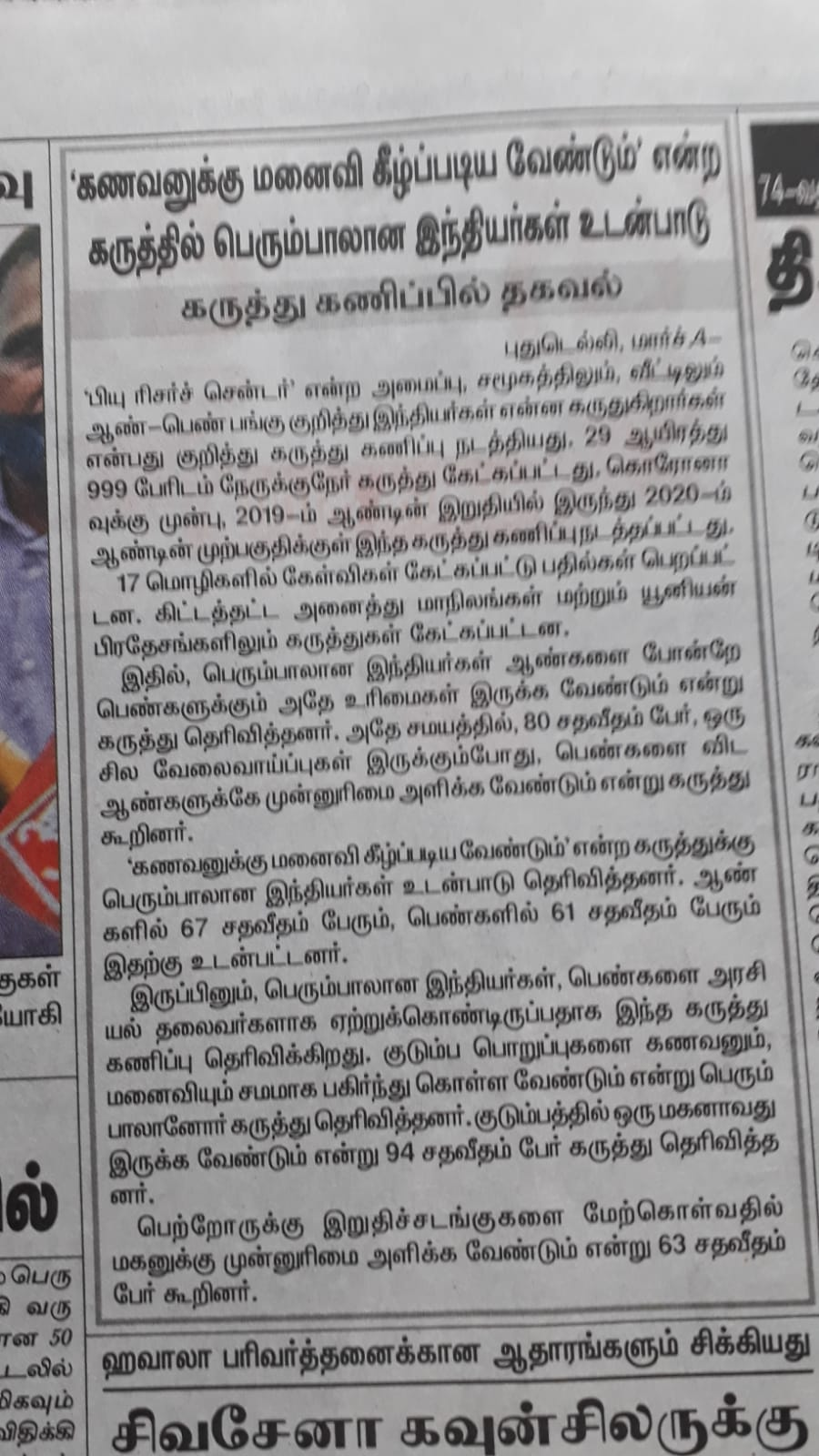 FELLOWSHIP
By the grace of God March 26th South zone fellowship was conducted. It started at 11O'clock in the morning and ended at evening 4.Around 40 members participated in the fellowship. Starting prayer was said by mother .Every soldier took his flag happily and came for a procession. After that worship started. Everyone felt the presence of God. The message was about restoration and the one who was conveying the message told many testimonies related to it.After that the Lord's supper took place.Sol.Margret and Sol.Madhan's two years old baby was blessed and prayed by one of the soldiers in the fellowship. In the afternoon children programme was conducted , everyone enjoyed it and the prize winners were rewarded with their Gifts. Praise the Lord.
TROOP CHURCH
Ark of Noah troop church
Ark of Noah troop church was conducted by Dr.Petricia and it got over with anointing session on 05.04.2022.About 15 participants participated.
About 12 troop churches are planned and prayed for the future.
Gift schools are planned between 2 pm –5pm
Balm of Gilad troop church
Balm of Gilad troop church has conducted 7 weeks.
About 14 smlas were chosen from Balm of Gilad troop church and to be appointed.14 troop members volunteered to be smlas in Puducherry. All glory to Jesus.
BFF(BE FORMED AND FORM)
BFF-674 was conducted from 27.03.2022 to 03.04.2022 in Perambur BFF center, Chennai, Tamil Nadu.About 9 members Participated. 9 SMP's and SMLA's has been raised, One Coordinator/Organizer and 9 teachers has been raised. Everybody who attended this BFF classes, received the outpouring of the Holy Spirit. All Glory, Honor and Praises be to our Lord Jesus Christ.All the coordinators were conducting prayer during night time between 9:30 pm - 10:00 pm.Morning prayers was also conducted by the coordinators on Sunday between 5:30 am - 6:00 am.All SMPs and SMLAs were conducting prayers daily between 11:00 am - 11:30 am regularly. Previously BFF was conducted for 5 days. But from last batch it was changed as 7 days programme. Additional spiritual lessons and practices are added from last batch. Everyday, after morning prayer, 15 minutes is allotted for spiritual exercise, which helps them mould themselves.
Testimonies: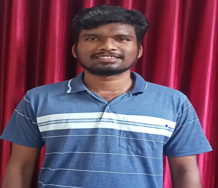 I am S.P. Jayapradeep Pandian from Kolathur, Chennai. Through BFF classes, I submitted to God and was saved and God also helped me to receive Baptism and He strengthened me to participate in God's ministries. Praise be to God.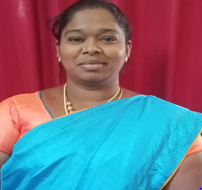 My name is Suriya.S, Bangalore. After attending BFF classes, I was able to reconcile with my husband and now I'm united as a family to serve the Lord. Glory to God.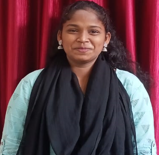 I am Shekina from Bangalore.With God's grace, me and my mother attended BFF classes together and after that, I received the gift of prophecy and anointing from above. Glory to God.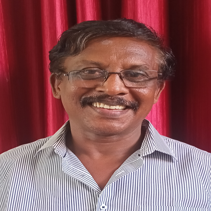 I'm T. Rajan from Coimbatore after attending BFF classes, I received the in depth knowledge of Christ and was able to comprehend the scriptures well. Glory to God
BFF group in Aruldas Hospital ,Perambur BFF center.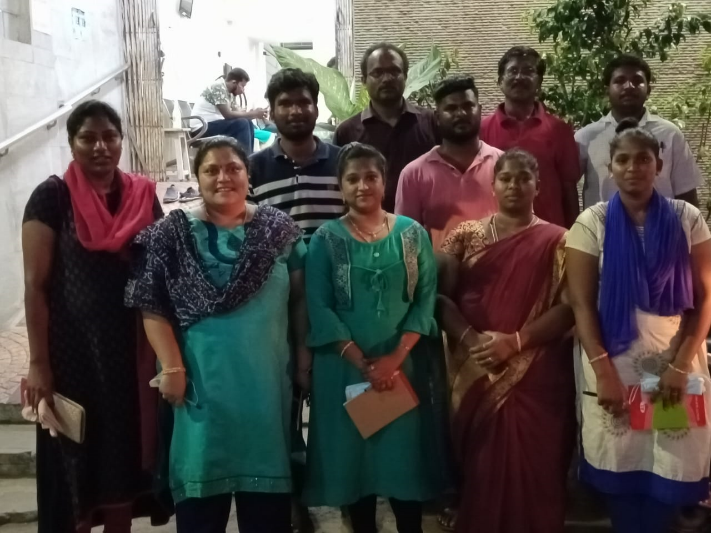 New SMP/SMLA's From BFF
BFF trained soldiers were made new SMLAs:Basic information is given about the constituency to enable their choice as per God's will .
Sol Kamalini from Krishnagiri,Lakshmi working in BSNL Bengalore ,Sol.Stella Dass working in IT Pune,Sol.Caroline from Chennai ,Sol.Vimmi George was a worship leader in her own church, Trichy and Sol.Vimala Pannerselvam from Chennai. Above 6 soldiers have participated and out of it 5 members took the role of SMP and SMLA.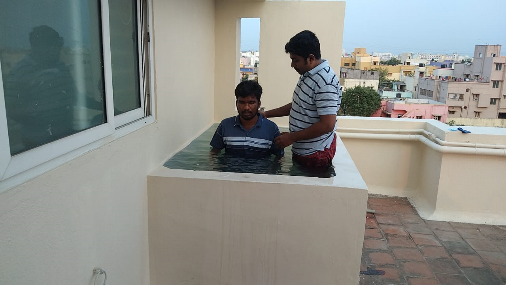 FRP (Forgiveness and Reconciliation)
FRP class was organized by Sol. Mini and coordinated by Sol. Mini & Menka from 14th April to 22nd April, 2022 in Hindi.
Testimonies
●        Sol. Menka: During anointing, I got a verse from the book of 1 Corinthians 15:57," But thanks be to God, who gives us the victory through our Lord Jesus Christ". After getting this verse, whatever financial, physical and household problems I had, God has given us victory in that. I thank God for sustaining us through all the difficulties in life and enabling us to overcome every problem. God healed my husband and solved financial problems. All glory to Jesus!
●        Sol.Rumma : I am from West Bengal. It has been a very enlightening and enriching experience attending the FRP classes . We are truly blessed to be able to have access to this plethora of knowledge and wisdom. Even though I have been born and brought up in a Christian environment, there is so much of new and wonderful understanding I have received through the morning fellowship and these classes. Listening to these classes I felt as though the scales of spiritual blindness were falling off my eyes and I could truly see clearly for the first time . I have read the Bible regularly but the meaning of the words are able to resonate deeply within me now. Only when we forgive we will be forgiven , is such a powerful message- this struck me deeply .
This spiritual manna that I have received should awaken me from the spiritual slumber and help me walk in the way of the Lord.
May the Lord Almighty work within each and everyone of us and help us to seek him diligently everyday and do his will in our lives.I want to thank each and every teacher who guided us towards greater understanding through the word of God.
BETHESDA SCHOOL OF HEALING
Healing school was held through Zoom App from 8th to 11th Mar 2022 in Hindi. It was organized by Sol.Sushma and coordinated by Sol.Krishna.15 members participated. Healing school was conducted in Delhi and it was organized by Sol.Neelam Sharma ,Co-ordinated by Sol.Mohini and Sol.Kusumlata from April 1, 2022 to April 9, 2022 from 2 pm to 4 pm.
Testimonies:
Sol.Kusumlata: Myself and my daughter Suhani got baptized on 6th April when the classes were going on. We were really blessed by all the classes.
Sol.Neelam Sharma and Sol. Babli Nagar was touched by the Holy Spirit during the anointing.
HOSPITALITY GIFT SCHOOL
JEREMIAH SCHOOL OF PROPHECY
We have conducted 4 online Gift schools on JSP Level-1 in all the regions of the Morning worship and  we have covered 13 regions as well.Level 2 also have been conducted for the attendees who have completed the Prophecy level 1.Planning in the expansion of raising Prophets in all the constituencies. God's guidance lead us whole session of those classes. The Holy Spirit's anointing was poured on  all of our participants. We thank God for our AOJ sisters guidelines, which was more helpful to achieve this. We thank God for our new core team members and leaders prayer support and all of our coordinator's and teacher's sincere efforts to fulfill this target. They are all in one spirit are anointed and committed.All  the participants were filled with God's anointing. Many testimonies were raised.All the participants were blessed. We are awaiting for teachers assessment.We will expect that more than 20 new teachers will be raised. We will expect new coordinators and new SMLAs will be raised.
DAVID WORSHIP SCHOOL
Gift school was conducted on 30th March to 5th April, 2022 from  2:00 pm to 4:00 pm. It was organized by Sol. Neha and Coordinated by Sol. Sangeeta. Sol. Rekha and Sol. Usha Volunteered.
Testimonies
Sol.Rekha:I loved all the worship classes and was very much encouraged to worship God with the right mindset. Praise God!
Sol.Akshay : I attended worship classes for the first time and I am blessed by all the Worship classes.
Sol.Vanita: I was blessed with all the classes.
ONLINE WORSHIP
Psalm 95:6 Come, let us bow down in worship, Let us kneel before the Lord Our Maker
Online worship was coordinated by Sol. Ajay.Online Worship is continuing in Delhi also along with all the 9 States of North Zone every Sunday.
MORNING WORSHIP
Testimonies
Soldier Helen: On 10th January 2022 I had a prayer request for a Muslim lady who had a stroke and is paralyzed. After prayer she is better but still not able to eat and has to be fed by rules tube so let us all pray for her to be healed and that they should accept Jesus Christ as the savior.
Soldier Sejal: Myself and my husband and my sons had cold and fever and after all your prayers we are all healed. All Glory to Lord Jesus Christ.
Soldiers Sairam: I had gone for a marriage to the registration office at 12 noon I went late and realized that they needed witnesses since they were from out of Goa and they needed three witnesses and there were only two witnesses it was already 1.30pm so they said it will not be done today. In the name of Jesus. I went and spoke to the authorities and they accepted two witnesses and got the marriage conducted.
Soldier Helen testified that after prayer on 11th January there was a lot of improvement in Kusumbi.
NIGHT PRAYER
On 18th Mar 2022, Friday from 10:00pm to 01:00am,night prayer was conducted in the Chennai south constituency.
Testimonies
Sol Arvind :With this ruling Govt. we could experience more religious freedom. All glory to Religious freedom being safe guarded in TN is a testimony.
Sol Senthil (Sholinganallur):Wife had a heart problem and we all got Covid +ve due to which could not travel back to work in Abu Dhabi, but God gave me more time with family and to be in the presence of God. Now by God's grace i have returned to my work in Abu Dhabi.
Sol Malar (Abu Dhabi, Perungudi): When I was in Perungudi, God enabled me to attend many classes & Troop in person. It was a blessing for me and family was Blessed because of breaking curses. My son got his hurdles lifted and went to study his masters.
Sr Angelica: For North Zone, we prayed for Vellore, SMP & Speaker were praying for SMLA meeting. The next day, from Vellore Sol Pandian called and offered for serving God's work in Vellore along with Sol Karthik.
Sr Anitta:There were no exclusive Night prayer in South Chennai. Now God enabled it today. Praise be to God.
Sol Pratheep:God lifted me to South Chennai as residence and appointed as SMP. God showed good signs/lead in recent SMLA meeting & now in night p He has a purpose for me in this constituency.
FAMILY BUILDING SCHOOL
Psalm 127:1-"unless the Lord builds a house, those who build it labor in vain. Unless the lord watches over the city, the watchman stays awake in vain."
Nazerath family building school was organized in Jammu and Kashmir by Sol. Neelam and coordinated by Sol. Jasmine & Sol. Sneha on 27th March to 23rd April, 2022.Every Saturday from 5 pm to 6 pm it is conducted.
CHILDREN BIBLE SCHOOL (CBS)
PLANS FOR FUTURE
On Sunday, the 24th of April, our kindergarten and first standard students shall exhibit their talents to glorify God.
In the month of May we've planned to organize a memory verse contest for our children.Scripture portions will vary according to their age like, the ten Commandments, Beatitudes, the Shepherd's song and the New Testament commandments.
FINANCIAL DISCIPLINE SCHOOL
Joseph School of Financial Discipline is conducted in the Puducherry zone from 02.05.22 to 05.05.22 through Zoom. Sol.Shanthini Ebenezer and Sol.Renet Clemence were the incharges.The first session started from 2.15 Pm to 3.30 Pm and the second session from 3.30 Pm to 4.45. Many felt the presence of God and were filled with the wisdom and knowledge that God gave through this class. Finally the anointing was done by Sol.Sundar Raj.
DANIEL ACADEMY
Daniel Academy  1
DA1's journey  started on 7th April 2021 and ended on June 5th (90days).The national coordinator  for DA 1 was Sol.Jagedesh and the speakers  coordinator was Sol.Gigi Jacob. We had a team of soldiers to review. They were Sr.Angelica,Sol.Jevika,Sol.Shebe,Sol.Louiz,Sol.Dr.Gita,Sol.Jannet to view the rehearsal and correction. Also the sound modulation, electronic gadgets handling, checking the time  etc. The speakers were proclaiming the wonderful work God  had done in their lives. The rehearsal of coordinators and the presentations were done with translators. The translators were Sol.Jagedesh, Sol.Jevika , Sol.Jannet and Sol.Shakespeare.
The testimonies  influenced  many and we got  messages from different  parts of India saying how they were comforted, changed their life, more knowledge of the word and how to face difficult situations.
It was due to the presence of God and His plan and His grace upon the team it went well and was able to finish without any disruption of a single day.All the 90 days messages were archived.
On the 91st day (06/07/21) Sr.Leema Rose gave her revelation to the speakers  from 1 Cor 15:28 and Romans 8:14.God has put confidence in you. The speakers are led by the Holy Spirit. We are His sons and daughters. According to Galatians 4:14 we all become like Jesus Christ. Jesus did all,Father desired of Him. So we also have to become like Him.
Now we have a different relationship  with God.Our past is gone. Daniel's life turned the king change his declaration that Daniel's God is the real God. God will work wonderful miracles through you. He took you all in confidence.so arise and shine.Holy Spirit will give a new anointing.
For the daily messages and speakers, God arranged it wonderfully. He heard our prayers and answered  it.
BERYL WING
The main work of Beryl wing is to
Update the website with the operations of AOJ.
Publishing the weekly e-magazine named KG (KINGDOM GAZETTE) in the website.
 Ezuchikural is a monthly Tamil magazine published by AOJ.
Morning Worship
Morning Worship is going on online (Zoom app) from 5:30 am to 7:00 am in Tamil Nadu and many other States in their own languages.
For details please contact
Sol. Shakespeare - 90037 71216, 62833 81962
Be Formed and Form (BFF)
Be Formed and Form is a 5 day short term course. As per Eph 4:11-13, it perfects the saints,  for the work of the ministry, for the edifying of the body of Christ, ………until we all come into the unity of the faith and of the knowledge of the Son of God, to a full-grown man, to the measure of the stature of the fullness of Christ; The Lord wants the Church to be transformed according to Eph 5:26, 27 to make her holy, (cleansing her by the washing with water through the word), and to present her as a radiant Church. By BFF training, the Church awakes and arises to shine in the world. So far 600 batches have been conducted across India in various languages. The students were from almost all the States of India and abroad. For Further details: Contact:
Sol.Jagdish Naik Ph:9930804564
Come, be blessed and bless others!
Sapphire University
Those interested to know/join the university, for further clarifications and to know about our work may visit our website.
Information
Dear soldiers,
To keep information accessible we have made few web pages in the name of aojinfo.in, kindly store this address in your browser so you may access it any time. The addresses of the web pages are as follows
1) http://giftschool.online - Gift school schedule
2) aojinfo.in/beryl - Announcements of AOJ
3) aojinfo.in/wheel - Message
4) aojinfo.in/tc - Troop Church method, English
5) aojinfo.in/tcm - Troop Church eight week messages, English
6) aojinfo.in/troopchurch - Troop Church method, Tamil
7) aojinfo.in/tcmessage - Troop Church eight week message, Tamil
For Information
National Worship Coordinating team has been directed to collect any revelation/inspiration received during worship, (both personal/troop prayer atmosphere).We are expected to report these revelations every Sunday, scheduled meeting online.
We need to prayerfully move ahead asking the Lord for further directions to bring Divine Governance in our midst. Hence, we welcome you to participate in Kingdom building and restoration process. Kindly message the revelations with interpretations (as per the leading of Holy Spirit) on personal chat or Shield West group, by Saturday or before.
NOTE: Worship is the key to Prophecy.
Kingdom Human Rejuvenation & Development Centre (KHRDC)
A Section 25(Not for Profit) company which focuses on Training and Skill Development in all the States of India.   We provide training and equip them for workplace evangelism. We raise reliable, sincere and trustworthy people in the workplace like Joseph and Daniel who put God first in everything they do. Interested people can attend the Trainings. For details of Training, visit the Weblinks given above.
7 fold Agenda for the Global Churches/Church Leaders/Evangelists/Missionaries … (given on 27.10.2014)
To safeguard them from COVID 19 and solution for their Livelihood (Based On Early Christian Church Acts 2: 42-47)
No mention about money or tithe offering (via online also) in the Churches
No construction of Church buildings. Stop the Church building works even that are now going on.
Moulding and training believers and releasing them from the Church after 6 months.
Graduation of six months old believers
Dividing the Church into small groups of 10.
Pastors should look for jobs and get employed.
No full time pastors for the church.
Why the Lord has permitted COVID-19 ?
To Restore the Church of Jesus Christ Acts 2:42-47
National Worship Centre
No.70, (Old no 41) F1, First floor,
Bethel Enclave, Baba Foundations, (near SBI Branch)
Siruvallur High Road,
Perambur,
Chennai 600011.
National Worship Centre is a Centre where the Lord of hosts, the Lord God Almighty is worshipped in His majesty all the 24 hours. Per day 12 worship teams come to worship from different parts of the Nation. One slot consists of 2 hours. The opening of NWC also turns to be the trumpet sign to start the fatal war against Satan to win this Nation for Christ! Do you want to join this praising Army?
Book your slots
Tel: 7708505152
Praise God for the successful completion of 35,074 slots in National Worship Centre with a Non Stop Worship (24/7)
PROPHECY NEWS – End Times and the Environment
"I believe the kind of stuff I'm writing about [all saved Christians, dead and alive, get snatched into heaven; those with weak faith get left behind to fight the antichrist; a seven-year tribulation of plagues ravages the earth] is going to happen some day."1 So spoke Jerry Jenkins, co-author of the wildly popular Left Behind series of books, in an interview published some years ago in the Chicago Tribune. While the books may be fiction, the basic plot is based on the authors' interpretation of the Bible. Given this view of the future, Jenkins implied, Christians need not worry about the earth or its plethora of creatures. These non-human creatures will, after all, be incinerated in the (soon) coming apocalypse. Christians need not worry about porcupines or pine trees or prairies. All of that is of little or no value to a God who cares only for humans and their souls, and therefore it should be of little or no value to those who follow and worship this deity.
A view of the world (an ontology) in which spirit is separate from matter, and a view of humans (an anthropology) in which soul is separate from body, with the former in each case more valuable than the latter, easily leads to a view of the future (an eschatology) in which there is no reason to care for the earth. Eschatology shapes ethics.
Why aren't Christians motivated to earthkeeping?
This eschatology is powerfully captured by environmental historian Roderick Nash in his book, The Rights of Nature: A History of Environmental Ethics. In a chapter on "the greening of religion," Nash comments on "the pervasive otherworldliness of Christianity." He writes: "Christian aspirations were fixed on heaven, the supposed place of their origins and, they hoped, their final resting. The earth was no mother but a kind of half-way house of trial and testing from which one was released at death…Indeed Christians expected that the earth would not be around for long. A vengeful God would destroy it and all unredeemed nature, with floods or drought or fire. Obviously this eschatology was a poor basis from which to argue for environmental ethics in any guise. Why take care of what you expect to be obliterated?"
Nash's view of Christianity reiterates that of mid-nineteenth century German philosopher Ludwig Feuerbach: "Nature, the world, has no value, no interest for Christians. The Christian thinks only of himself and the salvation of his soul." This claim by Feuerbach summarizes the conclusion to be drawn from a world-negating view of the future, and of reality more generally.
Unfortunately, social scientific data reveal that many Christians today hold this view of the future and thus do not feel compelled to care for their earthly home.3 In a study entitled "End-Times Theology, the Shadow of the Future, and Public Resistance to Addressing Global Climate Change," David Barker and David Bearce conclude that beliefs among evangelical Christians about the second coming of Jesus are a major factor underlying the resistance to addressing global climate change in the U.S.
In other words, eschatology shapes our ethics. How we view the future affects what we do (or don't do) in the present. And for critics of Christianity (Nash and Feuerbach are only two among many) this means that an escapist eschatology leads to an ethic of neglect and exploitation—in seeking the cause of contemporary ecological degradation, one need look no farther than religion, and Christianity in particular. We are in the ecological mess we are in, these folks argue, largely because the vast majority of Christians do not care about creation. And Christians don't care about creation because they believe God doesn't care about creation. Indeed, the created world, they believe, will be destroyed. So why care for something that (soon) will be obliterated?
Ethicist James Nash even identifies escapist eschatology as one of the four main claims in what he calls the "ecological complaint against Christianity."Each of his four arguments demonstrate Christianity as problematic, and here is plenty of evidence to show that many Christians believe that creation care is not important, in large part, because they believe that Jesus is coming soon, and assume that when Jesus comes again the earth will be destroyed.
What does the Bible actually tell us?
All of the above prompts some questions: What is the biblical Christian view of God's good future? Would an earth-affirming eschatology change our ethic, and thus reshape our actions in the present? There are many possible biblical texts we could examine, but I would like to focus on Revelation 21:1-22:7. What can we learn about God's good future from this mind-boggling text? There is much to learn, but here are five main points.
God's good future is earthy and earthly.
It includes a renewed heaven and earth. Having brought this world of wonders into existence, covenanted with it, and persistently worked to redeem it, God does not give up on it. This vision is of a new heaven and a new earth (ouranon kainon kai gên kainên), but the "new" here connotes new in quality, in contrast to what is old. New means renewed, renovated, reclaimed. In keeping with the great vision of Isaiah 65 and Ezekiel 40-48, God's good future is a renewed heaven and earth. In his commentary on this text, New Testament scholar Eugene Boring captures this well:
Even though the first earth and the first heaven have passed away, the scene continues very much as a this-worldly scene….[This] is an affirmation of the significance of this world and history, even after the new heaven and new earth arrive….[God] does not junk the cosmos and start anew—he renews the old and brings it to fulfillment….God does not make "all new things," but "all things new."
In God's good future, God himself will dwell with us and all of our creaturely kin.
In language reminiscent of John 1:14 and Ezekiel 37:27, the text declares that the home of God (skênê tou theou) is among humans, that God will tent (skênôsei) among us. Indeed, Revelation 21:3 emphasizes that God himself (autos ho theos) will be with us, and we will be his peoples. In language rooted deeply in the Old Testament (Exodus 6:7; Leviticus 26:12; Jeremiah 7:23; Ezekiel 37:27; Hosea 1:23), the text makes clear that in the holy city God will be known face to face, and we will belong to God, his name emblazoned on our foreheads (22:4).
In God's good future, the separation between heaven and earth is overcome.
The now distinct realms of heaven and earth are in the future braided together—cojoined because of God's initiative. The holy city comes down from heaven (21:2 and 21:10). Its arrival is no human achievement, its reality no product of human ingenuity. In keeping with God's character, God comes to us. Heaven is on earth. As in the parable of the gracious father (Luke 15:11-32), God initiates redemption. In the words of historians Justo and Catherine Gonzalez:
No longer will there be a great separation between heaven and earth. It is not so much that the redeemed shall be taken to heaven but rather that God will come among us and be part of the new Jerusalem. In the incarnation of Christ, God came among human beings as one of them, but still in a hidden fashion. Now, in this new creation, God will not be hidden, but will come among redeemed humanity in a direct, unmediated way.
In God's good future, evil and its consequences are no more.
Seven (the biblical number of perfection) elements of the old order are no more. The sea, symbolic of primeval chaos and the abode of the beast, is no more. Death itself is no more. Mourning and crying and pain are no more. No more parents mourning their kids killed in battle. No more cancer stealing life much too young. No more stillbirths. And all that is under God's curse is no more. The curse of Genesis 3 is repealed, lifted, abrogated. In the words of the old Christmas hymn, redemption extends "far as the curse is found." And, last, the night is no more. The realm of deception is banished. In sum, this apocalyptic vision vividly portrays a world of shalom.
In God's good future, we inhabit a most unusual city.
There is no temple, no set apart place, for God himself is the temple. A Person has replaced a building. Thus nothing in this city is profane; nothing is not sacred. All is for the service of God. And this city is a gardened city. In this city flows the crystalline river of life, watering trees that line its banks. These trees provide fruit year-round, sustenance in every season, and their leaves are a healing balm for the nations. People of all kinds stream into this city, whose gates never close. Kings and paupers, friends and enemies–they all bring their glory and honor to the city.
Announcement
FYI: Informations to be forwarded to the State Secretaries: Please work with your core team and get this information for publishing in Archive portal.

We require Testimonies from Gift School/Troop Churches, Report works for Documentation, Plans for the month for your State-20 Point Program Execution (word document), Praise Reports for Regional Meetings, Shadow Parliament Reports, any others...

SMP, Smla lists (updated ones).

Data should be sent forth to this email address - weekly - Regional allocation Email so it can be uploaded to server. Otherwise it can be sent to me personally in WhatsApp, will forward to IT wing.

Any difficulties in Documentary creation also please feel free to reach out, we will try to work it.

We will try to make all things documented for the month of July, August, and September.

Documentation is vital to show where we stand. Amen
AOJ Matrimony
Are you searching for a suitable bride/bridegroom for your loved ones? Do not worry. AOJ is providing you with free counselling and help through AOJ Matrimony Team. The Matrimony Team will help you to search for a suitable match for your loved ones, pray for them, guide them, and assist them and also solemnize the marriage.
Please have the enclosed profile application duly filled by your prospective bride/bridegroom and send it to us.
Feel free to clear your doubts and enquiries through phone or WhatsApp message or email.
Contact Particulars:
S.No.
Name
Whatsapp No.
Email ID
1
T.Leslie
9444907772
theoleslie@yahoo.com

2
Johnson
7358549693
Kfcm1995@gmail.com
3
Sol.Amala Arunachalam
9942203525
4
Sujatha Madhuram
9884892025
 

By Post to

Bro T.Leslie, F-1, Sabari Bagawathi Flats, Plot No.1, 8th Cross Street,

Sarvamangala Nagar,  Chitlapakkam,  Chennai - 600 064
AOJ MATRIMONY PROFILE
NAME (in block letters)                               :
Date of birth                                                  :
Height/Weight                                                            :
Complexion                                                    :
Languages known                                         :
Qualification                                                  :
Job/Business with details & Income.          :
Your present address                                                :         
Your permanent address                              :
Resident of                                                     :
Your Cell number and email ID                 :
Name & address of Troop Church             :
Father's name & Profession                        :
Mother's name & Profession                                   :
Siblings                                                           :
Your expectation                                           :
DATE:                                                                                                           SIGNATURE
 Signature of Zonal Coordinator of your Troop Church
Name of National Coordinators of Gift Schools and other AOJ Operations 2022 January to June
S.No
Name of Gift Schools of AOJ Operations
Coordinator & Leader Name
 Mobile No.
1
Troop church
Sol.Bindhu Chacko
9061242836
2
BFF
Sol.Jagdish
9930804564
3
Worship

Sol.Theodore

9840154775
Online International Worship
Sol.Raymond
9725107874
4
Deliverance
Sol.Joyce Beula
9842514163
Deliverance Level 1
Sol.Prabhu
9865265306
Deliverance Level 2
Sol.Benjamin Philip
9003021979
5
Healing
Dr.Deepthi
9003209519
Healing Level 1
Dr.Albert Jones
9840577293
Healing Level 2
Sol.Prameela
6
Prophecy

Sol.Shebe Lalu
9562637539
Prophecy Level 1
Sol.Veena Dua
9015652467
Prophecy Level 2
Sol.Shanker
9765987097
7
Financial Discipline
Sol.Himakshi
8708881760
8
Family Building
Sol.Sonny & Usha
Marriage preparation classes
Sol.Keerthana
9487704602
9
Hospitality
Sol.Neelam Sharma
9910532357
10
Morning Worship
Sol. Shakespeare
9003771216
11
Children  Bible School (CBS)
Sol. Jeslyn
9790001292
12
Beryl Wing(Communication, KG, Ezuchikkural)
Sol.Felix
7358420497
13
Daniel Academy Level 2
Sol.Gigi Jacob
9008293700
14
ECC
Sol. Shadrach
9361197303
15
Evangelism through Business
Sol.Sudha Deep
7305332244,

9884318338,

7305332233

16
IT  Wing
Sol.Pinta
17
Training for Translators
Sol.Arun Kumar Pune
7276216777
18
Night Prayer
Sol.Inna Reddy
7702063937
19
TC for Trades
Sol.Sudha Deep
7305332244,

9884318338,

7305332233

20
David school of Worship
Sol.Camilia
9940471819
WORSHIP DETAILS FROM JANUARY 2022
DAY
REGION
COORDINATOR
Sunday
North
Sol. Ajaypal (70658 85778)
Monday
Tamilnadu & Kerala
Sol. Menaka (80726 53915) (Tamilnadu) /

Sol. Sabina (98471 76553) (Kerala)

Tuesday
West
Sol. Savitha (97026 24364) (Maharashtra) /

Sol. Ratna (88052 05676) (Goa) /

Sol. Malathi (96013 53166) (Gujarat)

Wednesday
East
Sol. Yesumilan (86581 31635)
Thursday
Central
Sol. Reeta Gokhle (96659 83740)
Friday
Karnataka/Andhra Pradesh & Telangana
Sol. Preethi (74060 87324) (Karnataka) /

Sol. Dr. Pradeep (90478 99746) (AP) /

Sol. Innar Reddy (77020 63937) (Telangana)

Saturday
Tamilnadu
Sol. Menaka (80726 53915)