Message for reflection – Sr. Angelica AJ
All the earth remains at rest  
As policemen patrol the streets during nights, the Lord sends His angels to patrol the earth.
Zec 1:9-11  Then I said, 'What are these, my lord?' The angel who talked with me said to me, 'I will show you what they are.'  So the man who was standing among the myrtle trees answered, 'These are they whom the LORD has sent to patrol the earth.'  And they answered the angel of the LORD who was standing among the myrtle trees, and said, 'We have patrolled the earth, and behold, all the earth remains at rest.'       
Here you see three sets of angels sent to the earth on three different errands.
The angel who was on a red horse.

The angel who talked with Zachariah

The angels whom the LORD has sent to patrol the earth.' 
The earth is under the CCTV Camera of the Lord
Pr 15:3 The eyes of the LORD are in every place, keeping watch on the evil and the good. 
We might think that under Covid 19 all are locked up in their own houses and everywhere there is peace. There is no need of patrolling. Even then the Lord sends His angels to go round the earth.
They come and give the report to the angel.
"And they answered the angel of the LORD who was standing among the myrtle trees, and said, 'We have patrolled the earth, and behold, all the earth remains at rest.' 
Why patrolling?
2Ch 16:9  For the eyes of the LORD run to and fro throughout the whole earth, to give strong support to those whose heart is blameless toward him. You have done foolishly in this, for from now on you will have wars." 
Here the Lord reveals the purpose why His eyes run to and fro .
Let us note the words "run to and fro". In our language there is a proverb of looking at a person "adi mudi" meaning head to toe. It is not just looking at a person or getting introduced to someone.  His eyes are running to and fro examining a person closely like taking x-ray or scan. While scanning we see the light passing from one end to the other many times. Finally you will get the image in the paper copied ditto.
Why the Lord does this kind of scanning on a person?
To give strong support to those whose heart is blameless toward him?
After knowing the intention of his heart, The Lord wants to give strong support to all those 
Whose heart is blameless toward him.
Let's have a heart which is blameless toward the Lord
Warfare prayer of the soldiers of the Army of Jesus to bind and destroy the works of the devil
Let us bind and destroy the works of the devil in the name of Jesus Christ who has conquered sin, satan, curse and death on the cross
Pr  13:5 

The spirit of a wicked man  which is  loathsome and  shameful.
Shekinah glory classes are going on online (Zoom app)
For details please contact
Sol. Shakespeare - 90037 71216, 62833 81962
24 Hours Worship through Zoom – Sol. Johny +91 98427 81183
Day
Region
Coordinator
Contact number

Sunday

midnight –midnight (24Hrs)

North Region

Sol.Ajayapal

7065885778

Monday

midnight –midnight(24Hrs)

North East Region

Sol.Alan Bulo

8413926580

Tuesday

midnight –midnight (24Hrs)

West Region

Sol.Shelton

9921949966

Wednesday

midnight –midnight (24Hrs)

East Region

Sol.Smith Prathap Singh

9486860805

Thursday

midnight –midnight (24Hrs)

Central Region

Sol.Rachel Jacob

8689896938

Friday 1st half

00.00 midnight – 12.00 noon

South  Region- Tamilnadu

Sol.Joshua Rajesh

8754116877

Friday 2nd half

12.00 noon – 00.00 midnight

South Region -  Kerala

Sol.Anoop Johnson

9400640799

Saturday 1st half

00.00 midnight – 12.00 noon

South Region - Karnataka

Sol.Marcelline

9731020288

Saturday 2nd half

12.00 noon – 00.00 midnight

South Region - Telengana/Andhra

Sol.Vani

8374412377
List of National Coordinators
List of  Programs

Coordinators Name

Mobile Number

BFF Training

Sol. Blessy Vivian

+91 98410 34637

Conducting Troop Church

Sol. Mohanasundaram

+91 94451 20678

 Paul School of Deliverance (FRP)

Sol.Benjamin

+91 90030 21979

Jeremiah School of Prophecy

Sol. Benovin

+91 82201 23810

David School of Worship

Sol. Theodre

+91 98401 54775

Bethestha  School of Healing

Sol. Dr.Albert

+91 98405 77293

Martha School of Hospitality

Sol. Dinesh Crimson

+91  96633 62589

Nazareth School of Family Building

Sol. Dr.Sujatha / Sol. Paul Hudson

+91 96771 92227 /

+91 90031 82275

Joseph school of Financial Discipline

Sol. Dr.Benedict

+91 98405 44151

Night Prayer

Sol. Vani Santhosh

+91 83744 12377

Shadow Parli

Sol. Arvind (Goa)

+91 98221 81817

Communication  (Beryl wing ) Kingdom Gazette

Sol. Felix

+91 73584 20497

Transformation India Programme --TIP (Free service)

Sol. Dr.Acha

+91 93600 18004

Children Programme

Sol. Paul Vasanthan/Dr.Petricia

+91 81246 77493/

+91 98424 82493

24 hours Worship

Sol. Johny

+91 98427 81183

24 hours Prayer

Sr. Leema Rose AJ

+91 94446 53591

Ezhuchikkural (Monthly Magazine – Tamil)                                                                                    

Sr. Anitta AJ

9540328369

Media (Zoom)

Sol. Shaji Thomas

+91 81800 11100
Be Formed and Form is a 5 day short term course. As per Eph 4:11-13, it perfects the saints,  for the work of the ministry, for the edifying of the body of Christ, ………until we all come into the unity of the faith and of the knowledge of the Son of God, to a full-grown man, to the measure of the stature of the fullness of Christ; 
The Lord wants the Church to be transformed according to Eph 5:26,27, to  make her holy, (cleansing her by the washing with water through the word), and to present her as a radiant Church. By  BFF training , the Church awakes and arises to shine in the world. So far 529 batches have been conducted  across India in various languages. The students were from almost all the States of India & abroad.
Contact no. Ph : 9952040052
It's a unique Christ designed course, transforms souls, delivers people from bondage, enlightens people on true knowledge of Christ and the word of God, Anointing of the Holy Spirit is abundant all through the programme.
Come, be blessed and bless others!
Article  
God's Command for the Global Churches/Church Leaders/Evangelists/Missionaries …
to safeguard them from COVID 19 and solution for their Livelihood
(Based On Early Christian Church Acts 2: 42-47)
No mention about money or tithe offering (via online also) in the Churches

No construction of Church buildings. Stop the Church building works even that are now going on.

Molding and training believers and releasing them from the Church after 6 months.

Graduation of six months old believers

Dividing the Church into small groups of 10

Pastors should look for jobs and get employed

No full time pastors for the church.
Why The Lord has permitted the COVID 19?
To Restore The Church of Jesus Christ Acts 2:42-47
This is the God's Command for the Global Believers …
Conquering with Jesus – We bind and destroyed the works of the following spirits in the name of the Lord Jesus
Pr 3:1 The spirit which makes one forget the law of God

Pr 3:5 The spirit which makes one lean on one's own understanding

Pr 3:7 The spirit which makes one wise in one's own eyes

Pr 3:27 The spirit which makes one despise the chastening of the LORD and detest His correction

Pr 3:28 The spirit which makes one say to one's neighbor, "Go, and come back, And tomorrow I will give it," when one has it with him / her

Pr 3:29 The spirit which makes one devise evil against one's neighbor

Pr 3:30 The spirit which makes one strive with a man without cause

Pr 3:31 The spirit which makes one envy the oppressor

Pr 4:13 The spirit which does not allow to hold fast of instruction

Pr 4:5 The spirit which makes one forsake wisdom and understanding
A Section 25(Not for Profit) company which focuses on Training and Skill Development in all the States of India. Acts as a link between the employer (Company) and the employee. We provide training and equip for workplace evangelism. We raise reliable, sincere and trustworthy people in the workplace like Joseph and Daniel who put God first in everything they do. We provide temporary or permanent jobs.
Interested people can register with us by sending your resume and contact details to.
Mail Id : paulvasanthan.gc@gmail.com
Contact No: 812467749
Christian NEWS Update
Thousands of Iranian Muslims Accept Christ in Spiritual 'Pandemic of Hope'
As Iran continues to struggle with the coronavirus pandemic, internal strife and its conflict with Israel, many of its Muslim citizens are turning to Jesus Christ.
According to CBN News, despite the Iranian government issuing a show of force by conducting executions, such as the killing on Monday of Mahmoud Mousavi-Majd who was accused of spying for the CIA and Israeli intelligence, many Muslim Iranians are converting to Christianity, a move that could get themselves killed or arrested as well.
"This is a regime that's facing a possible rebellion in the near future, regime officials talk about it, so they are executing a lot of people to put fear into the public," Alireza Nader, an Iranian expert with Foundation for Defense of Democracies, told CBN News.
Nevertheless, many Iranians are fed up with its Islamic government and are turning to Christ by the thousands.
"That's why we are calling this a pandemic of hope," said Mike Ansari, director of operations for Mohabat TV, a popular Christian satellite channel in Iran. The outlet has recorded a tenfold increase in online conversions as opposed to this time in 2019.
CBN News notes that since the coronavirus pandemic hit Iran in March, there have been 3,000 conversions to Christianity each month.
"We are registering around 3,000 personal decisions by Iranian Muslims to leave Islam for Christianity during this revival," Ansari said.
"People in Iran are just not happy the way their economy is going, the way the government is robbing them of their national resources and exporting Shia Islam to the neighboring countries, so they just don't trust their government," he added.
Converting from Islam to Christianity is considered heretical in Iran and many converts are arrested, especially if they choose to share their newfound faith.
According to Open Doors USA, Iran is currently ranked number 9 as one of the worst countries for Christians to live in. The watchdog organization explains that "the rights of and professional possibilities for Christians are heavily restricted" by Iran's Islamic law.
At the same time, however, the growth of Christianity in Iran is spreading faster in Iran than in any other country worldwide.
"India: Christian woman killed, the fifth victim in two months
Source Link : https://www.vaticannews.va/en/church/news/2020-07/india-bishop-laments-killing-of-christian-woman.html
In the wake of the recent murder of a young Christian woman in Jharkhand, Bishop Binay Kandulna of Khunti appeals for religious tolerance, saying that "we have to respect all."
By Vatican News
A young woman, constantly harassed for her Christian faith, has been murdered by unknown assailants in Redhadi, a village in the Khunti district of Jharkhand.
Suman Munda, a 25-year-old Christian, was discovered dead in a deserted place near her home on 19 July after a search by family relatives who had come to visit her but could not find her.
This sad development makes Suman Munda the fifth victim in a disturbing trend of murders of Christians in India in the past two months.
On 24 June, another Christian, Ramji Munda, 27, was killed on the outskirts of his village in Khunti district in Jharkhand, Eastern India.
Lamenting the situation, Bishop Binay Kandulna of Khunti said that "it is a matter of serious concern because the state witnessed a Christian man killed only last month in the same district."
Local media reports indicate that the Police are questioning four suspects in connection with the murder.
Christians worried
According to a local pastor, Munda converted to Christianity about six years ago and had since then been continuously harassed by some radical Hindu nationalists for her decision. He pointed out that other Christians in that area are still faced with that challenge.
"We are scared and our people are shattered," the pastor said expressing his concerns.
"We have to respect all"
Calling for religious tolerance, Bishop Kandulna said, "Persons of faith are a creation of God and we have to respect all."
But, he pointed out, "some vested interest groups are trying to target minorities in the state to spread hatred among various faiths who are otherwise peace-loving people."
"We condemn the killing and appeal to the administration to take strict action against the culprits," he said, adding that "it is very unfortunate that we have lost a precious life."
Other victims
Between 25 May and 10 July, four Christians – a man, a woman, a teenage boy and a pastor have been killed for their faith in the Asian country.
The killings took place in Chhattisgarh, Jharkhand, Odisha, and Maharashtra.
Persecution Relief, an ecumenical forum that supports persecuted Christians in India, recorded 527 cases of Christian persecution in 2019 compared to 447 in 2018, 440 in 2017, and 330 in 2016, with 293 cases in the first half of 2020.
Between January 2016 and June 2020, therefore, there were 2,067 crimes inspired by religious intolerance against Christians in India.
Links : https://www.christianitytoday.com/ct/topics/i/india/
https://www.christianheadlines.com/topics/india/
https://www.persecution.org/category/news/
http://www.christiantoday.co.in/
Source Link : https://www.christianitytoday.com/ct/2020/april-web-only/india-churches-covid-19-coronavirus-pandemic-lockdown.html
The Pandemic Lockdown Is a Godsend for the Indian Church
As churches deal with the reality of increased community needs—since many people are unable to perform their jobs during the lockdown—they face complicated decisions. In the past, many churches were apprehensive when responding to the poor, since they could be accused of having an ulterior motive to convert those they were serving. Many churches also did not have adequate resources or tools to help their non-Christian neighbors who had no interest in the church.
Now, I have heard amazing stories from our multisite congregations across North India where neighbors who once were hostile toward us have come forward and supplied the church with free food and aid to distribute to vulnerable community members. At one of our churches, the neighbors even volunteered to come with our team to provide aid to the community, and shared that it came from the local church.
As the Indian church is expressing its love for those who are suffering the most, previously antagonistic neighbors are partnering with the church in our expressions of help. This marks a new day.
For example: I know a local church community in rural North India that has been struggling even in the best of times. Despite showing genuine love and concern for the community around them, they have continually faced opposition and threats. After COVID-19 hit India and a nationwide lockdown was put in place, the local police showed up at the doors of the church. The pastor was apprehensive. The police brought a request from the government for the church to make 1,000 cloth face masks in its center to be distributed among the community. The officers then accompanied the pastor to a local cloth shop, specially opened for them to procure the necessary materials. What the police did not know was that this church community had been praying for ways to respond during the lockdown. The Lord answered by providing an opening to serve and the potential for better relationships with the authorities.
Finally, a common refrain being heard in all Indian churches and denominations is to repent. Even in our conservative Indian culture where sins are not openly confessed, people are being more transparent. The church is repenting of its own sins, the sins of the city, and the sins of the nation. We pray this prayer regularly: "Jesus Christ, Son of the living God, have mercy on me, a sinner."
The world we will come back to after this pandemic will look very different. Therefore, the church's priorities must turn from looking inward to looking outward. I believe the church has been ushered into a new age of growth and engagement with each other and with the world around us. We are witnessing a huge turning after God. The last revival in India was in 1905-1906. If all the nations of the world repent, then we can anticipate a mighty movement from God in our times.
Information
Dear soldiers,
To keep information accessible we have made few web pages in the name of aojinfo.in, kindly store this address in your browser so you may access it any time. The addresses of the web pages are as follows
1) http://giftschool.online     -  Gift school schedule
2) aojinfo.in/beryl                    -  Announcement
3) aojinfo.in/wheel                   -  Message
4) aojinfo.in/tc                           -  Troop Church method, English
5) aojinfo.in/tcm.                      -  Troop Church eight week messages, English
6) aojinfo.in/troopchurch     -  Troop Church method, Tamil
7) aojinfo.in/tcmessage          -  Troop Church eight week message, Tamil
Upcoming Programs
Paul school of deliverance (1st week)   - August 3 - August 10
Bethesda school of healing (2nd week) - August 11 - August 17
Martha school of hospitality (3rd week) - August 18 - August 25
David school of worship (4th week) - August 26 - September 3
Jeremiah school of prophecy (5th week) - September 4 - September 11
Praise the lord soldiers, this is the plan for the gift schools to be conducted in Tamil Nadu formed by Sr. Angelica and Team.If more than one gift school is conducted at the same time, students will be confused with their choice. All should attend all the gift schools. So kindly follow the above.
 For example, Healing school is conducted zonal wise. Prophecy school is conducted Tamil Nadu level ( 70 participants), both schools are  conducted at different timing, so when we conducted gift school in different timing and date it will be very useful for students to attend and it will not clash with any other gift schools. So kindly follow this plan.
Joseph school of financial discipline (7th week) - September 12 - September 19
Nazareth school of family building (8th week) - September 20 - September 27
Forgiveness and Reconciliation Program – Tamil
"If you forgive those who sin against you, your heavenly Father will forgive you."  Matthew 6:14
We invite you for "Forgiveness and Reconciliation Program"
Date : From 28.07.20 To 04.08.20
Time: 7 PM - 9 PM (India)
Venue: Zoom App
Contact person:
Sis. Roseline Johnson - 86680 44807, 9750784733
Bro. Mathankumar - 98844 44828
Please register using below link 
https://forms.gle/86HKaNfPoY7Dzift6
To join the WhatsApp group please clicks the following link:
https://chat.whatsapp.com/BV7hoGkMBTVD2IutL0NYnd
Zoom ID and password will be sent to you through WhatsApp group at the time of meeting 
For Information
 Morning Prayer conducted from 5.30 AM to 7 AM daily prayer in Tamil.
 Shekinah glory class in English & Hindi at 8 PM to 10 PM up to 31st July
Troop Church @ Uttar Pradesh
In Uttar Pradesh last week 26 people got baptism and this week 5 people got baptism through troop church Glory to Jesus.
In UP, after 8 weeks the people of TC were anointed and the new troop leader called his old troop leader and asked him to remove all the pooja items and the image of the idols, they burned everything, glory to God.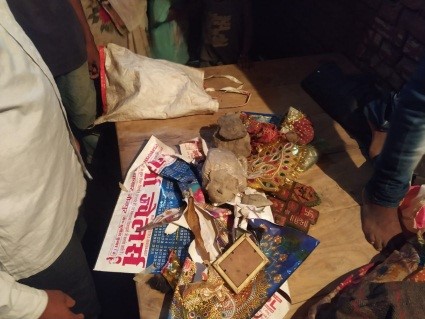 National Worship Centre
Father's House,
Brotherhood Missions,
4/364 E, Anna Salai 2nd Cross Street,
ECR, Palavakkam, Chennai 600041.
Tamil Nadu, India.
National Worship Centre is a Centre where the Lord of hosts, the Lord God Almighty is worshipped in His majesty all the 24 hours. Per day 12 worship teams come to worship from different parts of the Nation. One slot consists of 2 hours. The opening of NWC also turns to be the trumpet sign to start the fatal war against satan to win this Nation for Christ! Do you want to join this praising Army?
Book your slots
Tel : 7708505152
Praise God for the successful completion of

30481 slots

in National Worship Centre with a Non Stop Worship (24/7)
Prophecy News
LGBT Heresy-Hunters Now Targeting Christian Politicians
One of the perverse things about today's progressives is not simply that they are so often wrong, but that they often mean precisely the opposite of what they are saying but do not realize it. The promoters of "diversity" and "tolerance," for example, make the witch-burners look positively relaxed as they ruthlessly hunt heretics and hound them from their jobs. 
Diversity is acceptable only within the narrowest of lanes -- you can, for example, support the LGBTQIA2S agenda, but nobody will get too fussed if you just say you support the LGBTQ agenda, because it is presumed that you mean the same thing. Any indication that you do not support whatever the newest thing is, however, will not be tolerated.
The latest would-be victim of the heresy-hunters is British Columbian politician Laurie Throness, the MLA for the constituency of Chilliwack-Kent. Throness and several other MLAs, as it turns out, had run ads in a Christian publication that, to the horror of Chilliwack Progress editor Paul Henderson, apparently holds Christian views on sexuality:
The controversy started when it came to light that Throness and several other MLAs, including [Andrew] Wilkinson, used taxpayer dollars to advertise in "The Light Magazine," a Langley-based Christian publication that frequently runs articles that express antipathy towards the LGBTQ community in various ways.
Three MLAs have since apologized, and party leader Andrew Wilkinson tweeted out the required statement that there is no place for any anti-LGBT sentiment in the B.C. Liberal Party. The B.C. Liberals also announced that they would be reviewing their advertising policies to ensure that no ads were placed in such magazines. As CTV put it:
The Liberals had already pledged to review their advertising policy after critics pointed out ads for the party that ran in The Light Magazine, a Christian publication that has opposed B.C.'s Sexual Orientation and Gender Identity (SOGI) policy in public schools.
Apparently, opposing BC's radical sex ed curriculum, which foists dangerous gender ideology on children, is beyond the pale. Throness, at least, has noted that he will continue to advertise in the magazine as he shares its "Biblical Christian values," noting that "Biblical Christians follow their Lord in their sexual practice. 
They don't attack other people, they don't condemn other people, because Jesus did not condemn other people. They withdraw from sex outside of a marriage between a man and a woman. That has nothing to do with intolerance, it has everything to do with following their conscience and following their Lord."
To anyone familiar with what Christianity teaches, that's pretty standard stuff. But to progressives, this is genuinely offensive. NDP MLA Spencer Chandra Herbert sent a letter to the B.C. Liberal Party demanding that Throness be kicked out of caucus or fired from his job as opposition critic for the Ministry of Children and Family Development. 
The Vancouver Pride Society even took the dramatic step of threatening to ban the B.C. Liberal Party from marching in the Pride Parade over the ads, stating that the magazine has "published articles elevating anti-trans and pro-conversion therapy rhetoric targeting LGBQAI2S+ people."
"Despite being reassured by the B.C. Liberal leader that that was no longer going to happen, they continue to invest in this magazine," Michelle Fortin, co-chair of the Vancouver Pride Society, noted ominously. "We've basically said to the Liberals until you take action and stop investing in that kind of publication, and until you deal with MLA Throness, you will not be allowed into the parade."
Fortin even gave the B.C. Liberal Party a deadline: the deadline for parade registration for the virtual parade being held on August 2. Throness must be "dealt with" before then. Like the NDP, the Pride Society wants Throness either evicted or fired from his critic role. In short, they want a scalp. Throness is refusing to disavow Christian standards and will not disassociate himself from others who share those standards. Thus, he must be punished. "In 2020, a B.C. Liberal Party that still thinks it's OK to support transphobic or homophobic messaging[.] ... It's appalling," said Fortin.
Every political party will be forced to respond to such demands in the future. Organizations like the Pride Society are not demanding diversity or tolerance; they are demanding that politicians conform to their standards or else. Media folks like Paul Henderson of the Chilliwack Progress, a bigot who spends much of his time fulminating on his editorial page about the wickedness of those who disagree with him on LGBT issues and abortion (that would include Christians, Orthodox Jews, Muslims, Sikhs, and Buddhists, just for starters), ensure that these non-stories get the coverage they need. 
Thus, a Christian politician posting an ad in a Christian publication that frequently covers issues from a Christian perspective becomes a threat to civilized society in the minds of the progressive heresy-hunters.